Saying goodbye to a master: a virtual visit to Gerhard Richter at the Met Breuer
Museums are closed now, everywhere. But something remarkable is also happening: They are making their collections available online as never before, with new websites, special programs on favorite artists and their works, and curators even taking you on a visit to a masterpiece with cocktail in hand.
And so I decided to make a virtual visit to what The New York Times called a "sublime farewell" that opened at The Met Breuer just before we all went private for protection. It's called "Gerhard Richter: Painting After All." Let's walk virtually through its two floors of some 100 paintings and glassworks, courtesy of the exhibition's curators, Sheena Wagstaff and Benjamin Buchloh.
Richter, born in 1932 in Dresden, is arguably the most famous living artist.
Richter, born in 1932 in Dresden, in what after World War II became the German Democratic Republic, is arguably the most famous living artist. Among his German compatriots Sigmar Polke (1941-2010) may well rank as the most iconoclastic innovator and Anselm Kiefer (b. 1945) as the monumental moralist. (He is my own personal favorite.) Georg Baselitz (b. 1938) has his advocates, as do the great photographers Andreas Gursky (b. 1955) and Thomas Struth (b. 1954). But for critical acclaim coupled with market dominance, Richter stands alone.
In 2002 the Museum of Modern Art mounted a major retrospective on Richter, "Forty Years of Painting," curated by Robert Storr, with 188 canvases. It then traveled to the Art Institute of Chicago, the San Francisco Museum of Modern Art and the Hirshhorn Museum and Sculpture Garden. The exhibition cemented Richter's reputation as the artist of his time. Now The Met Breuer's exhibition is presented not only as the culminating show in the Met's tenure at the Breuer but also most likely the artist's valedictory. (At 88 he was not well enough to travel to the opening.)
In a large book of interviews in 2011 Richter commented: "We can't exist without some form of belief in things. We need it."
As a young man Richter cast about for a direction in his life—"waking up to reality," he said in Corinna Belz's fine documentary from 2009, "Gerhard Richter Painting"—"is terrifying." At 16 he realized he wanted to be an artist and after a failed first attempt entered the Dresden Academy of Fine Art in 1952, where he studied for five years. Social Realism was strictly enforced, but mural painting was allowed as mere "decorative art," and Richter became adept at it, earning enough to travel to the West. In 1959, during his second trip there, he saw documenta 2, an exhibition that began in 1955 by showing modernist art that had been repressed by the Nazis and then became devoted to contemporary art. (It is still held every five years in Kassel.) Richter was bowled over by artists like Jackson Pollock and Lucio Fontana and experienced what Storr called "the turning point of [his] artistic life."
Two years later, in 1961, with his wife, Marianne, he defected to the West. "Art requires freedom," he has said; "in dictatorships there is no art, not even bad art." Enrolling in the Academy of Art in Düsseldorf, he reveled in Abstract Expressionism, Art Informel, Neo-Dada and Fluxus and became close to such other artists as Polke, Blinky Palermo and Konrad Lueg, who styled themselves German Pop artists, though they called the movement, with a critical slant, "Capitalist Realism." (Joseph Beuys, the eminence grise of the Academy, was eventually a colleague when Richter joined the faculty there in 1971.)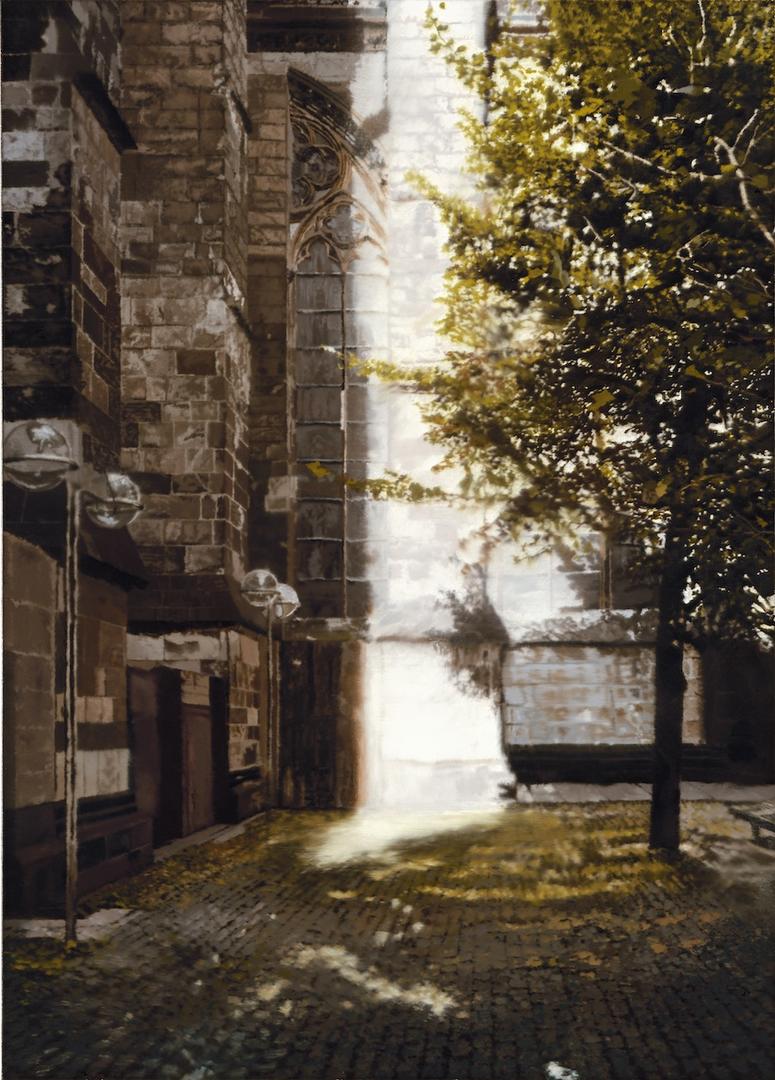 The Met Breuer show opens with two emblematic paintings—"Table" from 1962, the artist's first in the West, and "September" from 2005—plus "11 Panes," a glass installation from 2004. "Table," a realist painting of a simple table furiously overpainted with thick gray strokes—and a provocation reminiscent of Robert Rauschenberg's earlier erasure of a Willem de Kooning drawing—was the beginning of his breakthrough "photo paintings." Based on photographs of family and friends as well as buildings and city scenes, they were rendered in tones of gray but blurred in a way that obscured their origin and evoked a sense of distant, perhaps oneiric memory. His "Uncle Rudi," grinning in a Nazi uniform; his family at the seashore; a crowd on a street; men carrying a coffin; an aerial view of Paris—all ordinary as can be but distanced, ambiguous, haunting. And at the same time the artist began to produce purely abstract paintings in gray as well.
Color entered his palette in such paintings as several of his daughter Betty, whom we see in a very faint frontal image from 1977 and then from the same year, lying on her side with her face toward us, in what seems like photo-realism but soon reveals itself as highly painterly. (The still more famous, later "Betty," from 1988, in which she wears a red and white jacket over a pink blouse and turns away from the viewer—Peter Schjeldahl has called it "the single most beautiful painting made by anyone in the last half century"—is not in the show.)
Since the mid-60s Richter had been assembling a compendium of images torn from magazines or based on his own photographs.
Since the mid-60s Richter had been assembling a compendium of images torn from magazines or based on his own photographs. From this "Atlas" he later drew inspiration for ravishing, faint but realistic landscapes such as "Iceberg in Mist" (1982) that continued but also revised the German Romantic landscape tradition. But he did not want to be pegged as a painter of photographs only and in the late 70s turned dramatically to full-fledged, brilliantly colored abstractions—not to replace representation but to accompany it in visualizing reality. (The German term for them is "Abstrakte Bilder," where "Bilder" means both "pictures" and "paintings.") These range from gestural abstractions such as "Abstract Painting" in 1983 to Minimalist experiments with the grid in "4,900 Colors," five immense color chart paintings from 2007, the year in which Richter's large window in that format was unveiled in Cologne Cathedral. (He had moved his studio to Cologne in 1983.)
Few galleries in the exhibition are as absorbing as the one labeled "Figuration-Abstraction," which spans more than three decades of his work, exploring the Romantic seascape, the modernist monochrome and his treatment of the mother and child motif, with five paintings of "S. with Child," S. being his third wife, Sabine Moritz. (Richter's gorgeous portrait of her, "Lesende (Reader)," from 1994, is not in the show.) "September," a delayed meditation on 9/11, might well have been hung here also.
To keep one's balance and remain who one is, seeking to visualize such a world, seems to me a profound human achievement.
Principally abstract as well, though with clear evocations of its subject, is the cycle of 12 paintings called simply "Forest," from 2005. To no nation I know does "the forest," " the woods" (der Wald) mean as much as to Germans. "Helplessness is the great theme in painting, or rather the strongest motivation for and doing painting," Richter said in a 2014 interview. "And the forest in general has special significance. You can lose your way in forests, feel deserted, but also secure, held fast in the bosom of the undergrowth." In the grand gallery where The Met Breuer shows his 2005 cycle, the artist not only returns to his early practice of painting in series but invites us to lose—and find—ourselves in this mythic realm: dark, immense, soaring, a place of embrace and release, with the final painting a mesmerizing gray and white grid with a single flash of red.
Even more important, and shown for the first time in the United States, is "Cage," a suite of four large paintings (9 feet, 6-3/16 inches square) conceived as a tribute to the American musician John Cage and his aleatory aesthetics. Since the mid-1980s and then decisively in the 1990s, Richter's process in his major abstracts had been to use broad brushes to paint bold colors on a canvas and then to scrape the support, both horizontally and vertically, revealing a generally grid-like new image—"given" by chance. (In some interviews with him, the German word Zufall is translated "coincidence." "Chance" is better, and certainly truer to Cage's usage.) The intentions and dispositions that Abstract Expressionist artists had sought to reveal are replaced here by repeated cancellation and even destruction of a painted ground that is nevertheless creative on its own terms. And with increasing constraint on the artist, Richter says, he must follow what is appearing—until he sees that it is "done." The "Cage" series is a splendid celebration of the process.
The other revelation at The Met Breuer, and the final installation in the exhibition, is Richter's "Birkenau" series from 2014.
The other revelation at The Met Breuer, and the final installation in the exhibition, is Richter's "Birkenau" series from 2014, again shown now in the United States for the first time. Based on four photographs that had been smuggled out of the Auschwitz-Birkenau death camp in 1944 and that the artist had known since the 1950s and came upon again in the French art historian Georges Didi-Huberman's "Images in Spite of All" (2008), there are four large canvases, each 8 feet 6-3/8 inches by 78-3/4 inches, hung together with four partitioned digital copies of each (as if to say: "See, it is true") and the copies of the original photographs.
What begins, for example, as a photo of Nazi soldiers standing by piled corpses about to be burned and buried, has gone through an overpaint of abstract black and pink on August 3 through five further stages until a final, dark, gridded painting in black and white (the colors of the original photograph) emerges on August 25. The effect of the full ensemble is chilling, even stupefying. How could a painter dare? And yet I think it likely that the series will be ranked with Barnett Newman's "Stations of the Cross" in the National Gallery of Art and the Mark Rothko Chapel in Houston as emblems of the age.
And then Richter went on in 2016, astonishingly, to paint 10 further large abstractions as colorful and even exultant as almost anything in his career. "Painting after all." It was the title he himself chose for The Met Breuer show, with typical ambiguity. Applauding critics speak of his being deeply skeptical, "a master of doubt." And indeed his experience of ideology, whether fascist or communist or capitalist, has bred a deep wariness in the man. (Growing up in East Germany, he once said, you had to distrust even your parents.) But he is a painter—practicing "another form of thinking," he has said—not a social critic. And he has lived in a rapidly changing—why not say it?—dangerous world. To keep one's balance and remain who one is, seeking to visualize such a world, seems to me a profound human achievement. He remains comfortable with the uncertain and with what he does not understand. 
In a large book of interviews in 2011 Richter commented: "We can't exist without some form of belief in things. We need it. It's our culture, Christian history, that's what framed me. Even as an Atheist, I believe." I interpret this to mean that he believes in the value of painting and beyond that, however aspirationally, in reality visualized whether through representation or abstraction but preferably both. "Art is the ideal medium," he added in his 2011 comment, "for making contact with the transcendental, or at least for getting close to it." 
A skeptical master, to be sure, but still more one of open commitment. (Even as a professed atheist, he reportedly had Sabine's and his three children baptized in the Cologne Cathedral.) Wouldn't he probably repeat today what he said in a wonderful earlier interview from 1977: "The pleasure of painting proves the necessity of it—all children paint spontaneously. It has a brilliant future. Hasn't it?"
"Gerhard Richter: Painting After All" was meant to be on view at The Met Breuer through July 5 and then to travel to the Museum of Contemporary Art in Los Angeles. We shall see….