Kenneth Lonergan's "The Waverly Gallery" makes a belated and brilliant Broadway debut
As with voiceover narration in a fiction film, in which a lead character explains the meaning of what we are seeing from the comfortable distance of a recording studio, when a character in a play steps out of the action onstage to speak to the audience about it, a red flag often rightly goes up. Isn't this a kind of cheating—a way to tell what the playwright can't figure out how to show, to shoehorn novelistic observation into a dramatic medium? It's true that two cornerstones of American drama, "The Glass Menagerie" and "Our Town," break the fourth wall to break it all down for us, but they are more the exception than the rule. And how many plays are on their level?
I initially had this worry about Kenneth Lonergan's "The Waverly Gallery," a nearly 20-year-old play now getting its belated and brilliant Broadway debut (through Jan. 27, 2019). In telling the autobiographical story of Lonergan's own family in the late 1980s, the play opens with its young protagonist, Daniel (Lucas Hedges), sitting in the modest Greenwich Village gallery of the title with his chatty grandmother, Gladys (Elaine May), as she regales him with stories and queries we soon come to realize he has heard many times. His kind but firm repeated reply is almost a mantra: "I know."
Two seasoned actors embrace a kind of naked courage in 'The Waverly Gallery' and 'Thom Pain (based on nothing).'
About the time it becomes clear that Daniel is essentially babysitting his discursive elder, he turns to us to fill in some details about the gallery—a small storefront in a hotel that the landlord lets Gladys occupy to keep her, well, occupied—and about his grandmother's deteriorating mental condition. Did we really need to hear spelled out what seems to be unfolding clearly before us onstage? I wondered.
But Lonergan relies on this device relatively sparingly throughout the play's unhurried action, as we see Gladys's advancing condition drive the rest of her family batty over dinner at the home of her daughter, Ellen (Joan Allen), and her second husband, Howard (David Cromer). Though there is an incipient conflict about the gallery's future and a sad-funny subplot about a mediocre artist, Don (Michael Cera), who has taken up residence in the gallery along with his paintings, the show's narrative engine is Gladys's inevitable deterioration. Much of the show's slow-motion heartbreak piles up as we watch her family argue in her presence over what to do with her, talking about her as if she were not there, which in a way she is not. When they fitfully address her and her repetitive requests—to feed an offstage dog, to find her keys, to listen to another oft-told story—it is with a mounting hostility that is both understandable and excruciating.
This may sound like grim pickings, but under the sharp, circumspect eye of director Lila Neugebauer, the play's quietly relentless rhythm makes room for plenty of Lonergan's comic grace notes. Much of it is in the familiar vein of we're-all-in-analysis New York humor, but the play also lets us know that these folks' intermingled neuroses and their occasional despair are finally no joke.
Elaine May—the great comic writer-performer—is both slightly out of place and utterly at home.
It also helps to have a smashing cast. As Gladys, May—the great comic writer-performer, once famously partnered with Mike Nichols—is a convincingly frail 86, and in a return to stage acting after decades, she seems, like Gladys, both slightly out of place and utterly at home. Hedges is an excellent, utterly transparent emotional lightning rod, as he was in the Lonergan film "Manchester by the Sea," while Cromer and Cera each etch distinctive portraits of annoying but lovable men.
But it is Allen, as the matriarch in the middle, just barely holding it together with pursed lips and a racing, pent-up mind, who emerges as the play's secret weapon. In a wrenching final scene, after Gladys has been packed off to her next chapter, Daniel reaches out for his own mother, unable to believe that she, too, may one day recede from him. She seems to know better, as mothers do, and the two hug hungrily, as if storing up affection for the estrangement and separation to come.
And then Daniel turns to us and delivers what felt to me like a short homily on human perseverance and struggle, and all my misgivings about the play's direct address were forgotten. "I never want to forget what happened to her," he tells us. "I want to remember every detail because it really happened to her, and it seems like somebody should remember it." Honoring the intense love that has both bound and cursed Gladys and her family, he concludes, "It makes you think it must be worth a lot to be alive."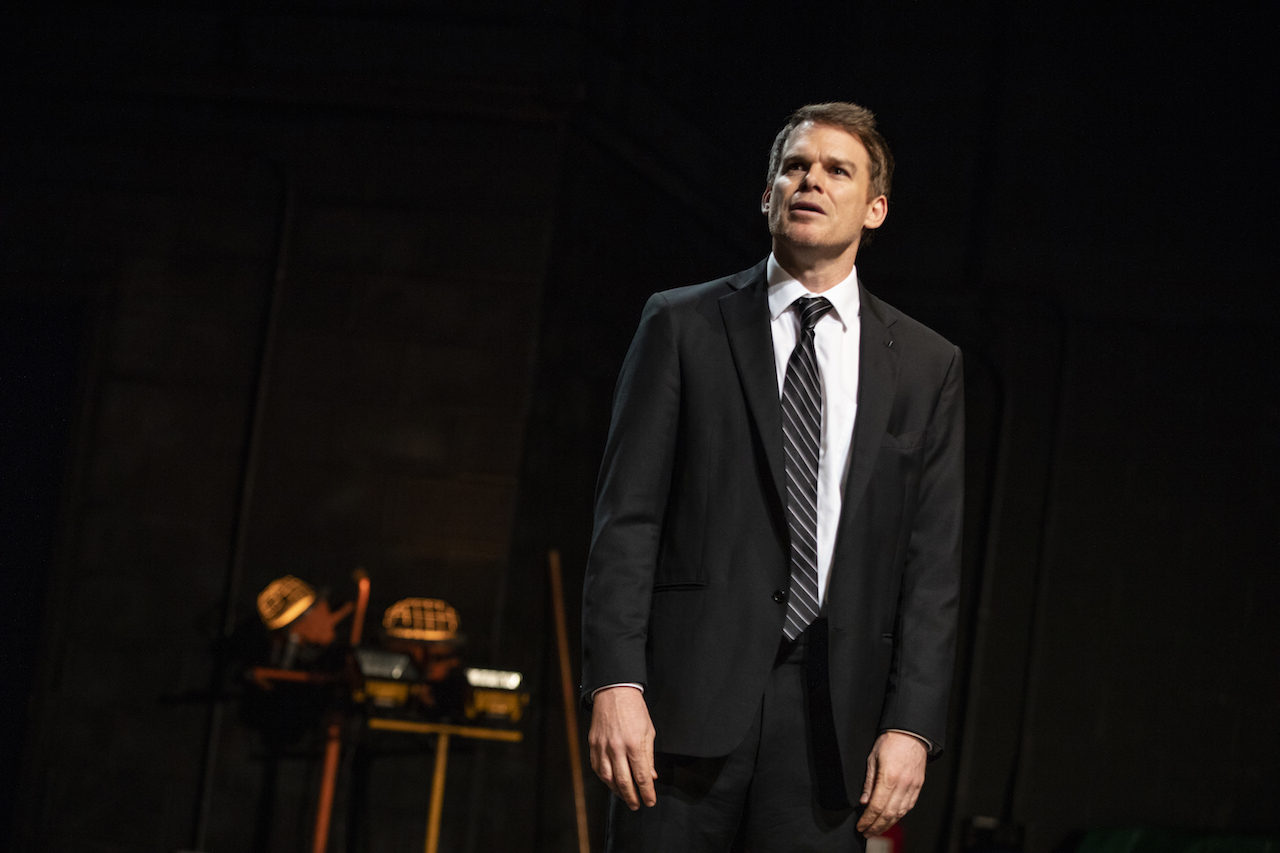 Coincidentally, "Isn't it great to be alive?" is the closing line of Will Eno's "Thom Pain (based on nothing)," now Off Broadway at the Signature Theatre through Dec. 9. And like "The Waverly Gallery," its subjects are meaning, memory and mortality. But there is no question about the fourth wall in this case; direct address is the entirety of this affecting, oddball solo show, starring Michael C. Hall (of "Dexter" and "Six Feet Under").
Dressed like a stylish undertaker or a refugee from "Reservoir Dogs," Michael C. Hall restlessly roves a large stage. 
Dressed like a stylish undertaker or a refugee from "Reservoir Dogs," the black-suited Hall restlessly roves a large stage and occasionally the aisles of the theater that is in a state of half-assembled disarray (a hand-written sign at the entrance pleads, "Pardon our appearance"). It feels a bit like we have come to a ramshackle rehearsal for a TED Talk, given by a needy misanthrope without a fixed script but with a penchant for brain-teasing wordplay and meta-theatrical capers. Ostensibly he is here to unburden himself about a childhood trauma involving an electrocuted dog, a swarm of bees and a pointed absence of parental comfort and to share with us his anguish about a relationship with a woman that has ended badly. "We were very close," he explains. "Not all the way there, but close."
Eno has both more and less up his sleeve than first appears. Picture the Stage Manager from Thornton Wilder's "Our Town," unplugged from Grover's Corners and reimagined by a slyly affrontive standup comic, and you get some idea of what the playwright is up to. Oliver Butler, the play's director, gives this droll tap dance at the abyss a surprising emotional range. And Hall, whose deadpan has a bit of Steve Martin's unflappable gravity, handles both the comic and elegiac notes masterfully. But the key to the performance is a kind of naked courage, as he faces us squarely and asks us to face ourselves.
[Sign up to receive the Catholic Book Club newsletter, featuring book reviews, poetry and literary material from our archives.]