'Boy Erased' reveals the homophobia lurking behind the all-American boy
In "Boy Erased," Jared Eamons (a masterfully earnest Lucas Hedges) plays varsity basketball. He drives a Mustang, listens to his father preach on Sunday mornings and lives in a big house on a tree-lined street in the suburbs. His girlfriend is a cheerleader. We are introduced to him as the archetypal American teenager. He has it all. But as promised, Joel Edgerton's new film erases the troublesome idealization of the all-American boy to find what too often lurks beneath—hypocrisy, bigotry and unbridled homophobia.
"Boy Erased" is, at its core, a call to action. Only 14 states have passed laws protecting L.G.B.T. youth from the dangers of conversion therapy. 
"Boy Erased" is based on Garrard's Conley's memoir of the same name. He writes that central to his story "is the question of how this kind of bigotry can be perpetuated by people who, at their core, love one another." The film attempts to show the danger of this ideology while maintaining compassion for everyone involved.
After leaving home and going to a small Christian college, Eamons meets his resident advisor, a friendly, handsome jock. A real guy's guy. They bond while jogging, playing video games and attending worship services. We are charmed by his presence, and it seems that Eamons may get to explore his repressed romantic feelings. But late one night the sexual tension between the two turns violent. In a devastating scene Eamons is brutally raped in his dorm room. The facade begins to crumble.
Word gets back to his family. In a dimly lit kitchen Jared's father (a stern Russell Crowe) forces him out of the closet: "I love you, but we cannot see a way that you can live under this roof if you are going to fundamentally go against the grain of our beliefs." In an even more dimly lit living room his father conferences with church elders, where they decide that Eamons will be sent off to a conversion therapy ministry named Love in Action. This whole time, his mother—played by Nicole Kidman, walking a fine line between being excellent and over the top with a big blonde wig and Southern drawl—watches, complicit but still somehow not yet convinced.
The dark, austere cinematic palette foreshadows the brutality of what awaits Eamons at therapy. Love in Action, which resembles a rehab facility more than a sleepaway camp, is a place where girls learn to be ladylike and boys learn to be men. Gender and sexuality become performance. "Fake it till you make it," the conversion drill sergeant yells at the boys while they do jumping jacks in the mud. The sincere hope of those involved is that they will make it; that they will be made straight, realigned in accordance with God's so-called will. The mental and physical abuse endured in order for them to live out this fantasy is difficult to watch. We see a young man beaten with Bibles by a group of peers on the altar. Another is forced to lay in a casket while attending a mock funeral for someone with AIDS.
One of the most arresting moments is also seemingly the most commonplace. The guys are brought to a batting cage. One small, effeminate boy simply can't hit the ball. The tension builds and builds. The director of the program yells at him and forces him to swing. The boy is on the verge of a breakdown and finally collapses as a ball shoots out of the automated pitching machine and nails him in the face. We know this is wrong, that it is abusive—physically, mentally and emotionally. Yet it is so effective because it is so familiar. Who hasn't witnessed someone forced out of their comfort zone in an attempt to live up to someone else's misplaced expectations?
Every once in a while we are treated to a glimmer of hope, signs that things will get better. With bleached blonde hair, Gary (the YouTube personality and pop star Troye Sivan) lingers in the background of Love in Action. One day after sessions he approaches Eamons in the parking lot and gives him advice: "play the part." Eamons finally experiences a sense of solidarity with another person, and his internal crisis is no longer solitary. Someone else gets it.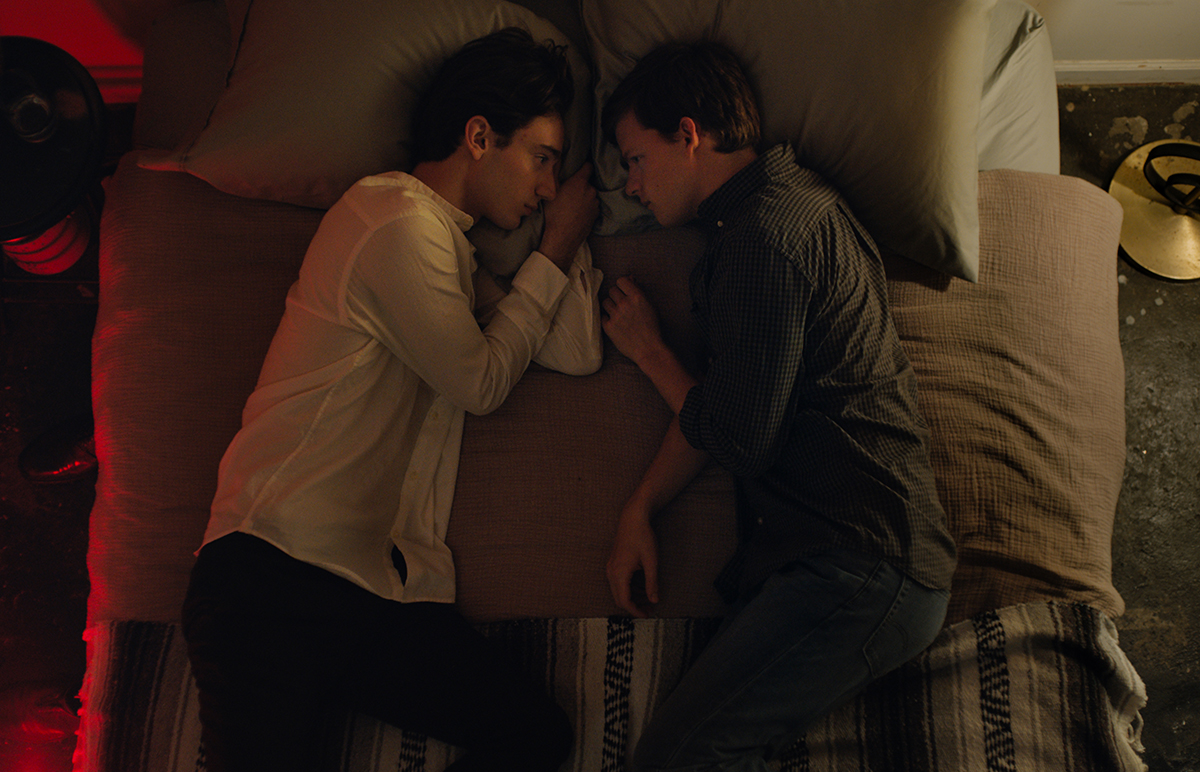 In one scene at his Christian college, Eamons meets an intriguing young artist, appropriately named Xavier (an understated Théodore Pellerin). They talk about God and love, and lie in bed fully clothed looking into each other's eyes. Their intimacy is powerful and promising, but as quickly as this vignette began it is over. Both Xavier and Gary are mysterious, intriguing and frustratingly underdeveloped.
In comparison to this year's other conversion therapy movie, "The Miseducation of Cameron Post," "Boy Erased" is humorless. It is didactic, and it should be. "Miseducation" captures the absurdity of conversion therapy and celebrates the joy of queer friendship. But "Boy Erased" is, at its core, a call to action. Before the credits roll, we are reminded that only 14 states have passed laws protecting L.G.B.T. youth from the dangers of conversion therapy, a practice condemned by the American Medical Association and the American Psychological Association.
For things to begin to change we have to bear witness to injustice and listen to the stories of those abused and oppressed. "Boy Erased" gives us the opportunity to do just that. Unfortunately, even in 2018, it is necessary viewing.
[Are you a smart, funny, spiritual person who wants to chat with other smart, funny, spiritual people about movies? Join America's Catholic Movie Club on Facebook!]