Review: Finding hope in the anger of David Wojnarowicz
David Wojnarowicz's retrospective "History Keeps Me Up at Night" was this summer's blockbuster at the Whitney Museum of American Art. A gay artist, writer and activist, Wojnarowicz (1954-1992) emerged from New York City's Lower East Side in the 1980s as a prophetic voice of his generation.
His place in the history of American art is conflicted. He is likely best remembered for his involvement in the culture wars. Wojnarowicz's work drew harsh criticism from conservative firebrands such as Jesse Helms, the former North Carolina Senator; Bill Donohue of the Catholic League also took offense. Even as late as 2010, his work was removed from display at the Smithsonian due to uproar—this time because of a decontextualized image of ants crawling over a crucifix from his video "A Fire in my Belly" that many Christians objected to.
Removed from the stigma of a polarized culture war, what observations can people of faith take away from this exhibition?
But what happens when we look at his work in the context of its totality? Removed from the stigma of a polarized culture war, what observations can people of faith take away from this exhibition?
Like any good retrospective, the exhibition opens with his early work—a series of black-and-white photographs titled "Arthur Rimbaud in New York City." The young Wojnarowicz, an aspiring writer, identified with Rimbaud, the 19th-century French poet and gay icon famous for his line "Je est un autre" ("I is an other"). In this series, he shoots his friends moving around New York City while wearing a paper mask of Rimbaud's face.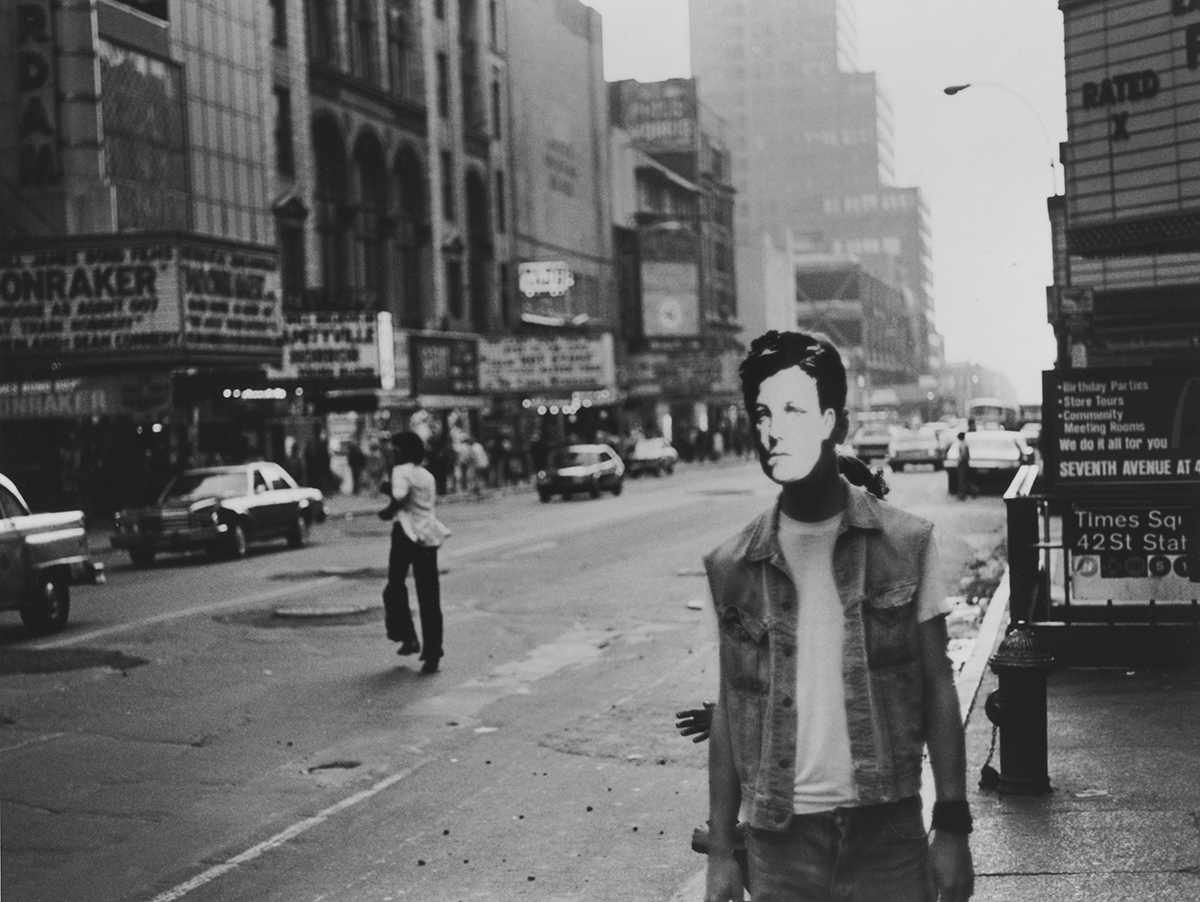 The locations are autobiographical for Wojnarowicz. He seeks to find his place in a world that is not designed for him. In one photograph, the figure is seen walking up seventh avenue in a seedy Times Square. We are reminded of the artist in his youth; when he was a sex worker, rent boy, abused and marginalized—other. Between Rimbaud and Wojnarowicz there is shared understanding of what it means to be an outsider. In this series, he begins to find power in the collective identity of the other.
The next gallery space brings us directly into the outsider scene of the East Village in the 1980s. Punk music fills the space. Graffitied advertisements and found objects promoting his band are recontextualized as canvases hung salon style, adorned with a repertoire of angst-ridden symbols. Burning homes, falling figures, military planes and targets form the new characters of a visual language emerging from the underground—a language designed to challenge systems of power. Vibrant primary colors loudly pop against the dark gallery walls. The anger here in this space is visceral. The energy is palpable.  
Through collage, he reconfigures geopolitical boundaries while prompting the viewer to reimagine our notion of what is normal.
In one painting, Wojnarowicz juxtaposes a shockingly explicit homophobic slur he found written on a piece of paper against his motif of two men kissing in water and photographs of himself and a friend nude at the piers. This imagery appears on top of a background of cut-up maps. What is he saying here? Through collage, he reconfigures geopolitical boundaries while prompting the viewer to reimagine our notion of what is normal. What makes us uncomfortable? The hate-filled graffiti, photographs of men cruising or the stenciled image of two male lovers?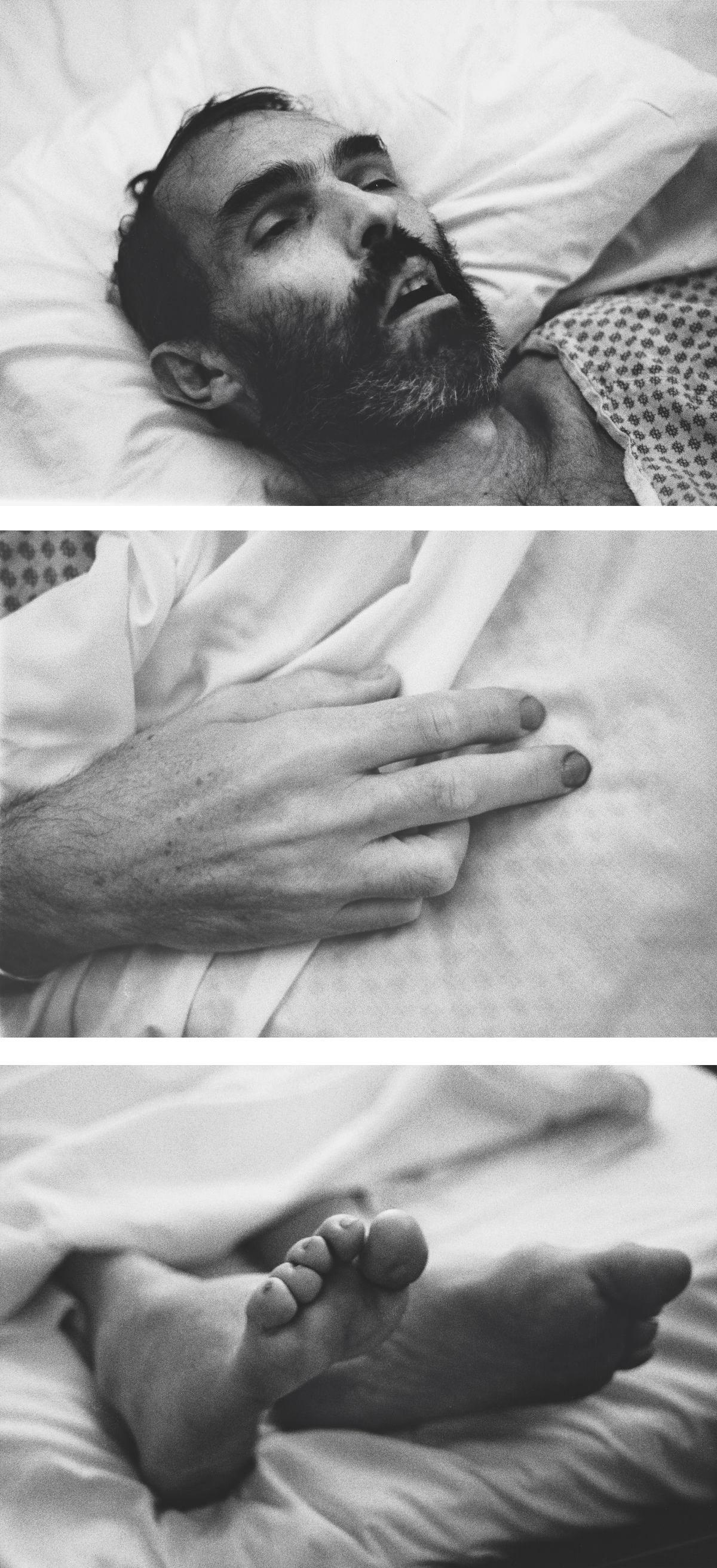 A particularly moving space is dedicated to his relationship with the photographer Peter Hujar, a short-lived love affair that turned into a long-term friendship. Hujar mentored Wojnarowicz and urged him to take his art more seriously. Wojnarowicz's paintings of Hujar hang across from Hujar's photographs of Wojnarowicz (1981-1985). The artist here becomes the subject. In the dramatically lit photographer's studio we see a shot of Wojnarowicz reclining. There is another with his hand touching his eye and one with his head resting on his arm sitting backward in a wooden chair. We see him from a new perspective—from Hujar's perspective. The angry, anarchist, Act Up AIDS activist, who once protested inside of St. Patrick's Cathedral, is now also the man who, according to his own mythology, was so riddled with the Catholic guilt from his youth that he would replace trash can lids after covering them with graffiti.
The final photograph, "David Lighting Up" (1985), haunts the viewer. Wojnarowicz is outside, his hands clasped around a lighter as a cigarette hangs from his lips. His eyes are intently focused on the task at hand. Where is he off to? What comes next—not just for him but for gay men of his generation? Tragedy hangs in the air.
Just as the exhibition begins to feel overwhelming, the ball drops. Our tension is released. Anger is replaced with loss and deep sadness. We are confronted with the series "Room 1423," three photographs Wojnarwowicz took of Peter Hujar in the moments immediately following his death from AIDS-related complications. He captures the corporeality of queer life and marginalization. Hujar's unshaven face fills the frame, mouth ajar with dark lifeless eyes, resting against his hospital pillow. In another shot, his frail hand loosely grips the sterile linens. Finally, his emaciated feet sneak out from under the covers, never to walk again.
Living H.I.V. positive, there was an urgency to Wojnarowicz's activism. For him and many others, it was life or death. In these photographs of a dead Hujar, we feel his immediacy.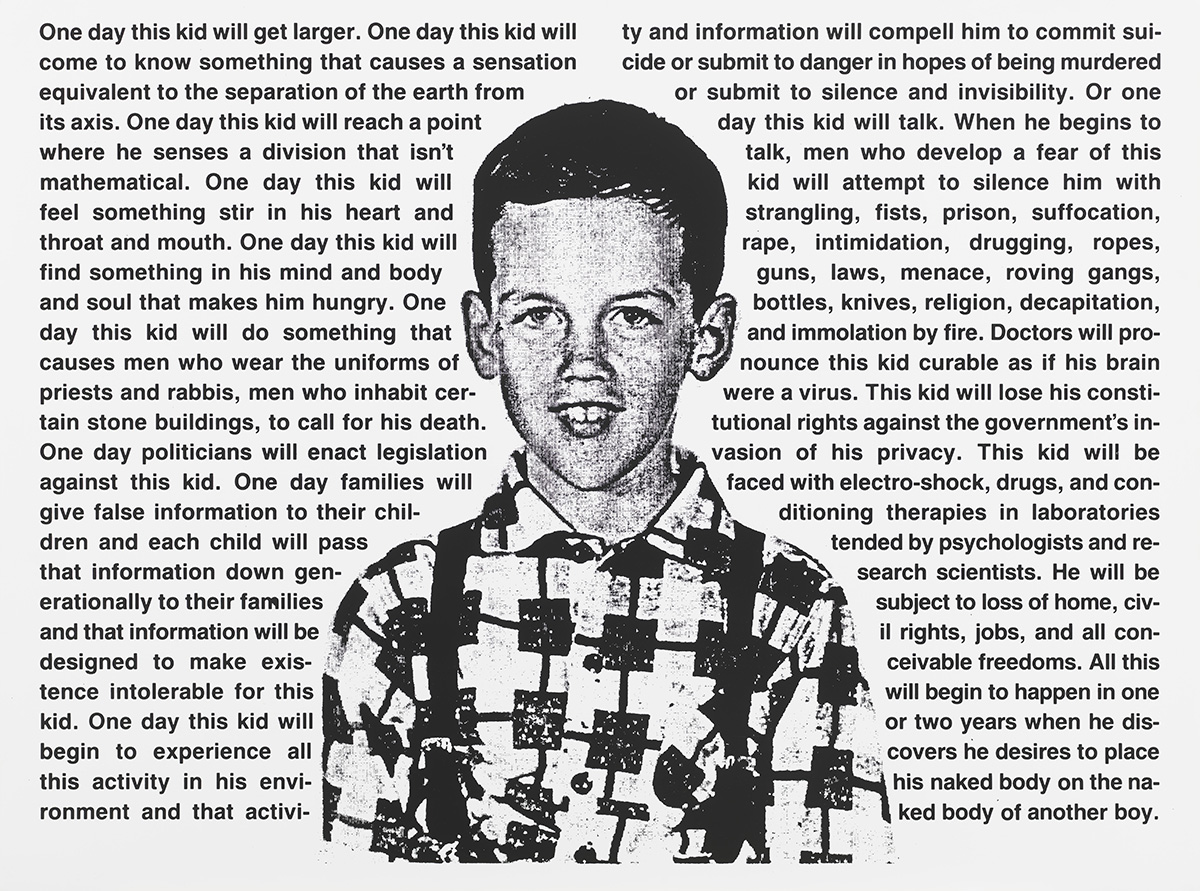 The exhibition concludes with his most well-known piece. "Untitled (One Day This Kid...)" (1990-91), is aesthetically stripped down for Wojnarowicz. The layered complexities of his earlier work are simplified. A xeroxed image of an adolescent Wojnarowicz—caught right at the tail end of boyhood—is cleanly surrounded by a block of text, a manifesto. The message is clear. It's his story. It rushes over you and hits you in the gut. He calls out those who criminalize queer life and terrorize those known as other.
Wojnarowicz's work is driven by anger, the anger felt on the margins. But driven toward what? In the exhibition catalog, Hanya Yanigahara writes that his work "reminds you that there is a distinction between cynicism and anger, because the work, while angry, is rarely bitter—bitterness is the absence of hope; anger is hope's companion." It is in this space between cynicism and anger that Wojnarowicz's retrospective thrives. When we let his anger move us, we, too, are driven toward hope.