"RBG" elevates a justice, celebrates a marriage
If you're already down with "RBG"—this year's hit documentary on Ruth Bader Ginsburg, which makes its TV debut Sept. 3 on CNN—you will know it's about a woman who was centerstage in our national struggle for gender equality and equal rights long before she was made an associate justice of the U.S. Supreme Court. ("All I ask of our brethren is that they take their feet off our necks," is one oft-heard Ginsburg quote).
The unbridled venom spewed at such a tiny woman comes across as unseemly, if not wildly unexpected.
You will also probably be aware that, despite the hero-worship lavished on the so-called "notorious RBG," there's another view of Ginsburg, which directors Julie Cohen and Betsy West acknowledge with a smattering of alt-right voices laid over the introductory music to their movie:
"This witch! This evil-doer! This monster!"– Michael Savage
"An absolute disgrace" – Donald Trump
"She's a zombie. The woman's a zombie" – Bill O'Reilly.
The unbridled venom spewed at such a tiny woman comes across as unseemly, if not wildly unexpected. But ameliorating the bile is that music we are hearing—the overture to "The Marriage of Figaro," which is a much more appropriate theme than most viewers will realize going in.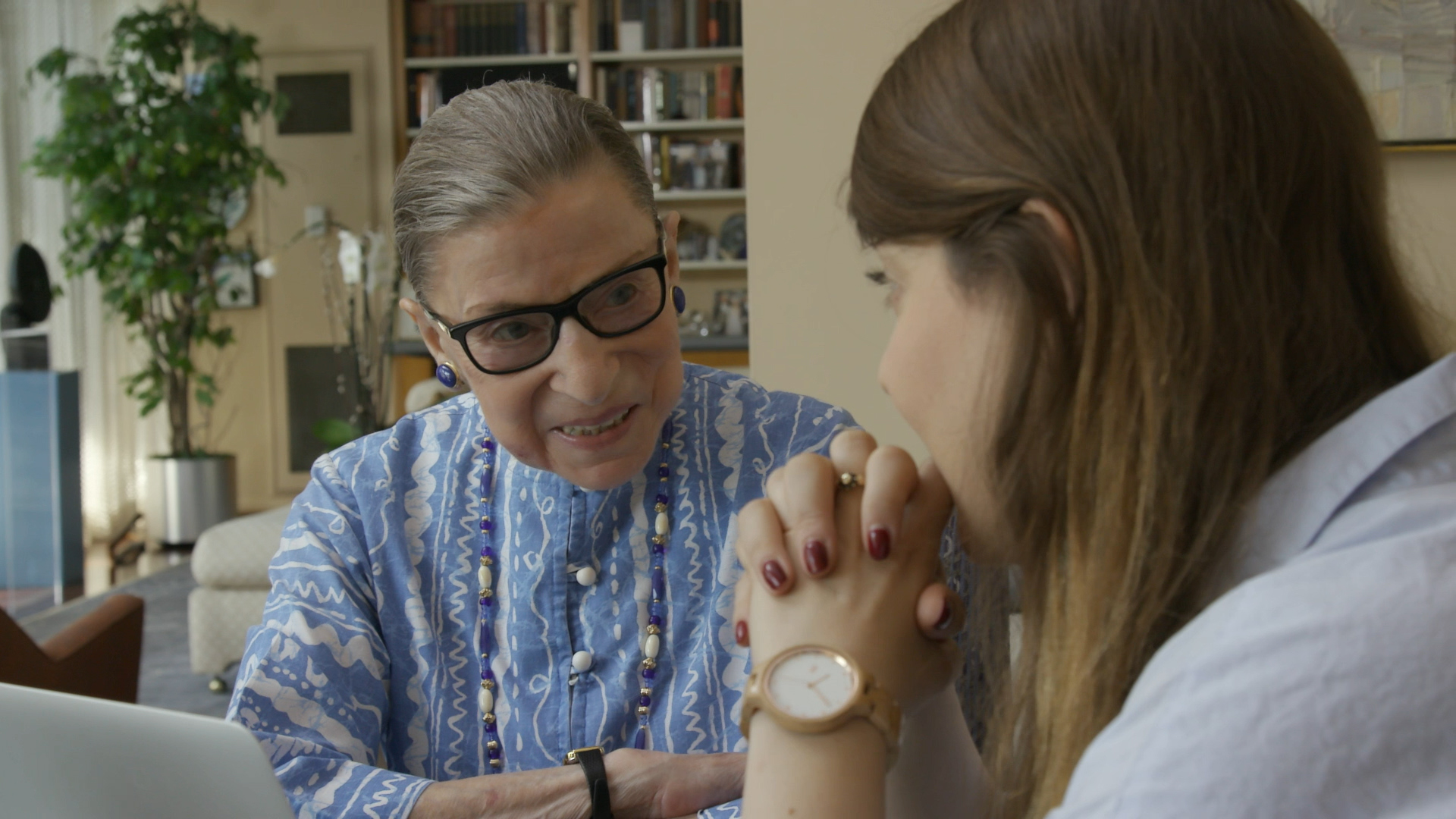 Ginsburg is a devoted opera fan, as many do know; that she and her jurisprudential nemesis Antonin Scalia were fellow buffs was a basis for their unlikely friendship. We even see the justice appearing as the Duchess of Crackenthorp in Gaetano Donizetti's "The Daughter of the Regiment" during a National Opera production two nights after the 2016 election. (One of the few roles in grand opera that is a speaking part, it provided Ginsburg the opportunity to address, very cagily, the electoral travesty that had just transpired.)
But in addition to being a biographical documentary about a pioneering jurist, "RBG" is also a portrait of a marriage—and not necessarily a very modern one, at least at its outset. Ruth Bader married fellow Brooklynite Marty Ginsburg a month after she graduated from Cornell, and she followed him to Oklahoma, where he was stationed as an R.O.T.C. officer after being drafted; she delayed her enrollment for two years at Harvard Law School, which they both entered together; Marty got cancer and Ruth took care of him and their child while studying law; when Marty got a job in New York, Ruth went too, transferring to Columbia Law School, where she tied for first in her class.
But Marty Ginsburg, regarded as perhaps the best tax lawyer in New York, was Ruth's greatest champion—a good-humored man who cheerfully accepted the role of "second fiddle" to his (more) brilliant wife, while always lobbying on her behalf, especially when President Bill Clinton was presented with the opportunity of filling the Supreme Court seat of retiring Justice Byron White. Clinton had a long line of candidates ahead of this relatively unknown U.S. Appeals Court justice. As those interviewed agree, including Clinton, Ruth clinched the deal. But it was Marty who set it in motion.
But in addition to being a biographical documentary about a pioneering jurist, "RBG" is also a portrait of a marriage.
The Marty-Ruth alliance is a huge part of why "RBG" has struck a chord with audiences. (Marty Ginsburg died in 2010.) It humanizes its subject in a way all the interviews with family, old friends and even a few politicians from the friendly opposition (Orrin Hatch, for instance) can't do. Those people weigh in the way you would expect. They extol Ginsburg's talents and mind and talk about her retiring personality, the ways it contrasted and complemented Marty's ebullience and how her sense of fairness led her down some unlikely paths—to Weinberger v. Wiesenfeld, for instance, in which a widower HAD BEEN denied survivor benefits that a widow would have been given without argument. ("Sex discrimination hurts everyone" was her mantra).
The film doesn't really get into the fact that, as the co-founder of the Women's Rights Project of the A.C.L.U., she often came onto those landmark cases after they had already been launched by other plaintiffs and lawyers. Still, Ginsburg's contributions to our current legal world are established as profound and revolutionary, although her position on abortion remains pro-choice.
"RBG" includes some archival material, some contemporary interviews with Ginsburg and of course footage of her working out at her gym. One of the best bits in the film is watching her watching—for the first time, it seems—the comedian Kate McKinnon's so-called impersonation during the "Weekend Update" segment of "Saturday Night Live." ("That's a Gins-burn!" McKinnon exclaims, after delivering some very un-Ginsburgian takedown of someone, or something).
The cumulative effect of "RBG," which is certainly manipulative, is enough that you want to go upscale in finding ways of describing the tiny legal giant at the center of the movie: "Liberal hero," for instance (Rachel Maddow). Or "though she be but little, she is fierce" (William Shakespeare). Or, you might just paraphrase Winston Churchill: Never has so much been owed by so many to the nonretirement of so few.