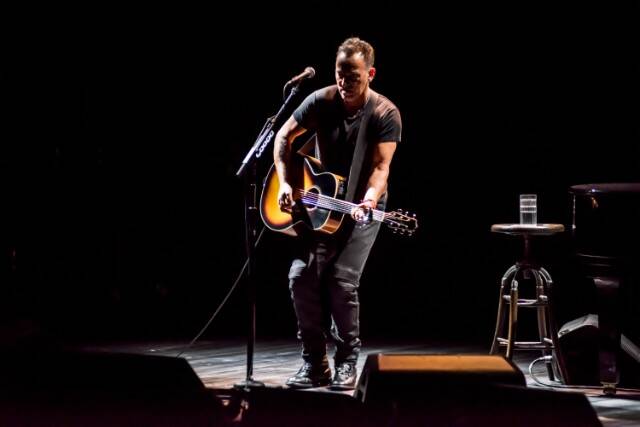 Bruce Springsteen's Broadway magic trick
On a recent Tuesday night, Bruce Springsteen strode onto the spare, dimly lit stage of Broadway's Walter Kerr Theatre promptly at 8 p.m. as he has done five nights a week since October. With just a couple of microphones, a piano and assorted musical instrument cases as his backdrop, he announced to the 960 people gathered: "I come from a boardwalk town where almost everything is tinged with a bit of fraud. So am I."
So begins "Springsteen on Broadway," a one-man show based on his 2016 autobiography Born to Run, which topped best-sellers lists around the world. The burgeoning genre of rock star autobiographies, with the exception of Patti Smith's Just Kids, is overstuffed with frankness and candor, but it rarely exhibits anything approaching the genuine insight and struggle for self-understanding showcased in Born to Run.
And yet, at a hefty 508 pages, it is somehow incomplete, though not in the sense of lacking; it was simply limited by its medium. If, as comedian Martin Mull observed, "writing about music is like dancing about architecture," Springsteen's memoir finds its deepest resonance in his mixture of storytelling and song on Broadway.
In "Springsteen on Broadway," song, story and storyteller merge.
At the outset, the singer lets the audience in on the "magic trick" at the heart of his life's work. In "Springsteen on Broadway," song, story and storyteller merge to reveal his genius for tapping into the transformative power of narratives that are somehow both his and ours—simultaneously specific and universal. It is a "trick" as profound and as old as Scripture.
He vividly recalls growing up among Irish and Italian relatives who all lived in the shadow of St. Rose of Lima church in Freehold, N.J. In his telling, Freehold becomes a place of imaginative wonder in which he stages epic battles with plastic soldiers in the mighty roots of a beautiful copper beech tree. But it's also a place of fear and shame where this sensitive, creative "oddball" eventually can't fit in.  
He speaks eloquently about his late bandmate Clarence Clemons and the rest of the E Street Band and how together somehow the whole added up to more than the sum of its parts. He confides "it is a magic trick in which 1+1 doesn't equal 2, 1+1 = 3," before playing a poignant version of the E Street Band's Genesis story "Tenth Avenue Freeze-Out."
If "Elvis freed your body, Dylan freed your mind," Springsteen has explored what the choices and consequences of those freedoms look like.
Unlike his heroes Elvis Presley or Bob Dylan, Springsteen has never been a musical innovator in the traditional sense. His is a different gift. Dylan, a wordsmith without peer, plays "Like a Rolling Stone" and we are reminded that a great artist is trotting out his masterpiece. But it is a one-way exchange of artist to audience with no evident desire to connect beyond that. It is a different experience entirely to hear Springsteen weave a narrative through his songs. If, as he has said, "Elvis freed your body, [Dylan] freed your mind," Springsteen has explored what the choices and consequences of those freedoms look like in the messiness of ordinary lives.
He describes growing up in an emotionally polarized home where his late father—a brooding man who was later diagnosed with paranoid schizophrenia—was counterbalanced by his petite Italian-American mother, a relentless source of joy and possibility. He lovingly remembers her "in pink curlers and matador pants," dancing with him as a child. Her only son describes with wonder how, at 92 and suffering for seven years with Alzheimer's, she still loves to dance at any occasion, and then launches into a deeply moving, acoustic version of "Dancing in the Dark." The song is not a masterpiece in the Springsteen canon, which makes the alchemy of the moment all the more unexpected. Audience members, no longer simply witnesses at a concert, become imaginative participants in a small story of joyful redemption in the midst of despair. Magic.
Toward evening's end, Springsteen noted that artists don't "tell" people anything, they simply "remind" us of who we truly are and who we aspire to be. In a 2005 documentary about the "Born to Run" album, he put it slightly differently. He describes playing those songs decades later with the same friends he recorded them with in 1975, saying that on stage it provided "a great communion between myself and the band members. Without sounding too hokey about it or blown up about it, it is a bit sacramental when we play it."
For all the justified discussion about Springsteen's "Catholic imagination," it is ultimately an aesthetic concept, an idea that points to a belief. In the end, abstractions pale in comparison to the thing itself, the actual magic—the essential and transformational effect on us—that the communal ritual of story and music can provide. It is a liturgy of sorts that transcends time and reminds us, in ways we would never have imagined, who we are and how we are connected.