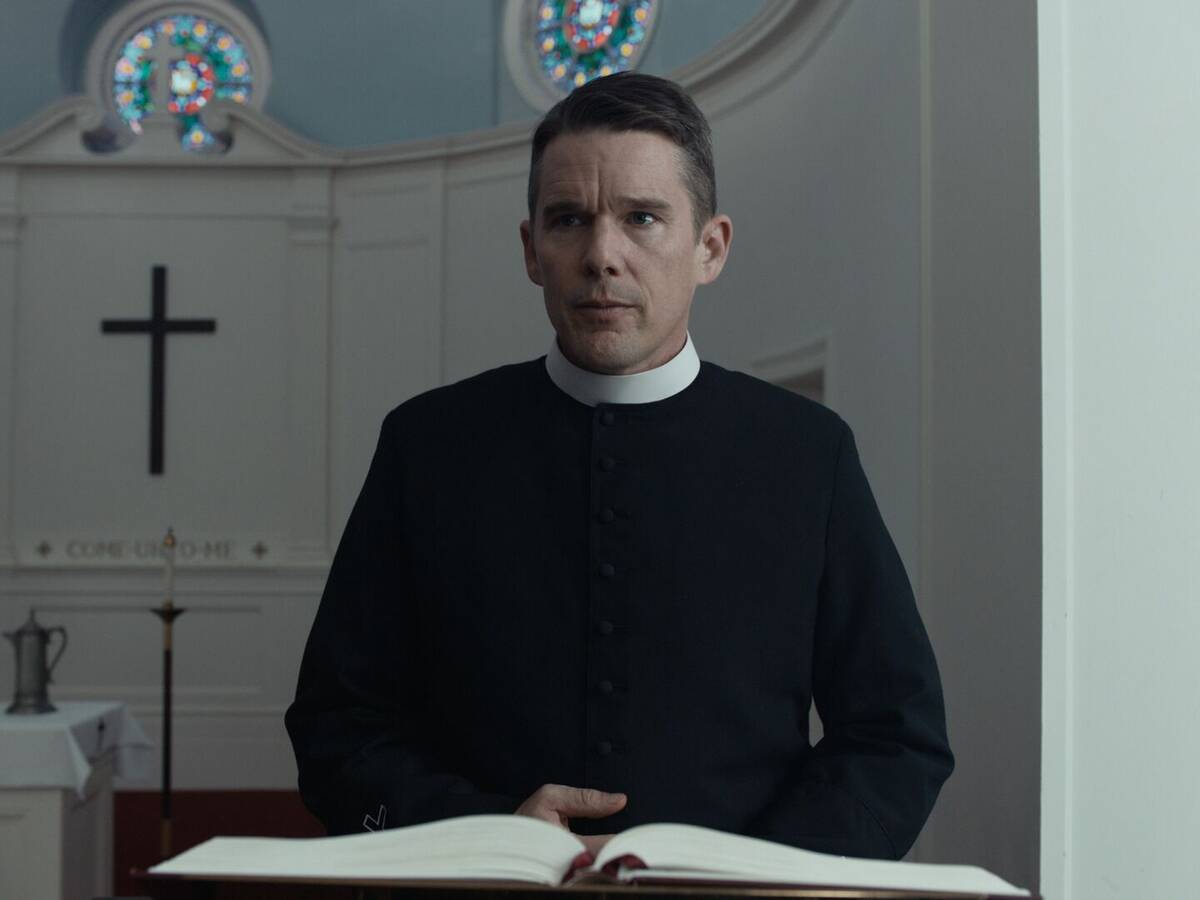 Review: Ethan Hawke is a pastor in distress (and a Catholic in disguise) in 'First Reformed'
Few filmmakers in our time have made their religious background an indispensable tool in how we read their films, but in Paul Schrader's case it is unavoidable—the way divinity and depravity intersect in his screenplay for "Taxi Driver," for instance, or the way faith-obsessed directors like Robert Bresson and Carl Theodor Dreyer influence his work. With his new film "First Reformed," Schrader, the most famous fallen Calvinist in filmdom, has made perhaps the finest film of his career. And indicated he is really a Catholic.
The story's "hero," as it were, is the Reverend Toller (Ethan Hawke), a cleric cut from the cloth of Graham Greene's "whiskey priest," Bresson's country priest and even Richard Burton's "meddlesome priest"—a man who finds in his ministry more torment than solace. He is the last, it seems, in a long line of military men, as well as a former chaplain who lost his son in the Iraq War—and his wife shortly thereafter, because he had used the cudgel of family tradition to get the boy to enlist.
Paul Schrader, the most famous fallen Calvinist in filmdom, has made perhaps the finest film of his career.
A stricken man in more ways than one, Toller has become the pastor of the First Reformed Church of the fictional Snowbridge, N.Y. (in the reality-based Albany County). A 1760s-vintage steepled Dutch Colonial, it is allowed by Schrader to emerge during the film's opening moments through a scrim of darkness, a creeping closeup that reveals a mute, windowless ghost of a building, one that cinematographer Alexander Dynan manages to make look suffocated in its own whitewashed clapboard. If this were not already a metaphor for spiritual death, the church's dwarfish shrubberies resemble tombstones.
While the film is fierce and uncompromising, its visuals as stark as the church, its protagonist is skittish, unsure. Through Hawke's finely calibrated performance, we meet a minister who feels unworthy, guilty and to a degree compromised: He only has his job courtesy of First Reformed's landlord, the nearby Abundant Life evangelical megachurch, and its leader, Pastor Jeffers (Cedric the Entertainer, credited here as Cedric Kyles).
"What do they call it, the museum?" Jeffers says, ribbing the unamused Toller.
"Souvenir shop," Toller answers. "They call it the souvenir shop."
Among Toller's duties—when he is not dispassionately sermonizing to half a dozen congregants—is leading tours of his church and selling its T-shirts and coffee mugs. (The building's 250th anniversary is in the offing, and provides some degree of a plot.)
What provokes the action in the film, such as it is, is a woman named Mary (Amanda Seyfried) asking for Toller's help with her husband, Michael (Philip Ettinger), a militant environmentalist recently released from prison in Canada. Mary is pregnant; Michael wants her to abort on the grounds that the world is too polluted to bring a new life into it. Toller's reaction is to hand her off. Pastor Jeffers has many resources for counseling, he tells her. No, she says; her husband thinks Abundant Life is "more of a company than a church." So does Schrader, as becomes abundantly clear.
Pastor Toller's instincts are sound, his faith less so—"if only I could pray," he tells his journal.
"First Reformed" is a talky film, a point emphasized by Schrader's choice of having the camera isolate the characters almost all of the time. But it is fascinating talk. Toller and Michael debate a doomed planet and the meaning of despondency. "You might despair at bringing a child into this world," Toller says, "but it cannot compare to the despair of taking a child from it." In ministering to a youth group, Toller debunks the very Calvinist idea that godliness and prosperity can be compatible ("that's not what Jesus teaches"). In his confrontations with one of his own church's benefactors, a Trumpian tycoon named Balq (made appropriately loathsome by actor Michael Gaston), Toller makes clear the unacceptability of good acts without good faith. Toller's instincts are sound, his faith less so—"if only I could pray," he tells his journal, a 12-month assignment he gives himself without much hope he will be able to finish. He drinks. When his stomach pain becomes too great, he mixes his whiskey with Pepto-Bismol.
"You're always in the Garden," says Jeffers, referring to Toller's evident funk over the future of mankind. "Even Jesus wasn't always in the Garden." You have no idea, Jeffers tells the unhappy minister, "what it takes to do God's work"—by which he evidently means marketing, promotion and filling a megachurch. It takes, Jeffers declares, living in the real world.
"That guy you're always reading?"
"Thomas Merton."
"He didn't live in the real world either."
There is not much one can reveal about the narrative of "First Reformed" without giving away too much. But it is safe to say the film takes a ferociously damning view of pop Protestantism, the institutional hypocrisy of evangelicals regarding climate change and what is essentially the buying of indulgences by a wealthy few who make munificent contributions to various causes without correcting their profitable crimes. Schrader is positing that the real world is, and should be, about the life of the mind, the health of the soul—and love. Ultimately, that is where "First Reformed" ends up, even if it seems to be going everywhere else.