A new movie explores: What really happened at Chappaquiddick?
If you are under, say, 50 years of age, "Chappaquiddick" might suggest "Jumanji" or "Ratatouille"—a movie title that is hard to say, hard to spell, and what the heck does it mean anyway? For those who know, or perhaps have real-time memories, the word "Chappaquiddick" will evoke nothing short of tragedy, the quasi-implosion of a political dynasty and a scandal of astronomical proportions. Not to mention power, corruption and the obscene extremes of American class privilege.
It is these last few qualities that are the focus of "Chappaquiddick," its director John Curran and, especially, the film's relatively inexperienced young screenwriters, Taylor Allen and Andrew Logan. Curran is just old enough to remember July 18, 1969, the day Edward M. Kennedy drove his car off the bridge on Chappaquiddick Island. Taylor and Logan are not, and that is a critical point: Kennedy, at the time the senior senator from Massachusetts, was the brother of an assassinated president and an assassinated presidential candidate; his family, wracked by tragedy, occupied a now-unthinkable place in the American imagination. Kennedy may have been culpable in the drowning death of his lone passenger, Mary Jo Kopechne, a 28-year-old former campaign worker for his brother, Bobby. But he was the beneficiary of significant national sympathy. Never mind being the heir to an enormously powerful political machine.
The word "Chappaquiddick" will evoke nothing short of tragedy, the quasi-implosion of a political dynasty and a scandal of astronomical proportions.
Allen and Logan are immune to all that, and it is their portrayal of Kennedy-era power politics that attracts and repels, and makes the film more than a morbid rehash of tawdry scandal. Jason Clarke, the Australian actor ("Mudbound," "Zero Dark Thirty") is a fleshy, entitled and very convincing Teddy, who is accustomed to having people to pick up after him, notably his cousin Joe Gargan (Ed Helms). On Martha's Vineyard for the annual Edgartown Regatta (which Teddy manages to lose through pure pigheadedness), he is also quite preoccupied with a party being held on Friday night. As it happens, it is also the weekend of the Armstrong-Aldrin-Collins moon landing, which turns out to be a blessing for Ted. ("It would take nothing short of men walking on the moon to knock this off the front page," someone later says. "Looks like Ted's big brother arranged for just that.")
Coming to that party are the "boiler room girls," the female volunteers on Robert F. Kennedy's 1968 presidential campaign. Kopechne had been on that team. Kennedy obviously has his eye on her.
"Chappaquiddick" treads carefully on several fronts. Kopechne, given a likable, sober portrayal by Kate Mara, is ever-leery about Ted; she knows he is not his brother Bobby, that he is married to the then-pregnant Joan and that every other word out of his mouth is either self-serving or a lie. That she gets in the car with him that night is a little out of character. But, of course, she did. There is no suggestion, however, that an affair was going on. Or that Kennedy was drunk at the time of the mishap.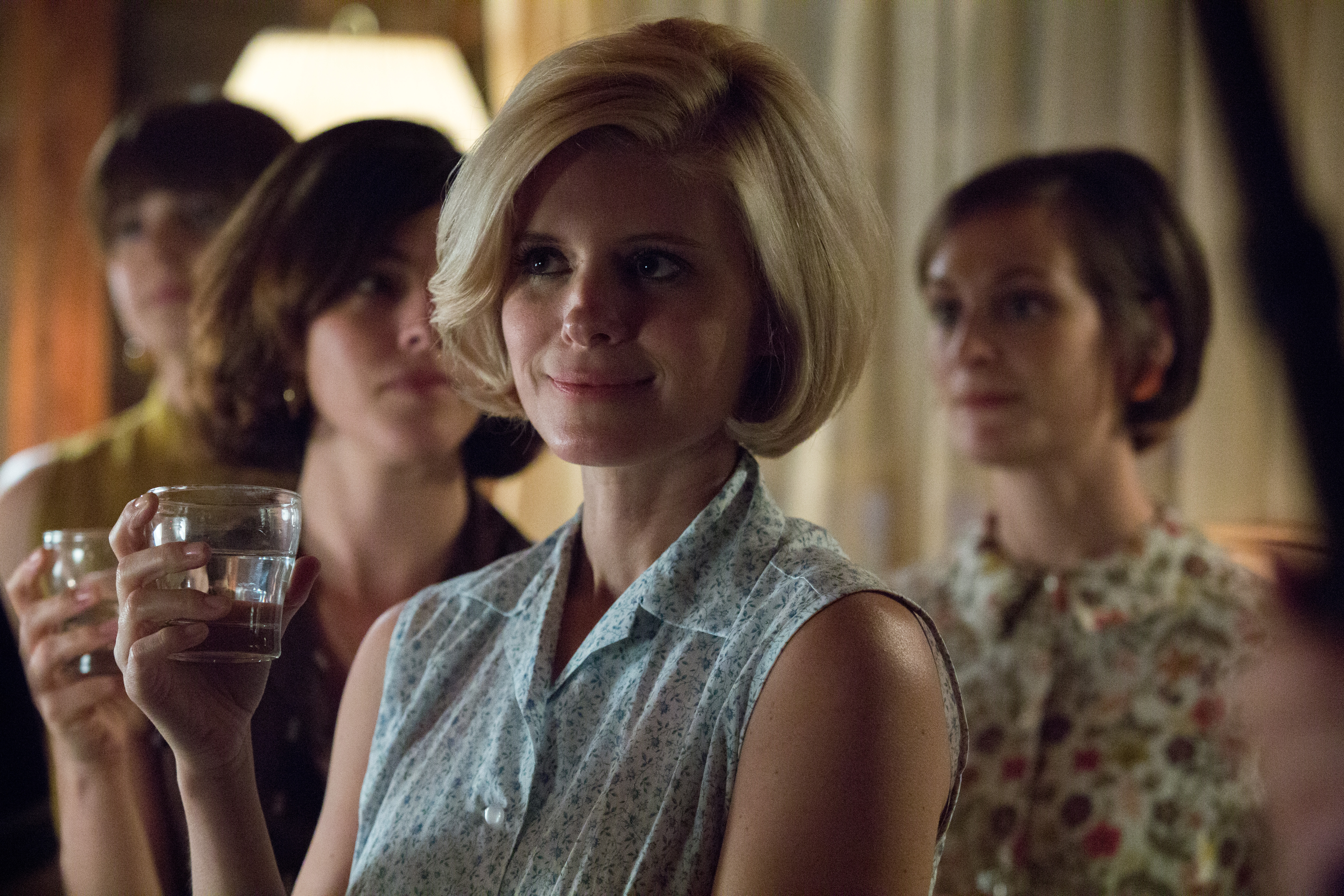 At the same time, no one comes off particularly well in "Chappaquiddick," save for Mary Jo and her fellow "boiler girl" Rachel Schiff (a terrific Olivia Thirlby). The police are either stupid or corrupt. The media is more than manageable. The people of Massachusetts are simply besotted by Kennedys.
But the portrait of Teddy himself is poisonous. In the wake of the crash, he escapes the overturned car and swims to shore—as Kennedy in fact did—and then waits almost 10 hours to notify the authorities. It was theorized later that Kopechne might have lasted as long as two hours after being submerged, in an oxygen bubble inside the black Oldsmobile. The treatment of this in "Chappaquiddick" is not just horrifying, but structured to provide Kennedy the least benefit of any doubt.
Returning to his inn, Teddy takes a bath, during which he seems to envision Mary Jo trying to get out of the car, trying to survive on that little bit of air. Or is that what is happening? The filmmakers have it both ways. If Teddy is merely imagining what she might have gone through, his ability to go to sleep after his bath suggests he is a sociopath. If the vision is "real"—if what we are seeing is a dramatization of what is actually happening in real time, if she is really still in the car, struggling as he goes to sleep—his culpability is that much greater. "I could have gotten her out of there in 25 minutes," a rescue diver says later, as the body's being recovered. "But no one called."
As awful as the death of Mary Jo Kopechne was—her parents, who gave the Kennedy family very little trouble, are treated dismissively—it is the aftermath that fascinates. Calling his father about the accident, Teddy gets a one-word, croaked response from the wheelchair-bound, stroke-disabled Joseph P. Kennedy, Sr.: "Alibi!" At his father's house not too long after, Teddy is confronted not just by Dad (Bruce Dern) but a roomful of the country's top fixers and politicos, including onetime J.F.K. speechwriter Ted Sorenson (Taylor Nichols) and Robert McNamara (Clancy Brown), then president of the World Bank. (There were other luminous operators in the room, but they go unidentified.)
They see the scope of the problem; Ted does not. They suggest ingenious ways out of it; Ted has, or will, sabotage himself at every turn. It is a tragicomic scenario—the scion of an epic political dynasty incapable of taking advice, of relinquishing control of the situation to those with more wisdom and experience, or of getting his ego out of his own way. Any comparisons to the current political landscape are left to the viewer. But they are certainly there to be made.