The problem with U.S. hockey: racial diversity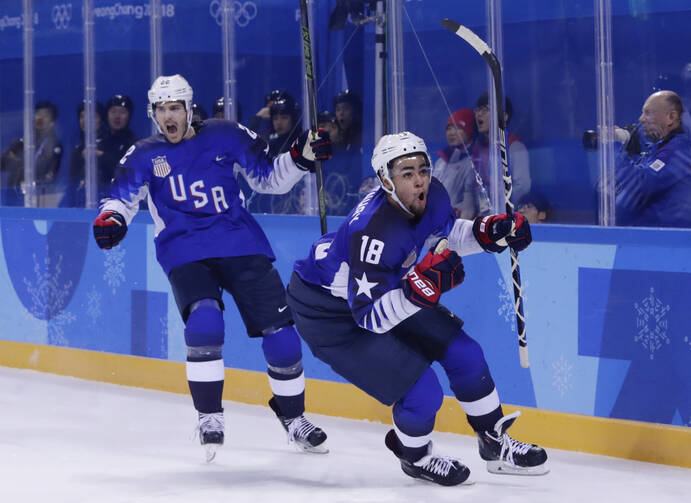 Jordan Greenway (18), of the United States, celebrates with teammate Bobby Sanguinetti (22) after scoring a goal during the second period of the preliminary round of the men's hockey game against Slovenia at the 2018 Winter Olympics in Gangneung, South Korea, Wednesday, Feb. 14, 2018. (AP Photo/Frank Franklin II)
Standing at 6-foot-5, Jordan Greenway is the tallest man on the U.S. men's ice hockey team at the 2018 Winter Olympics. The Boston University student is also making history as the first African-American hockey player to play in the Olympics for the United States. All American hockey fans should be proud.
U.S. hockey has long had a problem with racial diversity, and Mr. Greenway has said he hopes his presence will inspire other kids of color to hit the ice. His presence is indeed inspirational. But it is also more than that: It is a rare glimpse at what true equality looks like in the United States.
I am a former hockey player—and one of the only Latinos I know in the game. Defying another stereotype about Latinos, I am a horrible dancer. But on the ice, I feel truly in control. My body's instincts and gravity align, and I can move, powerfully, with a precision and speed otherwise unknown to me. I would say I am graceful on the ice but for the fact that the primary application of my talent has been slamming other players into the boards.
When I played hockey, other players of color were few and far between.
When I played, other players of color were few and far between. One goalkeeper I played with was African-American, and the daughter of Central American immigrants was one of the fiercest opponents I ever faced. Aside from a handful of Asian-Americans, the rest of the kids were white.
The lack of diversity in hockey can be explained, in part, by geography. The sport's origins are murky, but historically it has been most popular in cold, northern places like Canada, Russia, Sweden and other countries whose immigrants President Trump would likely approve of. The climate in many of the "s***hole countries" where black and brown people live is simply not conducive to winter sports. Immigrants to the United States from these countries, and their American children, are less likely to pick up an unfamiliar sport.
There are also economic barriers to greater diversity in hockey. Unlike soccer, where all you need is a ball to kick around, hockey requires either natural ice or expensive-to-maintain rinks. The cost of skates, sticks and pads can climb into the hundreds of dollars. This is why the idea of a U.S. hockey world as diverse as America itself appeals to me. A world where black and Latino and other immigrant kids are a common sight on the ice is a world where the racial wealth gap is no longer holding minorities back.
A world where black and Latino kids are a common sight on the ice is a world where the racial wealth gap is no longer holding minorities back.
In the largely agricultural California Central Valley where I grew up, Latinos are disproportionately poor. My Mexican and middle-class family was an exception. I was one of the rare Latinos who played hockey because my parents could afford to buy the gear. I loved playing and remain grateful for the opportunity; in a way, it was the culmination of an immigrant dream. The hard work of my Mexican parents allowed me to play a sport unknown to most Mexicans. It is just one small example of how immigration can expand the horizons of an individual and their descendants.
As the son of immigrants, hockey has always been intertwined with my American identity. During the World Cup, I root for Mexico over the United States. The U.S.-Mexico soccer rivalry is permeated by the tensions of race and history that leaves many Mexican-Americans feeling forced to choose between their identities. But every Winter Olympics I root for Team USA, because if soccer represents the sporting traditions of the culture I come from, hockey represents the new culture I was born into. Rooting for the U.S. hockey team—a symbol of patriotism going back to the mythic 1980 "miracle" win over the Soviet Union—is one way I claim my American identity. (Of course, it helps that I never have to choose, since Mexico does not field an Olympic hockey team—yet.)
If soccer represents the sporting traditions of the culture I come from, hockey represents the new culture I was born into.
Yet in my attraction to hockey there was also certainly a degree of internalized racism: I chose a sport alien to most Mexicans because I subconsciously accepted that my Mexican roots made me less deserving of the title "American." My self-hatred was mostly directed outwardly at my father. It was his accent that always threatened to reveal my dirty secret that we spoke Spanish at home. He never coached my hockey team, and it fell to the fathers of my teammates to teach me to tape my stick, to tie my skates and to take a slapshot. I felt robbed of the typical American childhood I saw all around me, and hockey was my way in. And yet my dad was still there to support me, coming to games as often as he could.
And now I know: My childhood of breaking piñata, homemade rice and beans and Christmases spent in Mexico was an American childhood. I do not need to play hockey to participate in American culture. Whatever I do will be American because I am American. The only person more American than me is my dad, accent and all, because he, like every immigrant before him, actually chose to become an American. It was his actions that gave me the birthright that is U.S. citizenship. When kids like me choose to play hockey we prove that we can do as much in this country as anyone else. The choice for everyone else is whether or not we will be given that chance.
Things are improving for Latinos in hockey. There are notable Latino players in the N.H.L. today, a testament to the league's efforts to diversify. Even in Mexico, ice hockey is slowly starting to gain some traction. The presence of color on the ice is thrilling precisely because it is something so ordinary and so simple. More than anywhere else, it is in young kids of color playing hockey that I find hints of America's bright future: It will be the same old great thing, just done by new, more colorful people.