'Goodbye Christopher Robin' shows the trauma behind the creation of 'Winnie-the-Pooh'
In a film about the author of the beloved Winnie-the-Pooh stories, you might expect scenes of sunlit forests, red balloons and childhood imagination. "Goodbye, Christopher Robin," a dramatic look at the life of the British writer A. A. Milne and his strained relationship with his son,delivers these scenes of whimsy. But this is not your run-of-the-mill heartwarming tale. It is a complicated story set between two world wars about the brokenness caused by trauma and an international literary phenomenon that results in misery for Milne's young son.
"Goodbye, Christopher Robin," directed by Simon Curtis and written by Frank Cottrell-Boyce and Simon Vaughan, masterfully examines the reality of living in a world tainted by violence and suffering. In a particularly moving scene, Milne (Domhnall Gleeson) and his illustrator, Ernest Shepard (Stephen Campbell Moore), look out over a stunning view of the English countryside while a young Christopher Robin (Will Tilston) plays nearby. But for the former soldiers in World War I, this sight of beauty is a reminder of the battlefields of France. Do those fields, formerly stained with blood, now resemble this benign verdant sight? This theme is woven through the film: How can we appreciate the beauty of life when we carry trauma with us?
How can we appreciate the beauty of life when we carry trauma with us?
We are given flawed models for this project in Milne and his self-centered wife, Daphne (Margot Robbie), who is reticent to reflect on anything painful, urging Milne to "find something to be happy about and stick to that" instead of dealing with the pain of his experiences and his fears for the future. She clings to the dangerous idea that if we do not acknowledge our traumas, they cease to exist.
Even the sound of opening a champagne bottle is enough to trigger Milne's crippling post-traumatic stress disorder, prompting him to move his family to a country house to seek respite from noisy London life and his constant flashbacks of the horrors of war. But the innocent antics of his young son are still enough to cause him distress, and Milne pushes his child away, leaving him to be raised by his nanny, Olive (portrayed beautifully by Kelly Macdonald).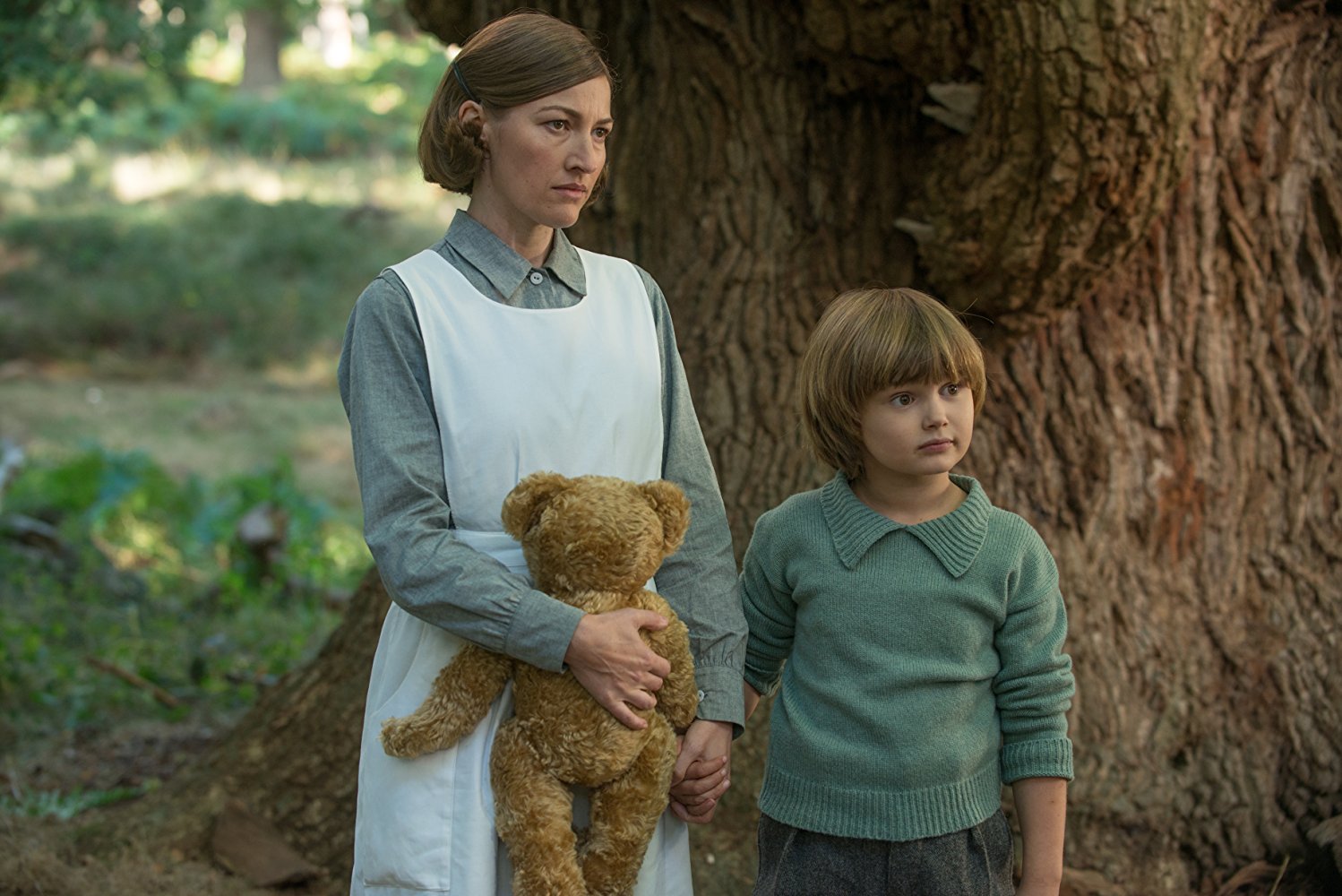 When Olive and Daphne are away for several days, Milne is forced to learn to play with young Christopher (called by his nickname, Billy Moon). By imagining with Billy and his stuffed animals the "Hundred Acre Wood," Milne is able to conquer some of his anxieties, and his son's joy sparks his first successful creative work since the war: Winnie-the-Pooh, a project that brings happiness to readers in a war-ravaged world.
But the unprecedented success of Winnie-the-Pooh leads Milne and his wife even farther away from their already neglected child. Milne's trauma and Daphne's fear that her child's life will be wrenched away from her in a future war make it impossible for either parent to be emotionally available to Billy. The success of the Pooh books motivates them to commodify Billy, who is seen by fans as the character Christopher Robin in the flesh, as a marketing tool. While Billy has been treated as an accessory from birth (Daphne claims to have had a baby to "cheer up" Milne), the constant interviews, press photographs, bullying by other children and loss of his beloved nanny traumatize young Billy.
The absence of parental affection and the subsequent commodification are exemplified by a heart-wrenching scene of Milne calling from a book tour overseas to wish Billy "happy birthday." Billy is crushed to realize that the call has been a live radio spot to promote the books, not a private call from his father. As he matures, Billy looks back on his father's role in playing in the woods with him during his childhood as merely conducting research for his books. The misery caused by the Winnie-the-Pooh phenomenon taints any happiness of his childhood and prompts Billy to reject everything to do with the books—including the sizable fortune they built.
Our children deserve better than our trauma, and yet, becoming a parent does not magically rid us of our flaws and pain.
Despite Milne and Daphne's inexcusable abuse, the film does not present them as flat villainous characters. Instead, the story (and Gleeson and Robbie's incredible performances) reveal the subtle truth that parents are people with flaws, carrying brokenness. The pain they suffered in the First World War results in suffering for their son, something Billy only makes peace with after his experience in World War II. Despite our best intentions and efforts, our traumas can affect not just us but the next generation. As a parent, this is a painful and terrifying reality to be aware of and address. Our children deserve better than our trauma, and yet, becoming a parent does not magically rid us of our flaws and pain. We are still just people, fighting to offer our children the best of ourselves and praying for grace where we fail.
"Goodbye, Christopher Robin" manages to present the reality of life's complications. It shows how we live in a world of magical forests and trench warfare, how a book can spark joy for millions and result in misery for a neglected child, how parents can love their child and fail to offer the affection he craves. This beautiful film makes us pause and consider how we can live in a world of loveliness and horror, how we can raise children faithfully in such a world, and how we must have the courage to love what might be taken from us.