Trump isn't Voldemort, and other lessons from Harry Potter on its 20th anniversary
This June marks the passage of 20 years since the first of the Harry Potter books was published. In those 20 years, tattoos, midnight book parties, baby names and themed weddings have all been markers of Potter obsession. Shortly after the election of President Trump, many readers of the Harry Potter books brought their fandom into political conversations by using the stories to reflect upon and challenge the new president. Tweets and memes called for the formation of a Dumbledore's Army, which, in the book, is a force against political and magical darkness. (Dumbledore—the wise, kind headmaster of Hogwarts in the Potter books—was oft-quoted during this time.) Articles have also pondered: "What would Hermione do?" and "If Trump Is Voldemort, Let's Learn From Harry Potter." Months later, at the Women's March on Washington, signs used characters from Harry Potter to rally people together. One proclaimed: "When Voldemort is President We Need a Nation of Hermiones."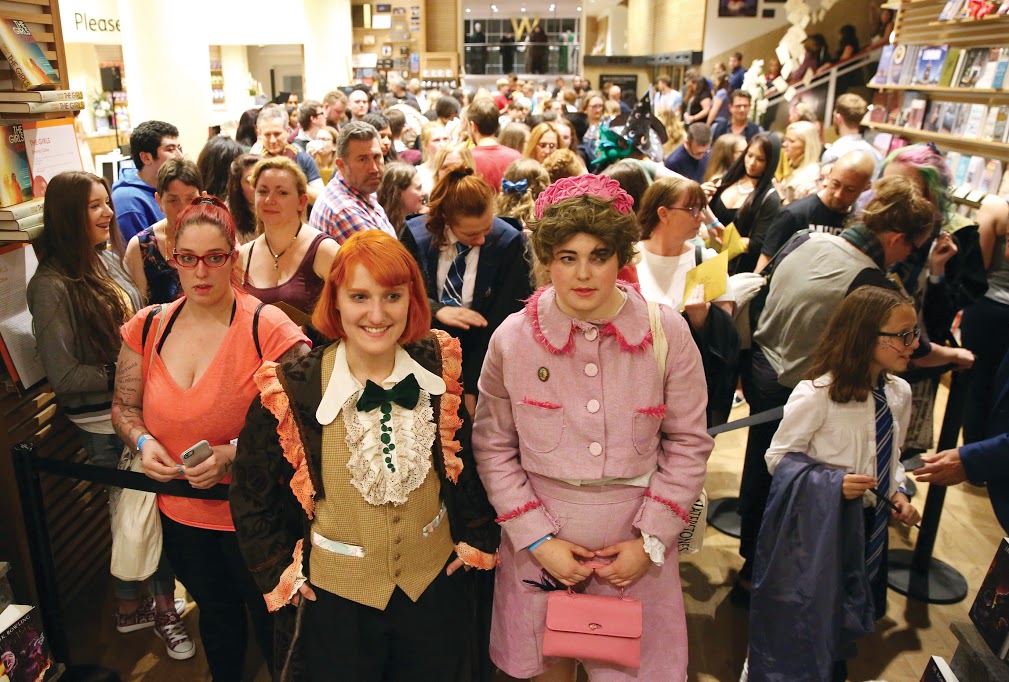 It is easy to poke fun at millennials who are this committed to a series of fantastical, fictional books marketed to children. Many social critics have lodged their complaints, saying that using Harry Potter language to deal with high stakes issues plays into the stereotype of the "liberal snowflake"—an overly-coddled, sensitive and alarmist liberal—all the while minimizing important issues like immigration, health care and prison reform, risking the seriousness with which we should be addressing these life-threatening issues. The fear inherent in these critiques is that we will trivialize the profound, shielding ourselves from the real life stakes involved. But putting a political moratorium on Harry Potter references seems more a performative gesture of sensitivity rather than a sincere one.
No one wants to be the fool who called Trump Voldemort when he ought to have been called into congressional chambers. Out of context, such an aside seems clueless and tone-deaf. But the context matters. As an interfaith chaplain and the co-host of a podcast called "Harry Potter and the Sacred Text," I have met dozens of people who turn to the Harry Potter series in times of distress. For the uninitiated: The Harry Potter series follows an orphaned boy raised in an abusive home who discovers not only that he is a wizard, but that he must also sacrifice himself in order to save the world. He attends Hogwarts School of Witchcraft and Wizardry, where he also learns that kindness, friendship and community are crucial to overcoming tragedy—with or without magic. Throughout the series the protagonists (mainly Harry along with his two best friends, Hermione and Ron) face adversaries who are consistently complicated, even if they seem wholly good or wholly evil at first glance. The series uses fantasy motifs (e.g., humanoid creatures like centaurs and werewolves) as a way to discuss racism and explores interracial relationships between wizards. By sending its titular character to the forest to die for his friends, Harry Potter is ultimately about sacrifice and justice.
Anne, a member of the Harry Potter class that I facilitate at Harvard Divinity School, rereads a key chapter of the series every year on the anniversary of her mother's death. In the chapter called "The Forest Again," Harry is able to interact with the adults in his life who have passed away. Although he does not get to talk with them much or spend a long amount of time with them, for the time they are together, "their presence was his courage." This chapter gives Anne a place for her to grieve. It gives her a kind of liturgy, a ritual to locate her grief in a meaningful and cathartic way.
What would we learn if we read the books we love as if they were sacred? How might they change us?
Another person I have heard from reads the book as a reminder of the fact that escaping abuse is a long road, since this is the road on which we follow Harry in J. K. Rowling's books. This reader uses the text as a reminder that it is more than possible to move on from being abused to being a citizen who has a lot to give.
While I do not think we should use the Harry Potter series as a kind of CliffsNotes to understand our current political situation, the two readers I describe above show us that careful engagement with this book can be a productive, reflective tool that compels us to action. Treating Harry Potter with seriousness—or, in my case, as if it were sacred—is a necessary precursor to accessing the books' wisdom.
What would we learn if we read the books we love as if they were sacred? How might they change us? To be clear, treating these texts as if they were sacred is not the same thing as mining them for political resistance strategies or asserting that the stories literally happened. Above all, choosing to revere a text in this way means allowing it to be deeply and meaningfully instructive in your life.
My own approach to reading Harry Potter is threefold. First, I practice the belief that the text is not just entertainment but, if taken seriously, can give us generous rewards. Trusting the text does not mean I understand the text to be perfect—either in construction on moral teaching—but that it is worthy of attention and contemplation. A guiding principle is that the more time we give to the text, the more blessings it has to give us. This is the opposite of simply using the novels as a shorthand to lambast adversaries—political or otherwise.
Harry Potter may be the perfect series to speak to this moment in time: It is pro-love and about integration and kindness, among so many other things.
Second, I treat the text with rigor and ritual: By reading the text slowly, repeatedly and with concentrated attention, my effort becomes a key part of what makes the book sacred to me. The text in and of itself is not sacred but is made so through rigorous engagement. Particularly by attentively engaging in ritual reading, I believe we can glean wisdom from its pages.
Third, I read the text in community. Isolation will not help us. But sitting down with a book and friends, arguing about what is found in its pages and trying to identify lessons—that can be instructive. By doing this, we are imagining the inner lives of strangers and improving our aptitude for empathy. As the world becomes scarier, discussing accessible books in community, with trust and rigor, provides a way for millennials to process issues of personal, moral and political significance. Such conversations are possible within, across and beyond faith communities.
Harry Potter may be the perfect series to speak to this moment in time: It is pro-love and about integration and kindness, among so many other things. But we need to do more than use it as a way to identify like-minded readers. We need to use the texts to create like-hearted brothers and sisters. The books are already ubiquitous—so let us put them to good use. Then we can make protest signs with Dumbledore quotes.