A Jesuit perspective on Harry Potter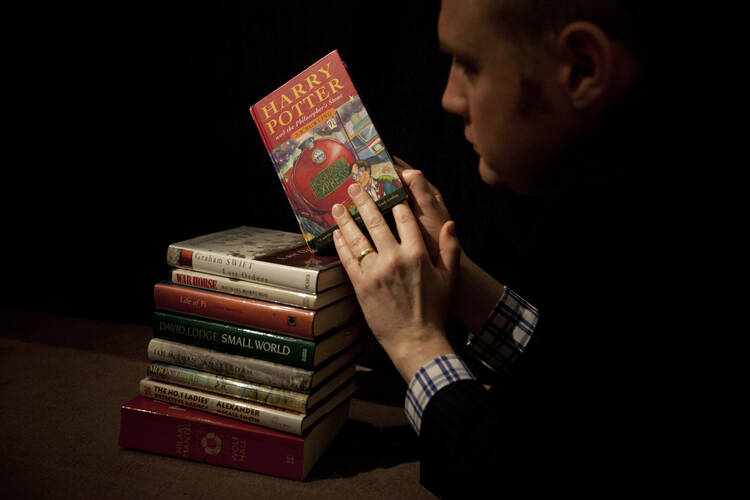 In this Monday, May 20, 2013 file photo, Sotheby's director of the department of printed books and manuscripts Dr Philip Errington poses for photographers by holding a first edition copy of the first Harry Potter book "Harry Potter and the Philosopher's Stone" containing annotations and illustrations by author J.K. Rowling on top of a stack of other annotated first edition books featuring at auction, at the auction house's premises in London. (AP Photo/Matt Dunham, File)  
While it is unlikely that my students will have read the whole of the New Testament, all have read the seven Harry Potter books at least twice and some as many as eight times. For several years, I have been offering a theology seminar at the College of the Holy Cross, "Defense Against the Dark Arts," about Harry Potter. In teaching the seminar—the name of which is taken from a class that Harry takes in the books—I ask in good Jesuit fashion: What portal have my students' imaginations stepped through?
Christian faith is built on a story, and stories require imagination. Getting inside the Gospels requires stepping through a magical portal, too. We call it grace; yet whether we label it grace or magic, the result is the same: "Of course it is happening inside your head, Harry, but why on earth should that mean that it is not real?"
Christian faith is built on a story, and stories require imagination.
Once inside J. K. Rowling's universe, what awaits us? Well, there are the themes of friendship and loyalty, courage and transparency, sacrifice and mortality, separation and loss, failure and remorse, destiny and providence—and love, life's most powerful magic. Rowling is not a religious writer, yet strong religious currents run through the books. I think of Karl Rahner's observation: "Even an image that does not have a specifically religious theme can be a religious image, when viewing it helps to bring about...that properly religious experience of transcendence."
The religious experience of transcendence is what happens when enchantment breaks through. To walk into the world of Harry Potter is to enter a world that is enchanted, and this (with a bow to Charles Taylor) is what readers thirst for.
In the Harry Potter stories there are Ignatian undertones, too. The relation between dementors (soulless, soul-sucking creatures) and patronuses (magical images that manifest the courage and hope of a wizard) is particularly intriguing. While the dementor robs people of vitality and happiness, the patronus, when invoked by a wizard, drives dementors away by projecting memories of joy. Yet summoning the patronus is not always easy. In Ignatius' writing, we likewise find good and bad spirits and learn how memories of past blessings help lift the soul from desolation.
The best defense against the dark arts is hope; imagination is its home. Ignatius knew that. After all, what are the Spiritual Exercises if not a schooling of the imagination? Hope is our resurrection stone; Easter is its shape.