What can Beyoncé and Pope Francis teach us about love?
Two weeks after Pope Francis released "Amoris Laetitia," another look into marriage and family life was released: Beyoncé's "Lemonade." On April 23, the singer released her sixth studio album as a one-hour HBO special. The album, which features music videos for every track, presents an unrelenting look into the singer's 10-year marriage to Shawn "Jay Z" Carter. While comparing the world's greatest living pop star to the leader of the Catholic world might seem like a stretch, both offer an important—often fundamentally different—look into love and marriage. And just as Pope Francis describes marriage as a means to gaze into the reality of God, Beyoncé's brutally honest presentation of her marriage demonstrates how God is already present in pop culture and in a broken and redeemed marriage.
"A love that is weak or infirm, incapable of accepting marriage as a challenge to be taken up and fought for, reborn, renewed and reinvented until death, cannot sustain a great commitment," Pope Francis writes in chapter four of "Amoris Laetitia." In Beyoncé's "Lemonade," we explicitly see what it means to fight for—and be reborn in—love.
The album opens with "Pray You Catch Me." The singer believes her husband has been unfaithful, singing: "You can taste the dishonesty, it's all over your breath.../ Constantly aware of it all, my lonely ear/ Pressed against the walls of your world." Her marriage, presented in stark contrast to her tightly controlled public image, is not perfect. There is distrust. There is heartache. There is the pain of a woman who no longer understands who her partner is, or what he is doing. She is vulnerable. She is broken. And she lays these insecurities in front of her audience.
In "Lemonade," self-love helps the singer move toward forgiveness. 
We then watch as the singer expresses her pride and anger. In "Hold Up" she proclaims, "They don't love you like I love you." And in "Don't Hurt Yourself," she yells, defiantly, "Who the f*** do you think I am?" and "When you love me, you love yourself/ Love God herself." Beyoncé is, slowly but surely, moving away from the pain we first hear. In "Amoris Laetitia," Francis states that self-love is significant because it is a "psychological prerequisite for being able to love others." In "Lemonade," self-love helps the singer move toward forgiveness.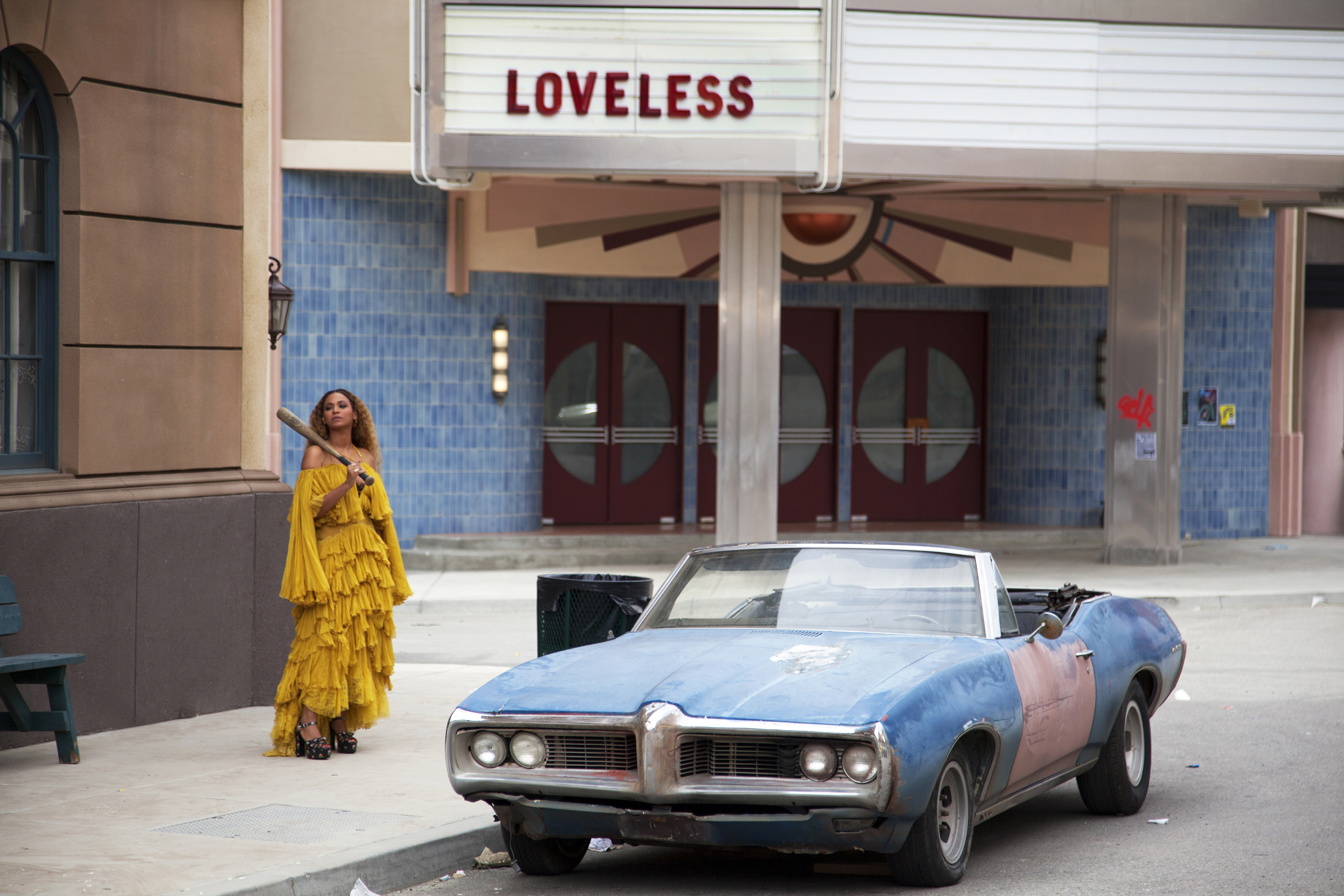 In the song "All Night," we witness the conversion. Beyoncé sings: "True love breathes salvation back into me/ With every tear came redemption/ And my torturer became my remedy." And, in the video for "Love Drought," we watch as she wades through water, with nine black women behind her, all dressed in light blue garb. They join hands and lift their arms toward the sky. She sings: "you and me could move a mountain.../ you and me could calm a war down.../ you and me would stop this love drought."
One of the most powerful themes in "Amoris Laetitia" is its focus on forgiveness. Francis states that forgiving is by no means easy, but it is paramount for a successful relationship bound by love and God, writing that "love also bears fruit in mercy and forgiveness." Beyoncé has reached the point of forgiveness. She has baptized herself in these waters, she is a new woman, converted, capable of forgiveness, for she knows there is power in love.
Along with its depiction of love and marriage, "Lemonade" offers an explicit look into the experiences of black women. In the video for "Don't Hurt Yourself," we see scenes of various African-American women, as we hear Malcolm X's famous line, "The most disrespected person in America is the black woman." Whitewashing, which refers to the act of portraying characters or stories of color through a white lenses, is rampant in Hollywood. (We can turn to Scarlett Johansson in "A Ghost in the Shell" or Matt Damon in "The Great Wall" as examples.) Beyoncé places the focus squarely on the lived and shared experiences of black women in this country.
"Lemonade" and "Amoris Laetitia" demonstrate that love and marriage are messy. 
Nikole Hannah Jones, a staff writer for The New York Times, stated, "This was a very specific, particular type of femininity and type of struggle with love." Throughout "Lemonade," the singer takes her relationship with her husband and connects it to the larger shared experiences of black women. Candice Benbow, a doctoral student at Princeton Theological Seminary, created "The Lemonade Syllabus," a tool that offers lists of works on topics like theology and womanism written by black women. Benbow said that following Beyoncé's release, she wanted to continue "to introduce...other offerings from amazing Black women who tell...stories."
For Yolanda Pierce, also at Princeton Theological Seminary, "Lemonade" is not just about the black, female experience—it is also about the ways in which these women live out their faith. Pierce describes the album as "equal parts 'testimony service' and Sunday morning worship." It presents "the contrasting realities under which black Christian women live their religious lives," Pierce claims, adding that it "gives [black women] a space to highlight the tensions of being a black Christian woman in America."
And "Lemonade" is very rooted in Christian themes, from the baptismal water imagery to its emphasis on mercy, reconciliation and love. However, the album also borrows from other faiths, particularly "the traditional religions of the Yoruba in Africa and the Caribbean," writes Pierce. She adds that this work shows "just one of the many expressions of faith that people of African descent brought with them during" the slave voyage from Africa to America. Beyoncé presents to her audience a Christianity that is diverse and syncretic.
Pope Francis reminds Christians that there must be "an effort to strengthen marriages, to help married couples overcome their problems" because the weakened marriages affect not just couples but "society as a whole." While "Amoris Laetitia" provides Christians with a nuanced ecclesiastical look into marriage, Beyoncé provides a perspective from someone living and experiencing life in a marriage. From beginning to end, "Lemonade" and "Amoris Laetitia" demonstrate that love and marriage are messy. There will be moments of struggle when one might question love—and even question God. There can be moments of infidelity, moments which cause disappointment and heartache.
And that is O.K. It is not meant to be easy. Together, both works demonstrate that marriage and family life, when rooted in God and love, are not meant to be perfect. They are meant to be real.