Stephen Sondheim: a great artist whose work blossoms in simple settings
This spring happens to be a good time to be a Stephen Sondheim fan in New York City, what with bang-up revivals of two of his best shows—"Sunday in the Park With George" and "Sweeney Todd"—running on Broadway and off, respectively, and another underrated masterpiece, "Pacific Overtures," arriving in April. Happily, though, this composer and lyricist's work is never scarce on U.S. stages in any season. Though he's had few bona fide box-office hits in his long and still ongoing career, his musicals are consistently the most frequently revived across America. By that measure, Sondheim is more popular even than Rodgers and Hammerstein, or Andrew Lloyd Webber, who currently has four hit shows running on Broadway.
Admittedly, Sondheim's popularity may be more attenuated and rarefied than other purveyors of Broadway razzle-dazzle. Many of the revivals of his work that come around, even in New York, aren't splashy affairs but small, intimate endeavors. In my experience, his work positively blossoms on this scale. It's often said that one test of a great song is that it can survive being stripped down to its most basic melody and accompaniment; likewise a good Sondheim show has the sinewy strength, both musically and dramatically, to thrive in the barest of renderings.
A good Sondheim show has the sinewy strength to thrive in the barest of renderings.
Of course, you could hardly call the new "Sweeney Todd"a bare-bones staging, though it's in a 200-seat house, with just three musicians and eight performers. An import from London, this "immersive" production has retrofitted Greenwich Village's 200-seat Barrow Street Theatre with the trappings of a pie restaurant, with the audience seated at long tables amid the action. (In fact, the theatre serves actual meat or veggie pies to participating patrons prior to performances.) This is hardly a Marie Callender's, though: As anyone who knows this Grand Guignol tale of the murderous barber and his bakehouse partner could tell you, there's nothing sweet about the pies on offer here.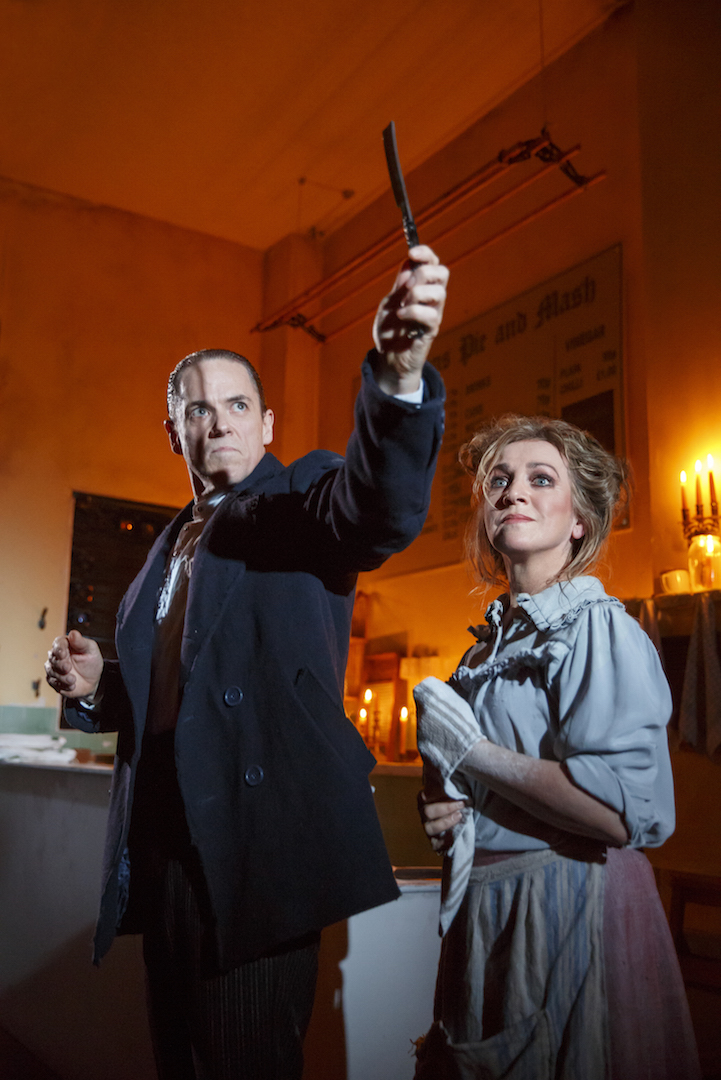 While such intimacy can bring out a familiar work's subtle shadings, director Bill Buckhurst and his cast instead go for broke, heightening the show's extremes of pity, terror, even camp. When the show's scowling Sweeney, Jeremy Secomb, fixes his unblinking eyes on one squirming patron or another, it's hard not to titter. The show's bleak sneer is leavened throughout by a certain music-hall buoyancy; that's true to the original material, if not its only color. I've seen and heard renditions, for instance, that mined deeper tragedy from the score, in the vein of operas by Berg or Puccini. This version comes off more like charnel-house Gilbert and Sullivan, and it's plenty delectable at that.
The title character in "Sunday in the Park With George" is at least as driven as Sweeney, not by revenge but by a desire for artistic expression so total that it eclipses the rest of humanity. Based loosely on the life of French painter Georges Seurat, James Lapine's book follows him through the creation of his 1884 masterpiece "A Sunday Afternoon on the Island of La Grande Jatte," then—in a divisive second-act gambit—has the painter's great grandson, a contemporary conceptual artist, reach a kind of karmic closure with his forebear around the issues that unsettle them both: art versus love, the passage of time versus the persistence of beauty.
The secret to Sondheim's greatness may be that he's written such marvelously complicated and rewarding scenes-in-song for actors.
That thin second act has never worked for me; it has always scored its intellectual points but never made them stick emotionally. But the new Broadway staging cinches the deal, making a decisive case for the whole show as a thing of beauty at least equal to the painting that inspired it. I can't say for sure how it pulls this off, but it might be that, though it's at the 970-seat Hudson Theatre and boasts a full onstage orchestra, this production—staged by the librettist's niece, Sarna Lapine—has an understated, minimalist feel, putting its focus on character more than design. With actors as persuasively soulful and nuanced as Jake Gyllenhaal and Annaleigh Ashford in the leads as George and his wayward muse, Dot, this focus is richly warranted.
It may seem odd that this listen-don't-look approach works so well for a show about a painter and his vision. But then, Sondheim's canvas is musical characterization, not scenic design. The secret to his greatness may be that he's written such marvelously complicated and rewarding scenes-in-song for actors, as dramatically robust as non-musical scenes by any playwright. It's only fair, then, that Sondheim's work is seldom far from a stage.