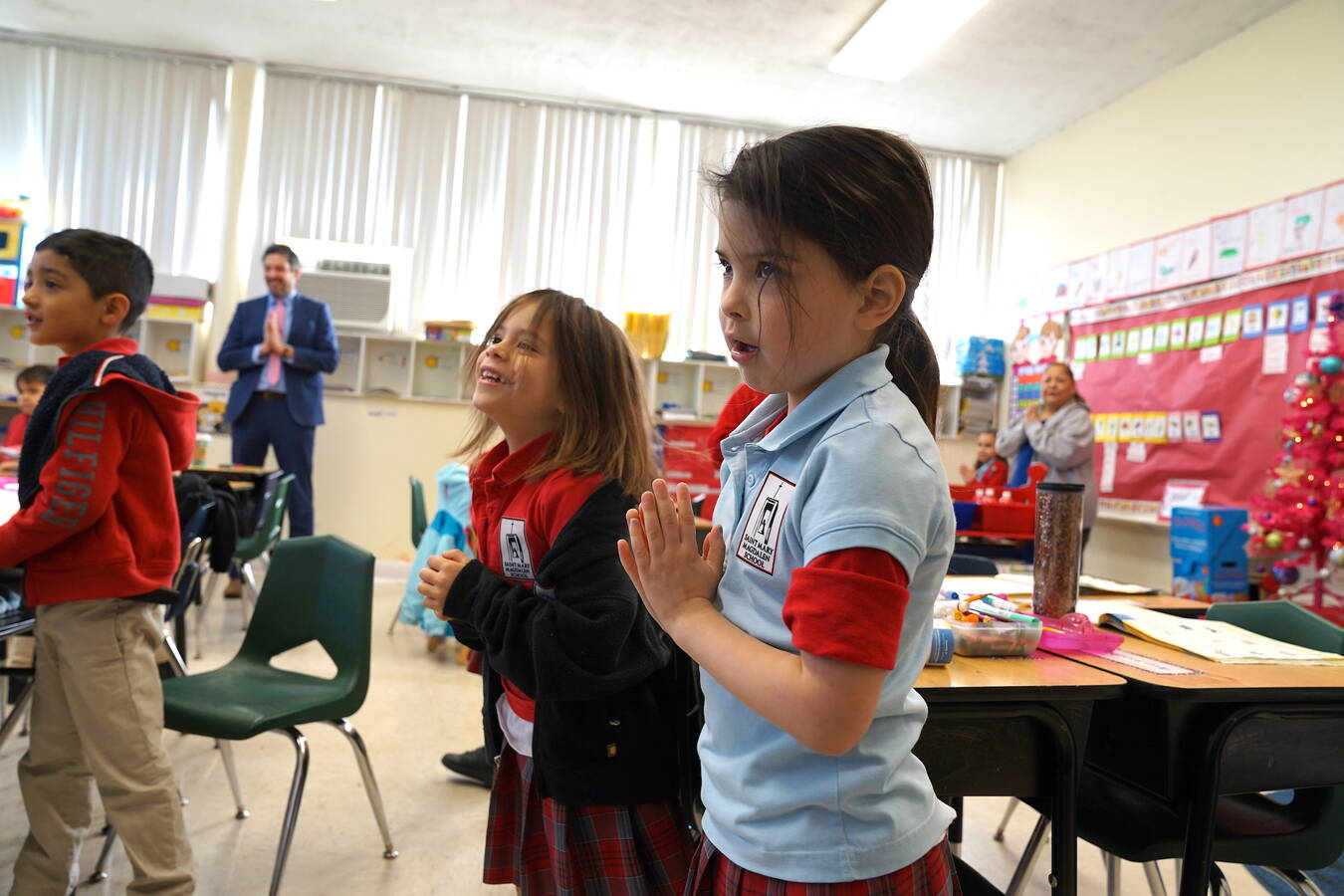 Catholicism is multilingual, so why aren't more Catholic schools?
Clad in a shirt and tie as he directs morning traffic down Clower Street, William Daily seems to know the name of just about every student emerging from their parents' cars. "¡Buenos días, Isabel!" the principal of St. Mary Magdalen Church and School says to one student. "¡Buenos días, Kevin!" he says to another. Mr. Daily learned to speak Spanish while serving people living in extreme poverty in Quito, Ecuador. His language skills are essential in his current role, as many of the parents sought out the San Antonio school because it offers their children something many other Catholic schools do not.
What makes St. Mary Magdalen unique is that it is a dual-language school, part of a small but growing type of institution committed to teaching in two languages across a range of subjects.
Mr. Daily, a former member of the Jesuit Volunteer Corps, led the local implementation of the Two-Way Immersion Network for Catholic Schools, or TWIN-CS, a program established in 2012 by the Roche Center for Catholic Education at Boston College. The dual-language curriculum appears to have paid off for St. Mary Magdalen. In 2012, before the school adopted the TWIN-CS approach, 98 students were enrolled. Today, there are more than 450.
While the majority of Catholics in the United States under 18 are Latino, only 4 percent of Latino children are enrolled at Catholic schools. The TWIN-CS program, a method of teaching that respects their language and culture, is helping to change that, according to Kristin Barstow Melley, director of professional development at the Roche Center.
While the majority of Catholics in the United States under 18 are Latino, only 4 percent of them are enrolled at Catholic schools. Boston College's dual-language program seeks to change that.
The English language and American culture have tended to dominate bilingual education, she said. Many Catholic schools try to accommodate local immigrant communities but fall short. Some schools might add a Spanish-speaking receptionist, Ms. Barstow Melley said, but the faculty will still speak mostly English. Besides, a school's Catholic identity often tends to reflect just one culture even if the student body represents a range of ways to be Catholic.
"It's not representative of the emerging diversity," Ms. Barstow Melley said. "To truly become welcoming, the school has to be transformed. We assist schools through that transformation."
According to the National Catholic Education Association, the number of Catholic students in the United States has declined by more than 18 percent since 2009. Since 2012, the Roche Center, through this program, has created a network of schools to offer dual-language education at Catholic schools throughout the country. The "network" is both a noun and a verb, Ms. Barstow Melley said. TWIN-CS is both a network of resources and a way for schools to network with each other. There are 18 schools in the network and more are on the horizon.
"Everything we do is designed with the intention of being educators, to think more sacramentally, to support their own spiritual life," she said, adding that the model is "culturally responsible." The approach incorporates cultural traditions that reflect students' family background.
"This is what being Catholic is about," Ms. Barstow Melley said. "The Catholic Church is multilingual. This is how we're church."
Bilingual education is a hot topic in the education sector, but dual-language models are something different.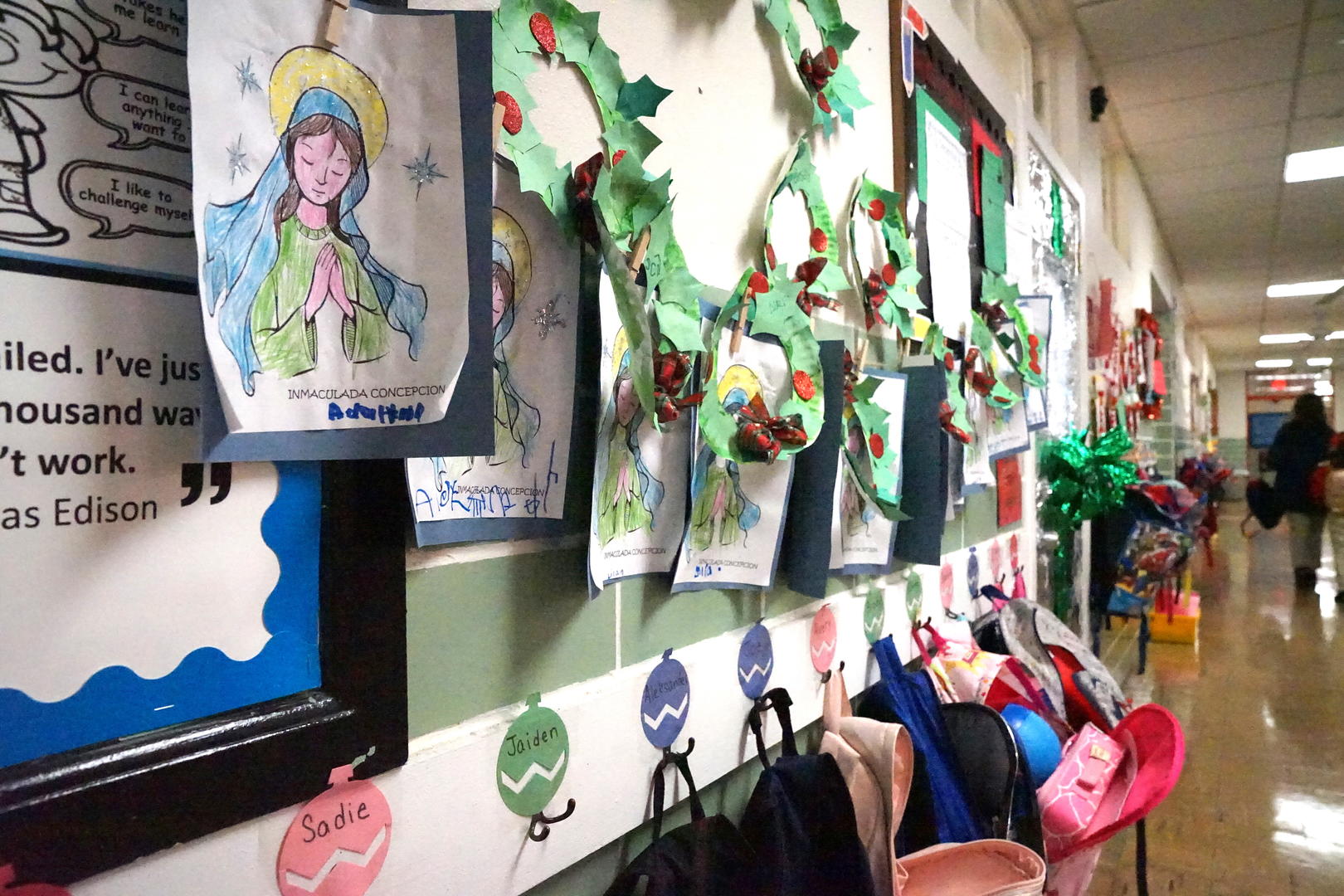 "We want children to be able to be their whole selves," Ms. Barstow Melley said. "This country has never been monolingual. Yet we're one of a handful of countries that insist on monolingual education." Bilingual students are in many places discouraged from using their non-English skills in school, and some states even ban teaching in languages other than English.
At St. Mary Magdalen, the hallway is decorated with images of the Blessed Mother colored in crayon. A sign outside Ms. González's pre-K classroom reads, "Class of 2034," and another tells students the language of the day.
On the day I visit, the sign reads, "Español."
Arianna Watkins, whose home language is English, has attended the school since kindergarten, and now she is starting fourth grade. Her younger sister, Layla, is in first grade, and her older sister, Ajah, is in eighth. Arianna and Layla speak more Spanish than Ajah since they have been part of the dual-language program since it began. The two younger siblings can speak in Spanish without their older sister understanding, she said.
"Sometimes, not all the time," Arianna clarified. "And also, when it's my little sister, she ends up telling my older sister what we said anyways."
Arianna also said it was easier to spell in Spanish, as English is filled with sometimes contradicting sounds and confusing rules. She noted how the letter "c," for example, can represent different sounds in English depending on the word. In Spanish, on the other hand, letters have a consistent sound.
While there is a language of the day, which is used by students as they make their way through the hallways, certain subjects are always in English and others are always in Spanish. Math, for example, is always in English, and it is taught at the level of native English speakers. Social studies and religion, however, are always taught in Spanish, at the level of native Spanish speakers.
Students at TWIN-CS schools sometimes become teachers as well. They are paired into learning dyads, with one coming from a Spanish-speaking home and the other coming from an English-speaking home. At St. Mary Magdalen, the student from the Spanish-speaking home helps the other student in social studies and the student from the English-speaking home helps the other in math.
"Having a dual-language school where the second language is Spanish also means you're exposing the students to a second culture."
"So they work together and they help each other out and they learn from each other," said Mr. Daily, the principal. "That really does wonders for language equity and language empowerment as well. The students who speaks Spanish at home, they are a great resource. Whereas in certain environments, monolingual environments, it might be seen as a detriment, in a dual language environment, their Spanish background really is an asset."
The pairing cultivates not only language equity, but also equity across cultural and socioeconomic lines. The students work together to achieve bilingualism, learning not only from teachers who are native speakers, but from students as well.
"From a pedagogical perspective, the way to best, most deeply learn something is through teaching it. You learn it on a whole deeper level than you otherwise would. And the kids have an expertise that adults don't have," Mr. Daily said. Children can learn from each other as peers, he said.
Arianna said she liked learning in both English and Spanish because her grandparents, unlike her parents, prefer to speak Spanish. She also likes going to bilingual Mass and understanding everything that is happening.
"It feels good to know prayers in English and Spanish, but I want to learn more," she said, "because I like to pray."
That is music to her father's ears.
"I grew up in Columbus, Ga., where English was my primary language," said Willie Watkins, adding that he picked up a lot of Spanish by marrying into it, so to speak. His wife, from San Antonio, comes from a Hispanic background.
"We get compliments on our girls all the time because of their good behavior and their good habits and, you know, things like that. We give credit to the school for that," he said, noting the girls pray before meals and before bed "without needing to be told."
"And it's so beneficial for the kids to speak more than one language," he added. Mr. Watkins said the school provides connections to the family's faith and culture.
Incorporating native languages into education is a national trend, according to Verónica Alonzo, associate superintendent for operations at the Diocese of Dallas. In Texas, both charter and public schools are exploring ways to address the changing needs of students.
Catholic schools in her diocese also partner with Boston College. Ms. Alonzo said implementing the model can take more than two years of planning. She pointed to the experience of Santa Clara of Assisi Academy in Dallas, which offers dual-language education from pre-K through third grade.
Santa Clara grew without taking students away from nearby Catholic schools, Ms. Alonzo said. Enrollment at the school has steadily increased from 158 students in 2011, before it offered dual-language education, to 199 in 2015.
The composition of the student body is also important when it comes to dual-language education. In Spanish-language programs, ideally half of the students are English-dominant and the other half are Spanish-dominant.
Advocates of dual-language education say it is not what Americans have come to know as bilingual education. While bilingual education offers a portion of learning in a language other than English, dual language mandates that half of the learning take place in the other language. The composition of the student body is also important when it comes to dual-language education. In Spanish-language programs, ideally half of the students are English-dominant and the other half are Spanish-dominant. That makes it easier to implement in some places.
In Dallas, for example, nearly a quarter of the workforce was not born in the United States. Yet while many parents may want to have their children brought up knowing two languages, Ms. Alonzo said dual language is not meant for all schools. The program requires more resources than standard educational approaches.
"Our market in Dallas is beginning to get saturated," she said, explaining that public schools are expanding their dual-language offering and providing transportation, which is not always an option at Catholic schools.
More Than Language
The benefits of dual-language education go far beyond language, advocates say.
"Having a dual-language school where the second language is Spanish also means you're exposing the students to a second culture," Ms. Alonzo explained. "There's always a fear of the unknown, but once you get to know a person or culture, then the barrier is often no longer there."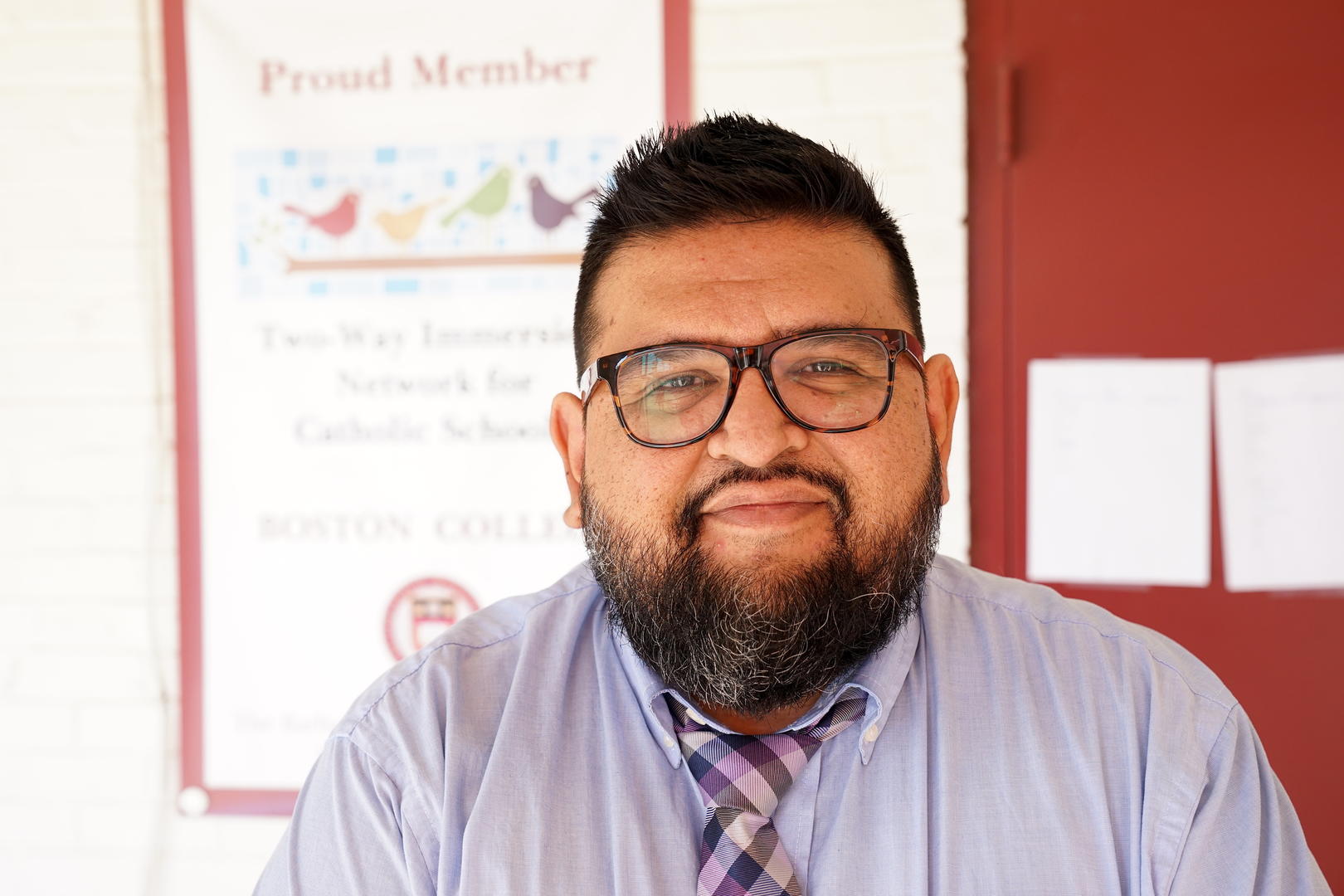 Some schools are turning to a dual-language model in order to set them apart from other schools, though experts warn that the program is not a silver bullet to other challenges facing Catholic schools.
St. Matthew Catholic Church and School in Phoenix, Ariz., began implementing dual-language education in 2009. Michael Guerra, the school principal, said necessity and the population drove the change.
"We were looking for something that distinguished us," he said. Mr. Guerra said the situation at St. Matthew's is unique because they serve largely low-income families. He said about 60 percent of students are able to speak Spanish at the time they enroll.
"A lot of parents identify themselves as Latino or Hispanic, but they also identify as Catholics and believers," Mr. Guerra said. "That unites us. We're able to express our faith."
The school population had been hovering around 90 students for years, but it more than doubled its enrollment since implementing the dual-language model. "You have to know your population, see if there's a need and go from there," Mr. Guerra said.
"It's not always going to be hunky dory. You're going to lose some of the kids," he said. Switching to a dual-language model can be a controversial given the "political climate," he added, referring to the divisive rhetoric surrounding immigration. "But you have to ask yourself if your community needs it."
Mr. Guerra counts on the expertise of Yvette Sandoval Guerra, his assistant principal and the coordinator of the dual-language program. Ms. Sandoval said a key component of the program is communication among the staff. The teachers who teach in the Spanish language are from Mexico and those who teach in English are from the United States.
"The English-language teachers learned how to pair up with the Spanish-language teachers to figure out what's working and what's not," Ms. Sandoval said.
The program requires the involvement of the parents and needs to be continuously evaluated and adapted. For example, the school is now teaching math in English to improve student performance on standardized tests. They are also increasing the percentage of subjects taught in English per grade as students approach high school.
Helping Schools Thrive
At St. Matthew's, school leadership has also made a point of encouraging cultural traditions. Students can express their Catholic identity as matachines, Mexican dancers who honor Our Lady of Guadalupe.
By honoring culture as well as language, schools are able to engage both parents and grandparents, according to Mary Bridget Burns, assistant director of the TWIN-CS program at Boston College.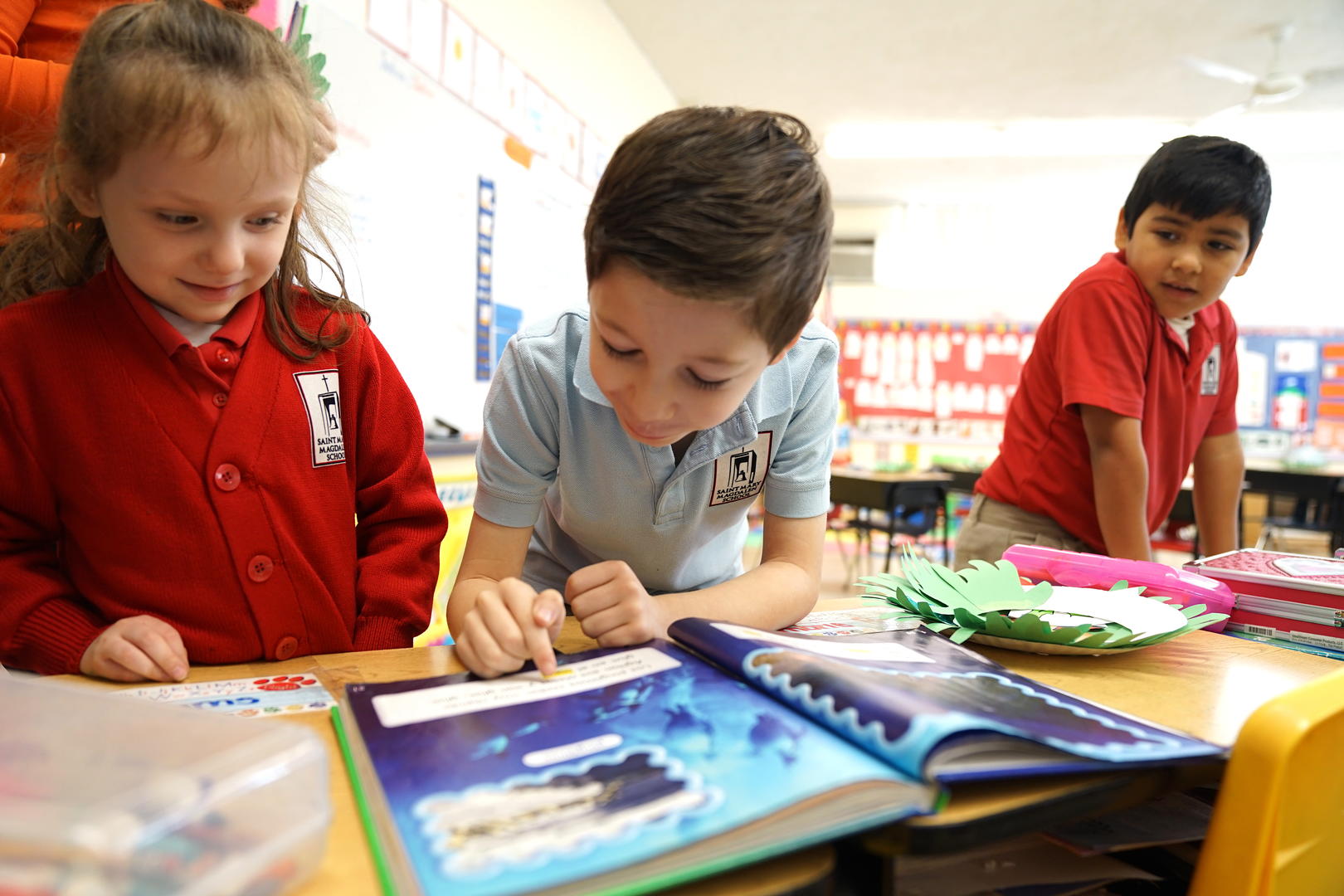 "It has to be the right fit for the community. To do this takes time," Ms. Burns said. "There's not a one-and-done kind of approach. We're focused on sustainability and growth."
Growth often depends on dual-language schools partnering with each other. TWIN-CS hosts regular conferences as well as twice-monthly webinars. It also maintains a blog, which depends on the active participation of dual-language educators across the country. Each school also has a mentor, usually from a local university, who is an expert in dual-language education.
"Feedback is not meant to be threatening, but to improve you as a professional," Ms. Burns said.
The demand for dual-language schools appears to be growing in popularity.
Ms. Burns said she has received calls from parents with newborns asking if there is a TWIN-CS school in their neighborhood. A school in Omaha, Neb., made the switch last year with the support of Boston College. In Miami, a school offers dual-language education in different Spanish dialects.
The program is not always a good fit for schools. One school that wanted to implement the program carried too much debt, Ms. Burns said. Another changed principals and pastors during the first five years of implementation and seemed to lack the commitment to continue.
"We are not handing out a manual of how to do this," Ms. Barstow Melley said. "You know one Catholic school, you know one Catholic school. This process is very fluid and very challenging."
Research has found that students who go through dual-language education achieve higher reading levels and demonstrate greater problem solving skills.
Hosffman Ospino, associate professor of Hispanic ministry and religious education at Boston College, said the Archdiocese of Los Angeles is home to the largest group of two-way immersion schools. The archdiocese currently has eight dual-language schools and is planning on opening three more in the coming years.
"One of the greatest things is that all of them have waiting lists," Mr. Ospino said.
The schools benefit from good superintendents, support from Archbishop José H. Gomez and a large Catholic population, he said, calling dual-language immersion "one of the most successful efforts in Catholic education right now."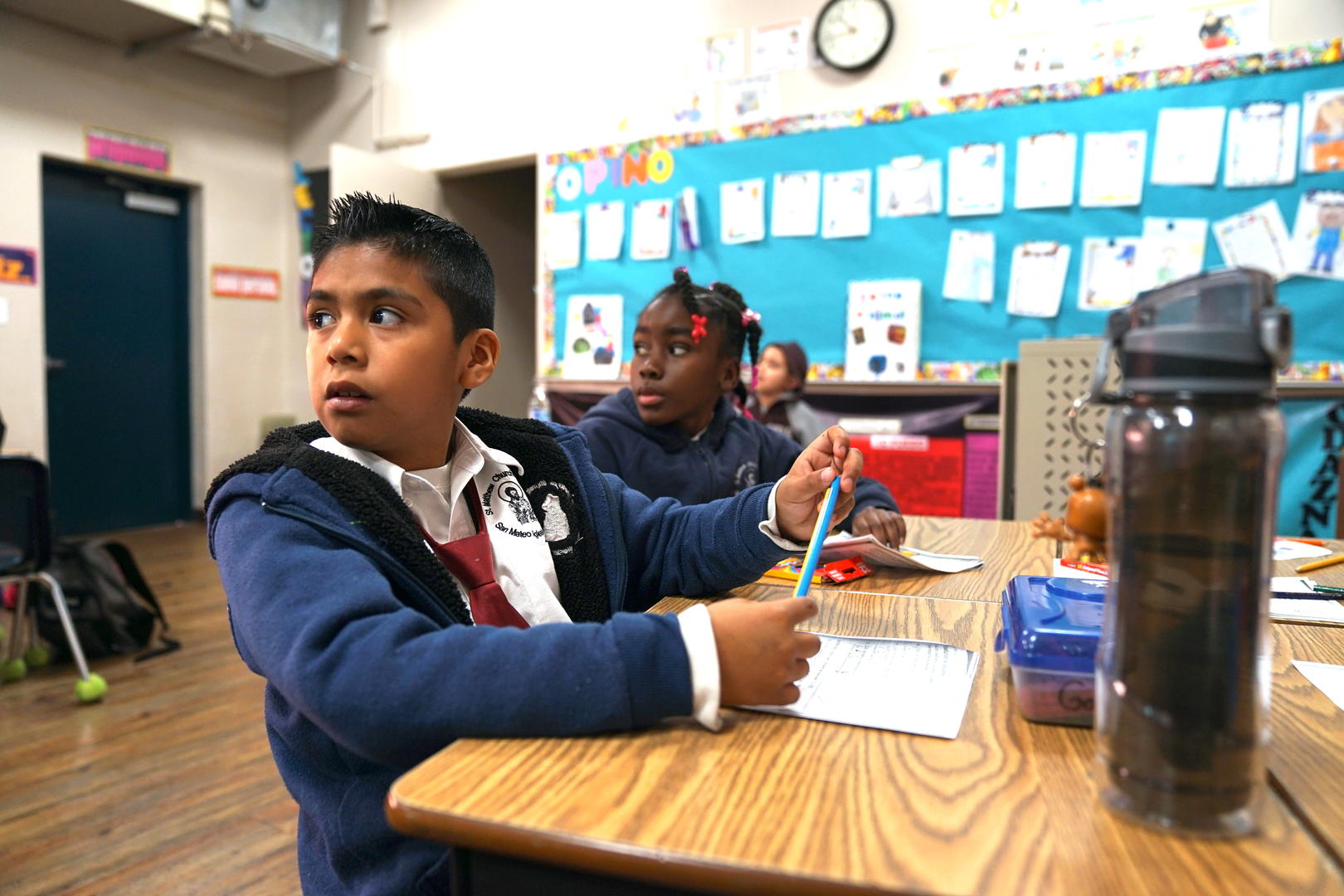 Research has found that students who go through dual-language education achieve higher reading levels and demonstrate greater problem solving skills. The schools tend to have better relationships with parishes that have a Hispanic ministry, Mr. Ospino said.
"These children are being formed with the idea that being bilingual and bicultural is beautiful," he said.
Dual-language is not just about promoting a curriculum, but also about establishing relationships.
"Teachers have to have intercultural competencies to interact with the students and the parents and the parishes," Mr. Ospino said. "They are training students to be successful in a diverse church and society."
Truly Catholic Schools
In Verónica Duarte's classroom at St. Mary Magdalen, students are busy with playdough when Mr. Daily begins the announcements. On Mondays, Wednesdays and Fridays, he leads the school in prayer and in reciting the Pledge of Allegiance—in Spanish.
"We had this underlying sense that what we were doing was the right thing," Mr. Daily said of switching to the dual-language model. "Catholic schools and the church should sort of look inside themselves to see how they can open their doors to more people, more cultures, more points of view. That's going to be messy. That's a messier church and a noisier church, but a better church and better Catholic schools."
Some of his students' parents drive more than an hour to drop their children off at St. Mary Magdalen. Some students come from stable, middle-class homes, with parents who are highly educated professionals. Others come from single-parent homes, where their caregivers do not speak Spanish and do not have high school degrees. Some families receive an archdiocesan discount and pay an average tuition of $3,000 a year.
"They're willing to make the sacrifice to give their kids this education and formation," Mr. Daily said, adding that the values are based in Catholic social teaching. His daughter, Kathleen, is a student at the school.
Elizabeth Brito works in downtown San Antonio and drops off her 8-year-old daughter at the school every day after a 45-minute commute. She said the dual-language approach was an important factor in her decision to send her daughter to St. Mary Magdalen. But there is more to it.
"We are a global church; we're a church that goes to the margins. We're a church that really reaches out to all, by going out beyond your neighborhood, going out beyond the walls of your school."
"You're not just learning the Ten Commandments or about the sacraments, but you're learning about dignity and respect and character," she said. "Those become a part of their conversation since they're 3 years old. So it's all this encouraging atmosphere from that standpoint."
During a school day, Mr. Daily takes a break from his other duties as principal and visits classes. In one, third graders are taking turns reading aloud. They are reading a Spanish-language book about sea animals. In the math class he visits, students are studying acute angles and their complementaries. The students are quick to show off their Chromebooks, on which they can play educational video games.
"We are a global church; we're a church that goes to the margins. We're a church that really reaches out to all, by going out beyond your neighborhood, going out beyond the walls of your school," Mr. Daily said. "You tell your story as a school, which is a story of being open to different cultures, to different languages, to different religions while you maintain your core of being a truly Catholic school. That's a vibrant charism and a vibrant mission, and I think there are benefits to be had."