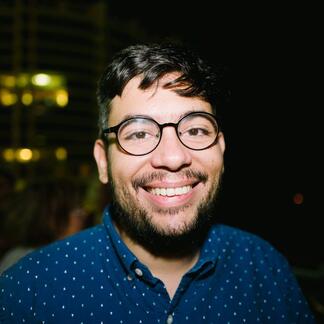 Michael Angel Martín was born and raised in Miami, FL. His poems can be found in or are forthcoming in Dappled Things, Green Mountains Review, Pilgrim, Presence, St. Katherine Review and elsewhere.
Cairns is a rare figure in American letters: a religious poet free of mawkish piety.
Sam Rocha demonstrates his renaissance dexterity as a thinker, musician and teacher.
I expect you to break through,
Across these shoddy lenses soon,
To burst into view, knowing full well
I will lose you. Why's it all waiting
And watching with you? Once,
In a cardinal's dress, you hopped
From mind's bough to heart's branch
In one second, slipped on the dark
Vestments of ravens in the next.
I sense your nearness; and it sears.
And though my eyes will slack
From the long fear of blinking
And missing you, I'll stay poised,
Steadfast, the watch-club's last.