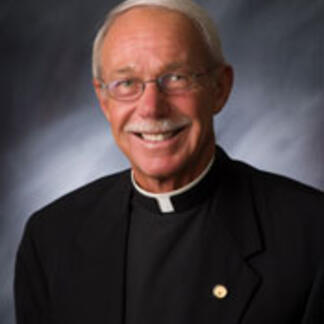 Fr. Schlegel joined America as president and publisher in November 2011. Prior to coming to America, he served as president of Creighton University (2000-2011) and the University of San Francisco (1991-2000). Fr. Schlegel also worked as Creighton University's assistant academic vice president (1978-82), academic dean of Rockhurst College (1982-84), dean of arts and sciences at Marquette University (1984-88) and executive and academic vice president at John Carroll University (1988-91).
A native of Dubuque, Iowa, Fr. Schlegel entered the Society of Jesus in 1963 and was ordained in 1973. He holds B.A. and M.A. degrees from Saint Louis University, a B.D. (honors) degree in theology from the University of London, and a doctorate in international relations from Oxford University.
Fr. Schlegel is a member of numerous international national, and local boards of directors, executive committees and associations. He is a past member of the board of trustees of Chicago's Loyola University, Xavier University in Cincinnati, Loyola University of the South, St. Louis University and Loyola College in Maryland. He has also held board positions at St. Mary's Medical Center Foundation, Il Cenacolo, Coro, World Affairs Council of Northern California, the Association of Catholic Colleges and Universities, the National Association of Independent Colleges and Universities, where he served as chair of the National Student Aid Task Force, and Heythrop College at the University of London. He is also a director of the American International School of Hong Kong.
For his promotion of understanding and respect among all races, religions, and cultures, Fr. Schlegel received the Otto Swanson Spirit of Service Award by the National Conference for Community and Justice in May 2003. Fr. Schlegel has also received the Champion of Greatness Award from Special Olympics Nebraska in 2005. In 2007 he was awarded the Silver Beaver Award and the Distinguished Eagle Scout Award from the Boy Scouts of America, and in 2009 was honored with "Citizen of the Year."
Fr. Schlegel enjoys opera, classical music, gourmet cooking, racket sports and the outdoors.