5 pro-life activists sent to federal prison for blocking Washington abortion clinic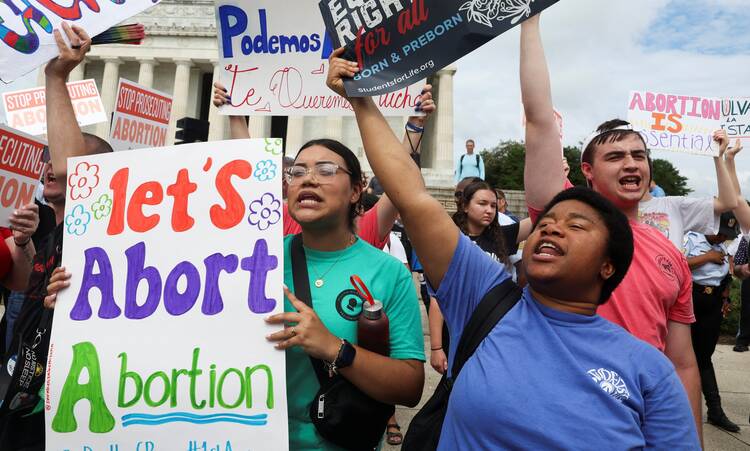 Pro-life activists gather near the Lincoln Memorial in Washington on June 24, 2023, for the demonstration of National Celebrate Life Day commemorating the one-year anniversary of the Dobbs 2022 judgment by the U.S. Supreme Court, ending Roe v. Wade, 1973 court decision that legalized abortion throughout the country. (Photo OSV News/Evelyn Hockstein, Reuters)
WASHINGTON (OSV News) -- After a raucous jury trial, five pro-life activists face as many as 11 years in federal prison for convictions to conspire to blockade a Washington abortion clinic in 2020.
Convicted Aug. 29 in U.S. District Court for the District of Columbia of conspiracy against rights and violation of the federal Freedom of Access to Clinic Entrances Act, or FACE Act -- both are felonies -- were Lauren Handy, 28, of Alexandria, Virginia; John Hinshaw, 67, of Levittown, New York; Heather Idoni, 61, of Linden, Michigan; William Goodman, 52, of Bronx, New York; and Herb Geraghty, 25, of Pittsburgh.
Because Judge Colleen Kollar-Kotelly ruled that using force to prevent women from entering the clinic is a violent crime by statute, the five were incarcerated immediately.
The activists could spend up to 11 years in prison for conspiring to enact a blockade at a Washington abortion clinic in 2020.
Attorneys for Handy quickly filed an emergency motion asking for Handy to be released before sentencing.
They argued that under federal law and binding precedents from the D.C. Circuit Court of Appeals and the Supreme Court, the FACE Act is not categorically a "crime of violence," and should not lead to pre-sentencing detention. The FACE Act's text, their motion argues, "specifically distinguishes 'physical obstruction' from 'force' and 'threat of force.'"
In addition to prison terms, each defendant faces fines of up to $350,000 and three years of supervised release.
A second group of four defendants goes on trial in September, with sentencing for all nine to follow later this year. The activists' abortion clinic blockade, which lasted about three hours and was livestreamed on Facebook, occurred at Washington Surgi-Clinic Oct. 22, 2020.
Testimony from witnesses described Handy, the lead defendant, as presenting the plan for blocking the abortion clinic entrance and interfering with office operations. One witness said Handy also told them about the FACE Act.
Testimony also described Handy and Joan Bell, a defendant who will be part of the second group on trial, as waiting outside the clinic door as Geraghty and Goodman hid in an emergency stairwell with a bag of locks and chains. Hinshaw, according to Assistant U.S. Attorney John Crabb, used the chains to tie himself to chairs, closing off access to the back of the clinic.
In her testimony, Handy spoke of being inspired by a video from Live Action purporting to show the medical director of the clinic saying he wouldn't aid a baby born alive after an abortion. Judge Kollar-Kotelly barred the video from the trial, calling it "propaganda," and also prohibited Handy from claiming she was acting in defense of another person.
"In Lauren's mind, any person who she can convince not to go into that clinic is a person whose baby is not going to be born alive and left to die."
She also testified that her pro-life activism began after she had worked with the Missionaries of Charity, founded by St. Teresa of Kolkata, in Haiti.
Handy and the others were represented by lawyers from the Thomas More Society, a Chicago-based public interest firm. Senior counsel Martin Cannon, who represented Handy at trial, said in a statement, "We are preparing an appeal and will continue to defend those who fight for life against a Biden Department of Justice that seems intent on prosecuting those who decry abortion and present it as it is -- the intentional killing of children in utero."
In his closing argument to the jury Aug. 25, Cannon said, "In Lauren's mind, any person who she can convince not to go into that clinic is a person whose baby is not going to be born alive and left to die."
In November 2022, Handy and three others, calling themselves Progressive Anti-Abortion Uprising, received 45-day sentences for obstructing operations of an abortion clinic in Flint, Michigan, in 2019. Handy also received a 30-day sentence for trespassing at an Alexandria, Virginia, abortion clinic in 2021.
Handy is best known for acknowledging to a medical examiner in March 2022 that she had been storing what police described as "five fetuses" found in a basement refrigerator of a Washington row house where she had been staying. Police did not charge Handy with a crime for that. The FBI arrested her for the clinic blockade.
At a press conference the following month with activist Terrisa Bukovinac and Randall Terry, founder of Operation Rescue, Handy claimed the corpses of the five unborn children were in a box of 115 fetal bodies they obtained from the driver of a medical waste truck at Washington Surgi-Clinic and that they appeared to be from late-stage abortions. They claimed to have buried the other 110.
The remaining fetal remains were eventually given to the district's medical examiner's office.
An Aug. 29 statement from Susan B. Anthony Pro-Life America called the convictions "a shameful day for a nation founded on unalienable rights, first and foremost including life. Pro-life advocates like Lauren Handy have put their freedom on the line -- peacefully and bravely -- to protect babies and women from the brutality of abortion."