Water crises by the numbers
Main breaks and leaking pipes reveal a nation at risk
C-: Grade assessed by the American Society of Civil Engineers in its 2021 "report card" on U.S. drinking water infrastructure.
2.2 million: Number of miles of underground pipes that make up U.S. drinking water infrastructure.
Every 2 minutes: Frequency of water main breaks in the United States.
9,000: The number of swimming pools that could be filled each day with the 6 billion gallons of treated water lost to leakage and breaks in U.S. water systems.
9%: Federal share of total capital spending on drinking water infrastructure in 2017, down from 63 percent in 1977. Two-thirds of public spending for capital investment in water infrastructure since the 1980s has been made by state and local governments.
$655 billion: The spending, according to the U.S. Government Accountability Office, that will be necessary to maintain, upgrade or replace aging and deteriorating water and wastewater infrastructure across the United States over the next 20 years.
Get the lead out
There are no federal laws requiring testing of drinking water for the presence of lead in schools that receive water from public water systems, even though these systems are regulated by the federal Environmental Protection Agency. There was little oversight of water safety in schools across the country until New York State first began to require testing for lead in school drinking water in 2016. The shockingly high levels of lead discovered in some N.Y. schools then highlighted a national problem.
Exposure to lead can result in significant health problems. Children are particularly at risk because their growing bodies absorb more lead than adults. Negative health effects include anemia, kidney and brain damage, as well as learning disabilities and decreased growth.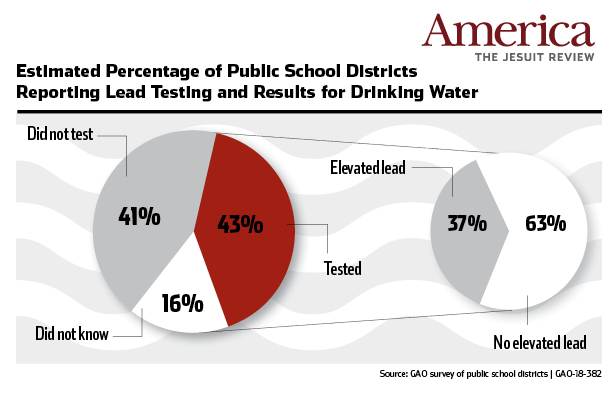 0: Parts per billion of lead that is considered "safe" in drinking water. After previously recommending action when 20 ppb of lead were discovered in drinking water, the E.P.A. stopped offering a specific action limit in 2018. Growing medical consensus is that no amount of lead in drinking water is safe.
50 million: Number of children who use drinking water each day at U.S. public schools.
41: Percent of U.S. public school districts that did not test drinking water at their schools; 16 percent more "did not know" one way or another.
37: Percent of the school districts that tested students' drinking water that discovered "elevated lead."
43: Percent of Head Start centers that had not tested for lead in 2019; 31 percent of the centers, which serve 900,000 infants and pre-school children, did not know if they had tested at all.
Read: Mississippi's water crisis is part of a larger story: systemic racism and government neglect
Sources: U.S. Government Accountability Office, U.S. Environmental Protection Agency, American Society of Civil Engineers.