Thank God for the end of Roe v. Wade. And then get to work supporting pregnant women.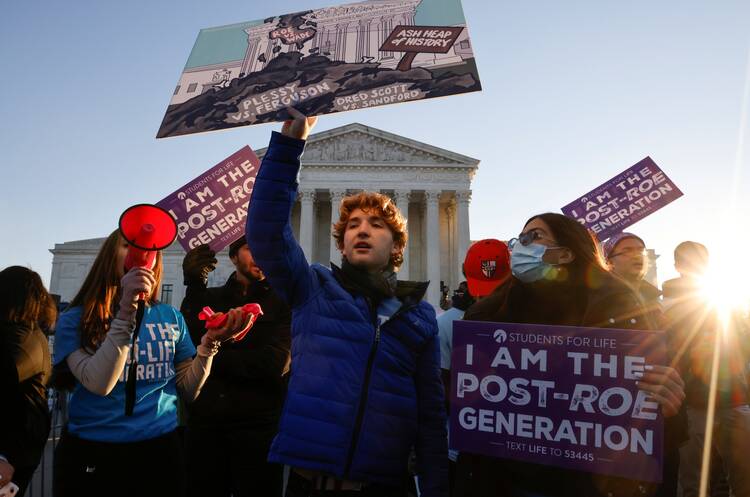 Pro-life activists and other supporters protest outside the U.S. Supreme Court building in Washington Dec. 1, 2021, ahead of the court hearing oral arguments in the case Dobbs v. Jackson Women's Health Organization, an appeal from Mississippi to keep its ban on abortions after 15 weeks of pregnancy. (CNS photo/Jonathan Ernst, Reuters)
Editor's note: The Supreme Court overturned Roe v Wade on June 24 in a 6 to 3 decision, returning the issue of abortion restrictions to the states. America has published several essays on the decision, which was first leaked to the press in May. Read other views on abortion and the reversal of Roe v. Wade here.
It has been two weeks since the leak of the Supreme Court draft decision overthrowing Roe v. Wade. It is still unclear when we will see the final decision, but in the meantime we are seeing all kinds of bullying and anger and absurd and outright demonic displays. 
It was only after the monthly Witness for Life at the Basilica of St. Patrick's Old Cathedral in Lower Manhattan a Saturday ago that I learned that the woman in a bathing suit sometimes convulsing, sometimes dancing, simulating an abortion, is a performance artist. ("I'm killing babies," she yelled, while bashing dolls on the ground outside the church.) The crowd of abortion enthusiasts seemed delighted by her display of the dolls who were at first stuffed in her suit and later were swung around as her aborted babies, as she referred to them. 
Now I cringe when I hear pro-lifers refer to "pro-aborts"—it's dehumanizing and it doesn't adequately capture the more common concern that a woman or girl in a difficult position have help, have options. But the people who come out to protest our prayer, and that Saturday (not for the first time) to create a human barricade outside the church to prevent the planned prayer procession to the Planned Parenthood abortion clinic less than a block away, are enthusiastic about abortion. It is a position that is most certainly born out of pain.
If you don't know God, something has to become your God. 
I was recognized by some in the crowd one recent month and when confronted I said, "Good morning." (I'm not all that creative on the fly, evidently.) She replied that it was a good morning because no one was forcing her to give birth that particular morning. (As opposed to the day before or the day after? And I'm not aware of any pro-life ministries with shackles.) 
The protesters at Old St. Pat's typically chant how "God loves abortion," "Mary loves abortion," and at this latest protest, the performance artist said: "God killed his kid, why can't I kill mine?" She then added: "God killed his son on that piece of s— wood." I know we are not supposed to use this word anymore, but this is not normal. Can we agree, at least, that it is not healthy? And yet it is what abortion has done to America. It has poisoned everything and has led to such extreme displays where people latch onto abortion as some kind of savior of women. If you don't know God, something has to become your God. 
On that same morning with the comment about supposed forced birth, another woman asked me what I was going to blame on abortion in the National Review that particular day. I had to smile. While I certainly want to encourage those who already agree with me, who are dismayed by the abortion extremism in our midst, I also don't just want to be preaching to the choir. Maybe she reads my writing. Maybe she'll see that the pro-life movement, and the Catholic Church, is not all about prohibitions. Love is our mission, as the theme for Pope Francis' visit to the United States in 2015 declared. "Love Alone Is Credible" is the title of a book by Hans Urs von Balthasar that captures what we want to communicate—that women deserve better than abortion. 
As we face the expected end of Roe v. Wade as we know it—the end of a judicially imposed regime of abortion during all three trimesters of pregnancy—we are not entering into a United States without abortion, contrary to the rhetoric. It will be a new day, where states will make decisions more democratically about what their laws are going to look like. That's a baby step to rejoice in. 
Of course, at the same time, pro-life work enters a new stage. If you live in a state like mine—New York, which has some of the most permissive abortion laws in the country—we are about to become an abortion destination. I learned that our governor, Kathy Hochul, went to the Catholic University of America law school when a Facebook post from her alma mater celebrated her the night before her inauguration. Ms. Hochul reacted to the SCOTUS leak by tweeting about fighting for her infant granddaughter's right to choose. This is what I am talking about when I say that the abortion debate has become extreme: A grandmother is thinking of her infant granddaughter's future abortion. Abortion corrupts that which is most precious. It is an attack on a child, motherhood, family, life, all that is beautiful and good. It is an attack on God—as the people who protest prayer unintentionally make all too clear.
It will be a new day, where states will make decisions more democratically about what their laws are going to look like.
When the decision in the Mississippi abortion case is finally released, and if Roe v. Wade is overturned, give thanks to God. Some of us have been praying for the day. Let it be a shot in the arm that wrongs can still be righted, even with so many lies and so much information. As a recent "End Roe" issue of National Review made clear, Roe v. Wade isn't just evil—it is bad law, bad history, bad medicine and bad science. (Consider the fact that women post their sonograms on Facebook and have gender reveal parties when they aren't having abortions.) Still, much work remains to be done. The Walking with Moms in Need initiative proposed by the U.S. Conference of Catholic Bishops is a good place to start. It's not a program so much as it is a guide for every parish in America to do an examination of conscience on how they care for pregnant women and moms in need. A recurring nightmare I have is of a woman going to a Catholic church to ask for help, and no one knows what to say to her, or where to bring her.
In the last year or two, as silly as it may sound, I took to wearing heart earrings when I stand outside an abortion clinic praying or sidewalk counseling in the hopes of looking more approachable. I fear a rosary and cross signals judgment. Believe me, I'm out there as an act of penance and love—because we as a church have fought over the prophetic wisdom of Paul VI's "Humanae Vitae"rather than helping protect women from the misery that the sexual revolution would inflict on her. 
With the end of Roe, I hope the role of groups like the Sisters of Life will continue to grow. This community of women was founded 30 years ago by Cardinal John O'Connor to be an example of how the church helps pregnant women and moms in need. What is most striking to me is that they are not endlessly talking about the evil of abortion. They look a woman in the eye. They give her respite. They love her back into life. It's only when she feels human again that they will talk about her pregnancy and options. Sometimes she has the abortion anyway, so inundated she is with pressure to abort. Sometimes she becomes part of the family. 
Almost always when I am at the Visitation Mission, which is run by the Sisters of Life and is currently in Lower Manhattan, there will be a woman stopping by with her non-infant child or children, picking up food, coming for counsel from a sister who was instrumental in seeing her pregnancy through. The sisters welcome women and their families forever. Support the sisters. Become involved in your local pregnancy center or maternity home. Start a maternity home of your own—the people of Mary's Shelter in Virginia will help you. Kathleen Wilson (watch a recent National Review Institute conversation that she participated in about the Supreme Court leak here) never planned on founding one, but she saw the need and stepped up to the plate. Now is the time for stepping up to the plate in newly committed ways. 
Thanks be to God for the end of Roe, if it comes, as we expect. And now let's get to work in renewed ways with a super infusion of the kind of selfless, joy-filled, compassionate love that is only possible through God's grace.