Catholics are overrepresented in the 117th Congress, but where are the 'nones'?
Although Catholics make up about 20 percent of the U.S. population, they represent 30 percent of the 117th Congress, according to the Pew Research Center. Protestants still dominate with 55 percent of the seats in the House and Senate—they represent 43 percent of the population—but they are splintered into more than a dozen different denominations. That makes Catholics the single largest faith group in the House and Senate for 2021.
From 1965 to 2021, the Catholic share of the House rose from 22 percent to 31 percent, and the Catholic share of the Senate rose from 14 percent to 24 percent.
Among the 55 Jesuit-educated members of the 117th Congress are 13 senators and 42 House members from 11 Jesuit institutions.
In the House of Representatives, 77 of the chamber's Catholics are Democrats and 57 are Republicans, accounting for 31 percent of the body's 535 members. In the 100-member Senate, 14 Catholics are Democrats and 10 are Republicans.
The Democratic Party is home to an overwhelming majority of the non-Christians in Congress. In the House, Democrats include 23 Jews, three Muslims and Unitarian Universalists each, two Hindus, one Buddhist and one "other." In the Senate, eight Jews, one Buddhist and one "unaffiliated" senator are Democrats.
By contrast, nine out of 10 Republicans in the 117th Congress are Christian. Two House Republicans are Jewish, and one Republican declined to answer Pew's survey. There are no non-Christian Republicans in the Senate.
Americans who are unaffiliated with any faith, often referred to as "nones," now constitute 26 percent of the population, according to Pew, but are publicly represented by only one member in Congress.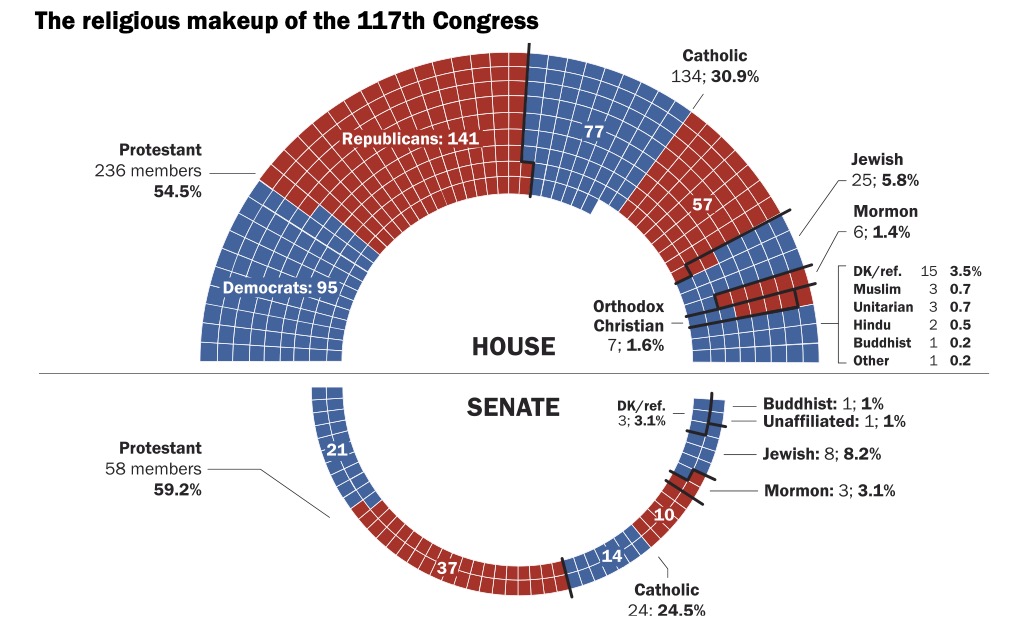 Jesuit connections in 117th Congress
For the third consecutive session, the alumni of Jesuit institutions account for about 10 percent of the Congress. Among the 55 Jesuit-educated members of the 117th Congress are 13 senators and 42 House members from 11 Jesuit institutions. They include Georgetown University, with 28 (including eight senators) alumni in Congress; followed by Boston College, with seven; Fordham University, six; College of the Holy Cross, three. Loyola University Chicago, Marquette University, Saint Peter's University, Santa Clara University and the University of Detroit Mercy each have two alumni in Congress; Creighton University and Gonzaga University each have one alum in Congress.
Nones not represented?
While 26% of U.S. adults describe themselves as atheist, agnostic or "nothing in particular," just one member (0.2%) of the new Congress—Senator Kyrsten Sinema, Democrat of Arizona—self-identifies as religiously unaffiliated.
Sources: Pew Research Center, the Association of Jesuit Colleges and Universities.