A church shelter in Guatemala is threatened for assisting Central American migrants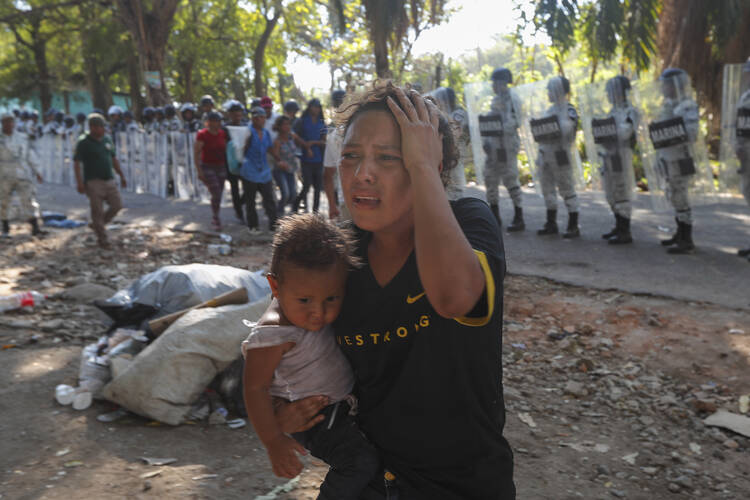 A female migrant carrying a child moves away from Mexican National Guards blocking the passage of a group of Central American migrants near Tapachula, Mexico, Thursday, Jan. 23, 2020. Hundreds of Central American migrants crossed the Suchiate River into Mexico from Guatemala Thursday after a days-long standoff with security forces. (AP Photo/Marco Ugarte)
A boy no more than six years old has just arrived in Guatemala after trying to seek asylum in the United States with his mom. He bows his head and prays, hands joined over a bowl of hot rice and frankfurters. "Thank you for our daily bread. Amen."
He is one of more than 250 Honduran and Salvadoran asylum seekers sent to Guatemala since the United States started implementing the Asylum Cooperation Agreement (also known as the "Safe Third Country Agreement"). Signed last July and put in force by the United States in November, the Guatemalan congress has not yet ratified the deal.
The boy looks up at his mom, a young Honduran woman sitting at the plastic fold-out table beside him and smiles, then immediately begins to eat his first hot meal in weeks. Held in U.S. detention for more than two weeks, his mother says they were fed frozen ham sandwiches and cold bean burritos.
Sixteen women and children and one man silently eat at the dining table inside Casa del Migrante, a shelter in Guatemala City run by the Scalabrini Mission of St. Charles, part of a network of four "migrant homes" in Guatemala along the most traveled routes to the north.
Between Jan. 16 through Jan. 19, more than 2,000 Central Americans, part of the latest migrant caravan attempting to reach the United States, passed by this Casa del Migrante as they fled a worsening situation of political and criminal violence, poverty and state corruption in their home nations. Many were turned back forcefully at the border by Mexican security forces.
For these weary migrants finding a temporary respite and a hot meal, the Casa del Migrante can be a godsend, but not everyone is grateful for the small mercies it provides.
Hundreds of caravan travelers forded the Suchiate River, which separates Mexico and Guatemala, on Jan. 20, only to be rebuffed by members of Mexico's National Guard, who used tear gas on the migrants, along with physical force. The actions reflected Mexico's increasingly aggressive response to migrants arriving at its southern border, including Central American caravans.
The secretary general of the Mexican bishops' conference expressed dismay at the sight of Mexican security forces scuffling with Central American migrants. "We make a strong call for [Mexico's National Immigration Institute] and the [National Guard] to carry out its work respecting the dignity and [human rights] of migrants, avoiding all aggression and damages [against] these brothers, whose only crime is seeking a better life," tweeted Auxiliary Bishop Alfonso Miranda Guardiola of Monterrey on Jan. 23.
"These images wound the soul and show Mexico, as the elder brother [in the region], kicking its younger Central American brother," Bishop Miranda said.
The Jesuit Migration Network and other church and civil society organizations also condemned the actions of the Mexican authorities in a statement released on Jan. 23, urging them to "respect the human rights of migrants in need of international protection." The Guatemalan government said 4,000 migrants had entered the country as part of the caravan, which originated in San Pedro Sula, Honduras.
For these weary migrants finding a temporary respite and a hot meal, the Casa del Migrante can be a godsend, but not everyone is grateful for the small mercies it provides. On Monday night, Jan. 20, Mauro Verzeletti, C.S., the director of the shelter, received a threatening phone call. On Tuesday morning, another.
"Using foul language, saying that they were going to put an end to the work we are doing in the migrant house, to all the staff, and to me, too," the Brazilian priest said, describing the threatening calls during a press conference outside the public prosecutor's office in Guatemala City where he had filed an official complaint.
"Right now, we're under siege because of the threats we're receiving," Father Verzeletti said.
According to Father Verzeletti, the persons who made the calls identified themselves as representatives of the Instituto Guatemalteco de Migración, the government's immigration control authority. But the following afternoon, the institute released a statement defending the Casa del Migrante as a "strategic partner in the attention and protection of the fundamental rights of national and foreign migrants," reiterating its support for the Casa del Migrante and urging authorities to investigate the calls and to provide the necessary security measures so that it could continue its "noble work."
"Right now, we're under siege because of the threats we're receiving."
"We cannot remain silent in the face of this situation," Father Verzeletti said. During a press conference at the Casa del Migrante on Jan. 24, he confirmed that the Guatemalan government is now providing perimeter security with police agents on site so that the mission can carry out its work.
Even though the Casa del Migrante receives no direct funding from the Guatemalan State, it has been unofficially tasked with providing services as a consequence of the government's decision to sign the Safe Third Country Agreement with the United States. Four U.S. human rights organizations have filed a federal lawsuit against the U.S. government disputing the legality of sending asylum seekers to Central American countries to claim asylum there instead of having their cases heard in the United States.
In many cases, asylum seekers face the same imminent dangers they originally fled when sent back to a neighboring country. Honduran asylum seekers sent to Guatemala from the United States told America they had no idea where they were being sent until they arrived in Guatemala.
On the same day that Father Verzeletti received his first phone threat, the Constitutional Court of Guatemala ruled to suspend the "Attention and Protection" public policy that would regulate the implementation of the safe third country asylum agreement in Guatemala. Despite this ruling and a similar decision from the court in September against the agreement with the United States, the newly inaugurated administration of President Alejandro Giammattei in Guatemala said this week that it will work with the U.S. government to ensure the implementation of the agreement.
After filing his complaint with Guatemalan authorities, Father Verzeletti was noticeably shaken, but by the time a group of returned Honduran and Salvadoran asylum seekers, mostly women and children, made it to Casa del Migrante later that evening, he was able to shake hands and greet the people coming to his door. Frontline staff, who have already put in a 15-hour day, explained the rules of the house and answered medical and legal questions before handing out small kit-bags with soap and toothpaste to the new arrivals.
"You can't live in peace anymore. There's nowhere to live. You can't work. From the moment [you leave home], you're afraid they're going to kill you."
Most of the people sitting around the table tonight had been awake for 24 hours since they started their deportation journeys from Texas and Florida. Forty Hondurans and Salvadorans were returned on Jan. 21, and more will come in the rest of the week. On the same flight were 218 deported Guatemalans, but only two, a young woman and man in their 20s, are still at Casa del Migrante. They will leave early to catch a bus back home the next morning. Neither of them knows what they will do next. They both left Guatemala because of the lack of employment and opportunities. There is a tone of sadness and desperation in their voices.
The young man, Tony (only first names were used to protect the identities of the sources in this report), who turned 24 on Christmas Day while in detention at a U.S. Immigration and Customs and Enforcement facility, is from Sayaxche in Peten. In 2015, a huge palm oil effluent spill on the Passion River led to what Guatemalan courts later called ecocide because of the irreparable consequences the spill had on the health of the communities and the river habitat. Those who spoke out about the impact of the incident were threatened and one man was killed; others fled to the United States—among them Tony's brothers. In December, he decided to try and join them but did not make it.
Migrants can make a three-minute phone call when they arrive at Casa del Migrante. "I called my mom. She's going to have a big pot of soup ready when I come home," he said.
Others, like 48-year-old Henry and his 7-year-old daughter, do not know where they will go next. A successful businessman until he was forced to flee less than a month ago, he owned a department store in San Pedro Sula, Honduras, Henry says his "chaos" started after Christmas.
"After the 24th is when people from the government started showing up. Trying to come to an agreement with us." Henry says he started seeing military everywhere—at his house, at this business, at the bank when he went to get money out. "Almost everyone is in the same situation as me."
According to Henry, he was a threat to the Juan Orlando Hernandez government because he was an independent and well-off man who did not agree with its policies. Since President Hernandez took power after allegations of corruption in the 2017 elections, dozens of Hondurans have been killed, part of the worsening political, economic and social crisis facing Hondurans since the 2009 coup.
"You can't live in peace anymore. There's nowhere to live. You can't work. From the moment [you leave home], you're afraid they're going to kill you. It's not good," he said. Henry and his family—his wife is now in a Guatemalan public hospital being treated for pains in her stomach and legs—joined the recent caravan but turned around when they got to Tapachula, Mexico. Henry was worried that his wife and daughter could become victims of human traffickers operating at the border, so they returned to Guatemala City.
"My capital is 20 Quetzales," about $3, he said. "That's all I have. And it's in change. Because as I was walking today, I asked people if they wanted to help. And I made 20 Quetzales." Too afraid to head north or return home, Henry and his family are considering staying in Guatemala to try and start over again here.
Father Verzeletti argues that U.S. foreign policy is at the root of the flight of so many Central Americans from their homes. He despairs over the struggle migrants from the caravan now face at the Mexican border. In the meantime, the Casa del Migrante will continue its work serving those in need as they pass through in either direction.
"We ask Guatemalans to see the human side of the people who migrate," he said. A request he would no doubt also ask of people surveying the chaotic scene farther north of the Guatemalan-Mexico border.