It's time to pray that the Senate will rise to its constitutional duty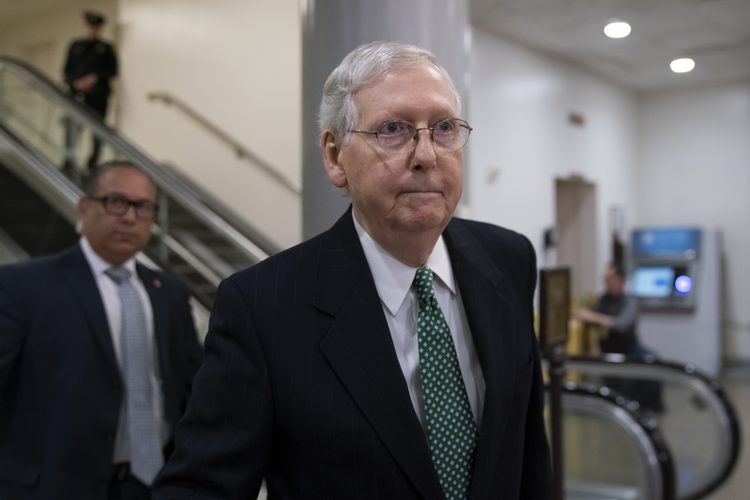 Senate Majority Leader Mitch McConnell, R-Ky., heads to a briefing with Secretary of State Mike Pompeo, Defense Secretary Mark Esper and other national security officials on the details of the threat that prompted the U.S. to kill Iranian Gen. Qassem Soleimani in Iraq, Wednesday, Jan. 8, 2020 on Capitol Hill in Washington.(AP Photo/J. Scott Applewhite)
As the U.S. House today sent articles of impeachment to the Senate, the United States begins, for only the third time in our history, an impeachment trial of a president. While Americans remain divided over the charges the House has presented against President Donald J. Trump and the process followed in the impeachment inquiry, at this moment our country can and should unite in praying that the U.S. Senate will rise to its constitutional duty. The Senate trial is the final opportunity for the serious questions that have divided the body politic to be fairly and fully resolved.
During this trial, the nation's representatives in the Senate face a task far more weighty than determining the outcome of a political conflict.
The Senate will now serve as a Court of Impeachment. Senators will have to consider not only questions of fact, but also to what extent they will require Mr. Trump to give an account of his actions. As America's editors wrote during the impeachment investigation concerning President Richard Nixon in 1974, "The function of the accusation is to compel the President to defend himself." That is precisely what Mr. Trump must now do. Yet even if a full and frank trial resolves the questions of fact that the impeachment inquiry has raised, senators must still determine whether Mr. Trump's actions necessitate his conviction and removal.
During this trial, the nation's representatives in the Senate face a task far more weighty than determining the outcome of a political conflict. They must, as the editors said last month, "demonstrate to the world that the Constitution has not failed; that our founding charter is still the guiding light of our country; and that we the people still possess the courage to meet the high standards it sets for every citizen."
Our prayers are with our country, all the members of the U.S. Senate and the president as this trial begins. It is not only about the future of Mr. Trump's presidency but the constitutional order. We pray that the senators, the impeachment managers, Mr. Trump, his lawyers and his administration have the grace to fulfill their duty "to preserve, protect and defend the Constitution of the United States."