A priest is killed as ISIS revives in Syria, and deadly protests continue in Iraq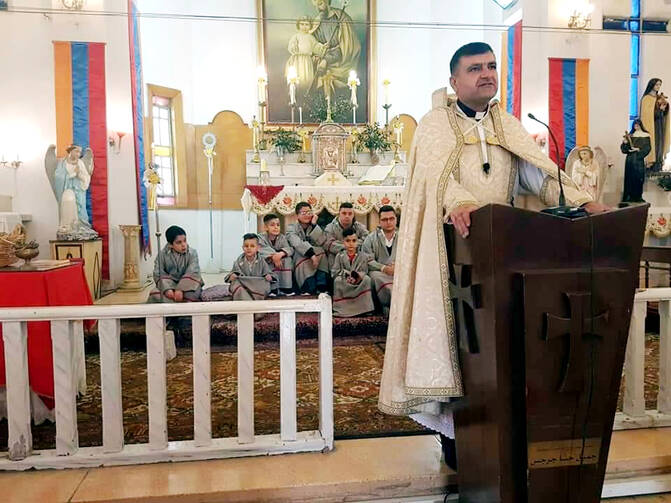 Armenian Catholic Father Hovsep Ibrahim Bedoyan of Qamishli, Syria, is pictured in an undated photo. He and his father were killed by alleged terrorists Nov. 11, 2019, en route Hassakeh to Deir el-Zour to inspect the restoration of the Armenian Catholic Church in the city. (CNS photo/courtesy Middle East Council of Churches)
The already precarious state of Christians in Syria and Iraq has grown even more uncertain in recent days as anti-government protests continue to roil Iraq and an Armenian Catholic priest and his father were gunned down in northern Syria in an apparent act of revived ISIS terror.
Funeral services were held on Nov. 12 for the Rev. Hovsep Hanna Petoyan and his father, Hanna Petoyan, in Qamishli, Syria. The two men were killed as they traveled to a nearby community where Syrian Christians are attempting to re-establish themselves, Deir ez-Zor. "For us they are martyrs and what happened to them is a confirmation that the war is not over here, as we had hoped," Boutros Marayati, the Armenian Catholic archbishop of Aleppo, told Fides, the Vatican news service.
The day before the killing of the two men, bomb attacks claimed six lives and wounded 26 others in Qamishli, a city largely controlled by Kurdish fighters. At least one of the suicide bombers appeared to target the city's Chaldean Catholic Church.
According to the Kurdish Rojava Information Center, ISIS has claimed 30 attacks in the first 10 days of November—an increase of nearly 300 percent compared to the first days of October before the Turkish incursion of Kurdish-controlled northern Syria. That campaign to seize control of Syrian territory along the border with Turkey, an area which includes many Syrian Christian villages, has been spearheaded by Syrian militia infiltrated by ISIS, according to Kurdish officials.
Armed groups affiliated with ISIS claimed responsibility for the attack, celebrating erroneously in a statement the killing of "two priests."
Speaking to Aid to the Church in Need on Nov. 11, Archbishop Marayati described the attack on Father Hovsep and his companions: "Shortly before they arrived at Deir ez-Zor, two armed men on a motorcycle overtook their car and opened fire. The father of the priest was killed instantly, while Father Hovsep Hanna died later outside the hospital in Hasaka." A deacon traveling with the deceased was also wounded, while another man escaped uninjured.
"So far we don't know who killed him, although it appears that ISIS has claimed responsibility for the attack," said Archbishop Marayati. "What we do know is that Father Hovsep was dressed in his priestly attire and was consequently identifiable as a priest, in addition to the fact that his car was clearly marked, in large letters, with the words 'Armenian Catholic Church.'"
Armed groups affiliated with ISIS claimed responsibility for the attack, celebrating erroneously in a statement the killing of "two priests," according to Fides. Father Hovsep, 46, married and a father of three, was ordained only five years ago. He traveled frequently from Qamishli to Deir ez-Zor to help coordinate its restoration of churches and the homes of Christians that had been damaged or destroyed by ISIS or during the campaign to remove the militants from the region.
The archbishop told A.C.N. that it was entirely possible that Father Hovsep was murdered because he was recognized as a priest or because of his efforts to restore the Christian presence in Deir ez-Zor. "This is a very important town for us," Archbishop Marayati said, "because it is there that many of our martyrs were killed as they fled the Turkish genocide of 1915. Today, there are no Armenian Catholics left there. Undoubtedly, the Turks don't want us to return because our presence would be a reminder of the Armenian genocide."
The region has also recently been troubled by large-scale discontent in Iraq as a broad protest movement has crossed sectarian lines, expressing public frustration with corruption and incompetence from the central government and growing resentment toward Iranian meddling in Iraqi affairs. In Baghdad, security forces fired live rounds and tear gas at anti-government protesters on Nov. 15, killing three people, as bloody confrontations continued despite an influential Shiite leader's call for calm.
Grand Ayatollah Ali al-Sistani emphasized support for the demonstrators in his weekly religious sermon, saying none of their demands have been met so far and that electoral reform should be a priority. He called for a new election law that would restore public confidence in the system and give voters the opportunity to bring "new faces" to power.
Cardinal Louis Raphael Sako urged fasting and prayer for an end to the chaos and violence and renewed an appeal to both demonstrators and Iraqi government officials to exercise "wisdom and moderation."
At least 320 people have been killed and thousands have been wounded since the unrest began on Oct. 1. Iraqi Christians have been joining the protests in Baghdad. On social media, many expressed their support for the protests, some likening it to a revolution, and delight in the unity the spontaneous movement has inspired among young Iraqis across religious divides.
This week, Cardinal Louis Raphael Sako, the Chaldean patriarch, urged fasting and prayer for an end to the chaos and violence and renewed an appeal to both demonstrators and Iraqi government officials to exercise "wisdom and moderation" and to seek the common good for all Iraqi people. Cardinal Sako recently visited hospitals where wounded protesters had been taken and on Nov. 8 visited the epicenter of the demonstrations in Baghdad's Tahrir Square. He urged calm among the protesters as they sought to achieve their legitimate claims and urged government officials "to listen to the cry of [Iraq's] sons and daughters," meeting demands to fight corruption, create jobs and improve government services and overall transparency.
"The Iraqi people have paid an unthinkable price to get their voices heard," the special representative of the U.N. secretary general,  Jeanine Hennis-Plasschaert, said on Nov. 13, speaking to Iraqi politicians in Baghdad. "What I witnessed on the streets in the past few days is an accumulation of frustration over the lack of progress in the last 16 years," she said. "Out of love for their homeland, the many young people on the streets are expressing their hope for better times to come."
After the bloody suppression of demonstrations at the end of October, Pope Francis appealed for both the government and protesters in Iraq to pursue the path of dialogue. "As I express my condolences for the victims and my closeness to their families and the wounded," he said, "I invite the authorities to listen to the cry of the people who are asking for a dignified and peaceful life.
"I urge all Iraqis, with the support of the international community," he continued, "to pursue the path of dialogue and reconciliation and to seek the right solutions to the challenges and problems of the country."
With content from The Associated Press and Aid to the Church in Need