The big money behind March Madness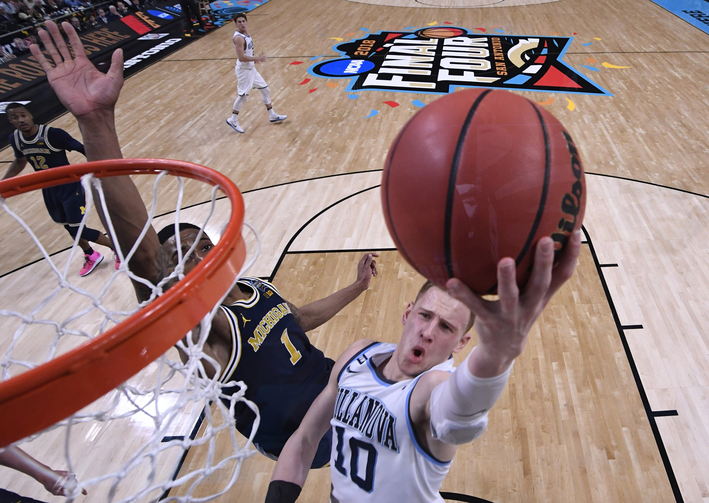 Michigan Wolverines guard Charles Matthews tries to defend a shot from Villanova Wildcats guard Donte DiVincenzo in the N.C.A.A. men's basketball championship on April 2, 2018, in San Antonio. Villanova won its second championship in three years. (CNS photo/ Robert Deutsch, USA TODAY Sports via Reuters)  
Watching "March Madness," the N.C.A.A. annual college basketball tournament, has become a tradition for many Catholics, thanks in part to the regular inclusion of Catholic universities in the Final Four—as well as such celebrities as Sister Jean (Jean Dolores Schmidt, B.V.M.), the chaplain of Loyola University Chicago's basketball team. This year's tournament, with 67 teams playing from March 17 through April 8, is notable for Jesuit schools because of the possibility that Gonzaga, the Jesuit university in Spokane, Wash., will become the first champion from the Western half of the United States since 1997.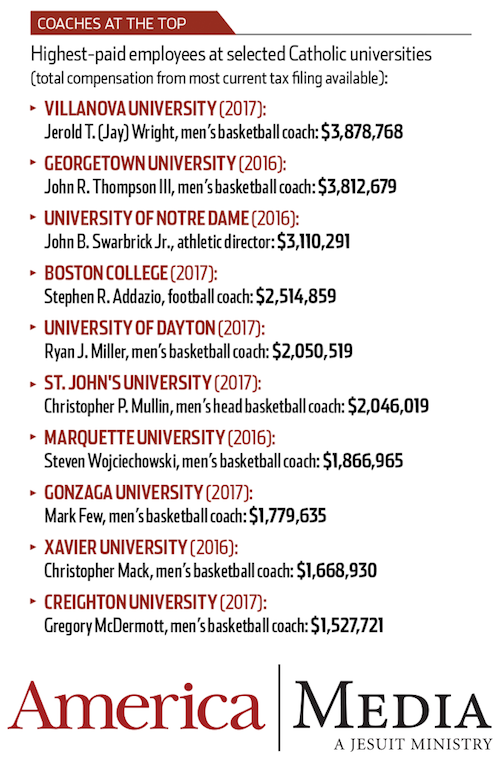 The term "March Madness" refers not only to the number of upsets and buzzer beaters but also to the big money behind college sports. Last year ticket sales brought in almost $130 million, and tickets for just the first and second rounds of the tournament went for hundreds of dollars apiece. The N.C.A.A. estimated that 97 million people worldwide watched March Madness games on television, and one market research group said the games generated $1.3 billion in advertising revenue. CBS is paying the N.C.A.A. up to $1.1 billion a year to telecast the games under a contract that runs through 2032.
Much of that CBS money flows back to the schools. The N.C.A.A. paid $560 million to schools in the Division I league in fiscal year 2017 under a complex system that gives more to schools (typically including Gonzaga) that last the longest in the tournament. None of this windfall goes to the athletes, of course, who must compete as "amateurs," nor do student athletes receive any of the revenue from other college sports, even at the couple of dozen universities that take in more than $100 million annually. Almost all of these are public schools, but the University of Notre Dame is reportedly among them.
The potential of sports programs to raise revenue (and, presumably, alumni donations) means that coaches are among the highest paid staff members at just about every college with competitive teams. Athletics also account for a large share of capital spending.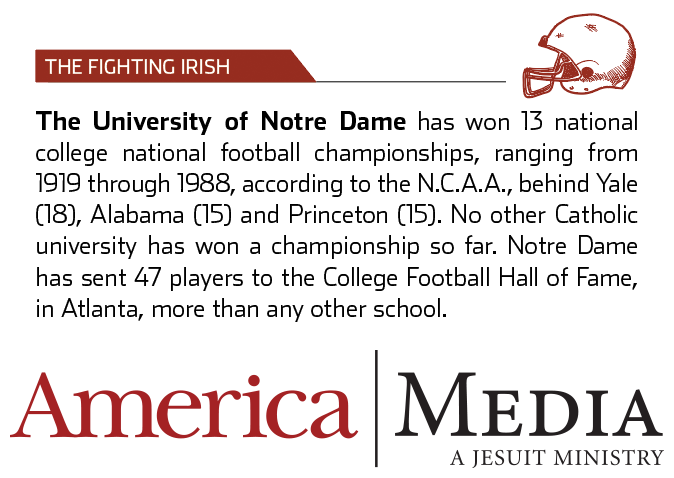 For example, the University of Notre Dame's "largest building project in its 172-year history," completed in 2017, earmarked $400 million for a project that included 750,000 square feet in three new buildings for student services and academic departments. Strikingly, the new buildings were built on the sides of the school's football stadium (with a capacity of almost 80,000), and the project included stadium upgrades like vinyl-covered benches, a 96-by-54 foot video screen, new lights and a new press box, according to The South Bend Tribune. Fundraising campaigns for major building projects may be easier when there is a little something for the football fans.
Sources: Latest available Form 990 tax returns (listing employees with highest compensation packages), posted at Guidestar.org; College Football Championship History, ncaa.com; College Football Hall of Fame.