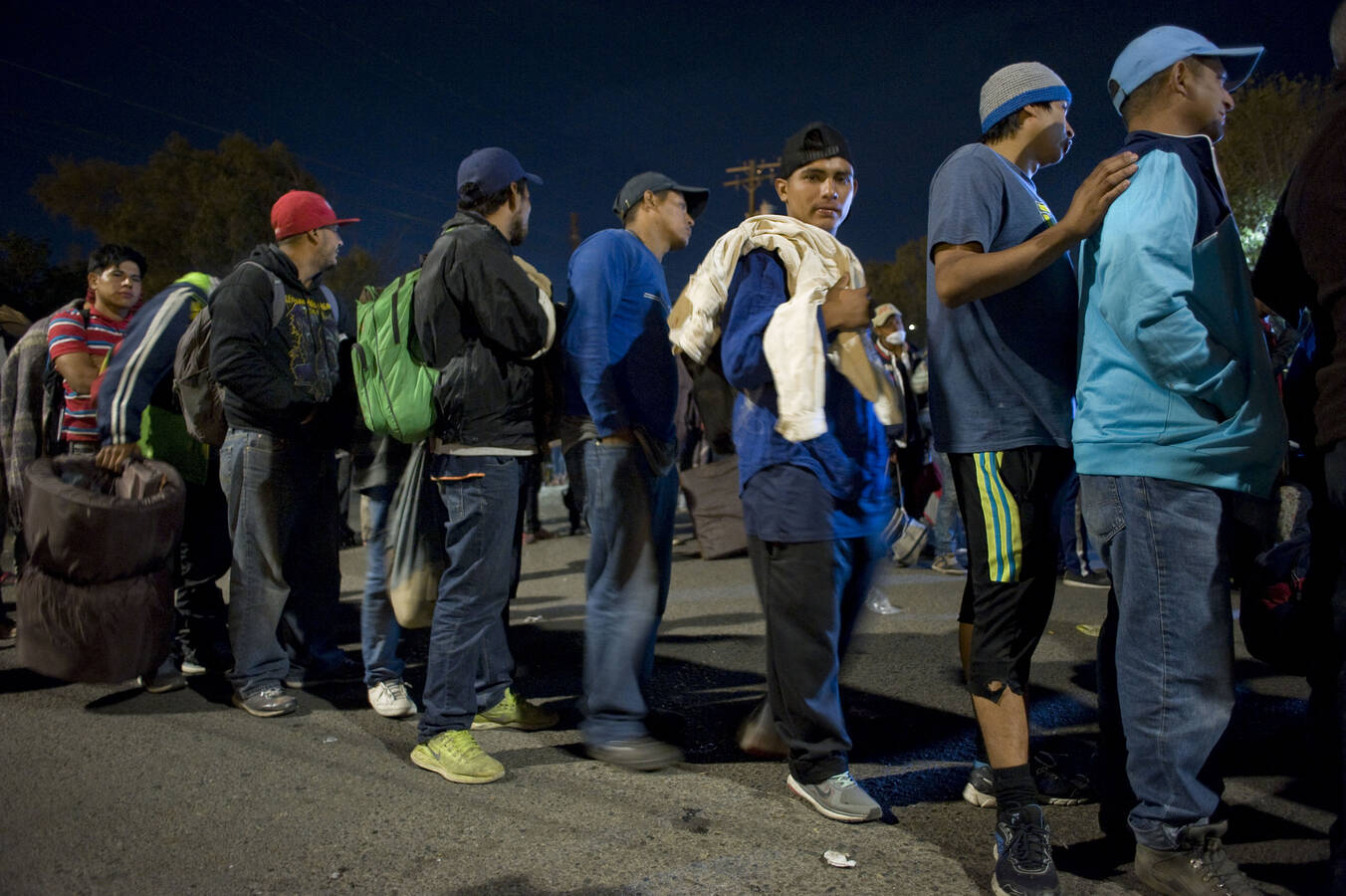 Caravan migrants join long queue of asylum seekers in Tijuana
Members of the Central American caravan will likely have to wait months to have their asylum cases heard, according to the Rev. Pat Murphy, a Scalabrini priest who runs theCasa del Migrante in Tijuana, Baja California. Fewer than 5 percent will be granted asylum, he said.
Last week, thousands of members of the caravan arrived in Tijuana, a border city just south of San Diego, Calif. Thousands more were expected to arrive from Mexicali on Nov. 19. They will join more than 3,000 already in line to ask the United States for asylum. U.S. Customs and Border Patrol process about 90 requests per day, according toreports.
"We've only had a few people from the caravan here," Father Murphy said of the Casa del Migrante, a shelter and social service center for migrants. "I don't see them as problematic."
Father Murphy's view is in contrast to many in Tijuana, including the mayor, who has given the Central Americans a cold welcome. "The mayor did no good by saying what he did, that we don't welcome migrants here," the priest said, adding that while the caravan protestors in Tijuana are getting a lot of media attention, "they are not the majority." A sports complex in the city has been converted into a temporary shelter.
A band of more than 7,000 migrants headed north last month, fleeing violence and poverty in El Salvador, Guatemala and Honduras. While the number has reportedly dwindled, with many staying in Mexico, President Donald Trump vowed to step up border security.
News of the caravan dominated headlines for weeks leading into the midterm elections. Yet most did not expect the caravan to arrive to the U.S.-Mexico border before December.
"We've only had a few people from the caravan here," Father Murphy said of the Casa del Migrante, a shelter and social service center for migrants. "I don't see them as problematic."
"They got lucky because a lot of cities started organizing buses so they could get them out of town," Father Murphy said. "It was cheaper for the cities. But there were also a lot of generous truck drivers that helped them along the way."
An influx of thousands is not unheard of in Tijuana. Two years ago, tens of thousands of Haitians arrived there. The majority came from Brazil, where they had found constructions jobs before the World Cup and the Olympics. Having lived through that puts the migrant caravan in perspective for Father Murphy.
"It's only half of the group that started together [in Central America], so I'm not really worried," Father Murphy said. "We'll take them one at a time. We rely on people's generosity. I'm optimistic that we'll be able to deal with it."
Pueblo Sin Fronteras, a group that has helped the caravan through Mexico, has kept a large number of the group together. In April, a caravan of 1,500 Central Americans, also organized by Pueblos Sin Fronteras, headed north, but only 250 arrived in Tijuana. Of those, Father Murphy said only three received asylum.
The government of Mexico, on the other hand, has offered the migrants in the caravan humanitarian visas. Many could live and work in a country that is far safer than their own and where they already speak the language. While many did accept the Mexican visas, thousands made the journey to Tijuana instead to ask for asylum in the United States.
Tijuana is much farther away from Central America than other ports of entry, like Ciudad Juarez or Nuevo Laredo, south of Texas. But Father Murphy says Tijuana is considered safer and, while still rare, it has the reputation for granting asylum more often than at other ports of entry.
Tijuana also has plenty of work, Father Murphy said. At Casa del Migrante, around 60 percent of their residents are from Central America. Most of them have already found steady employment in the city.
Material from Catholic News Service was used in this report.