There were 69 million refugees last year. What is being done to help them?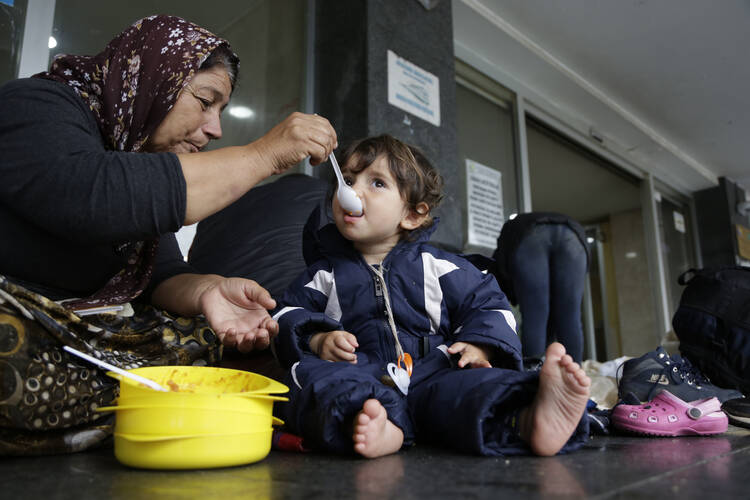 A migrant women from Iraq feeds her grandson in front of the railway station in Sarajevo, Bosnia, on June 19, 2018. Some hundreds of migrants have been camping at the railway station in the Bosnian capital of Sarajevo waiting for an opportunity to get to Croatia and Western Europe. (AP Photo/Amel Emric)
While the plight of asylum seekers and their children reaching the U.S. border from Mexico and Central America has dominated the news this week, other refugee populations around the world remain at extreme risk. As World Refugee Day is commemorated on June 20, the U.N. refugee agency's annual Global Trends study reports that a record 68.5 million people had been driven from their homes across the world at the end of 2017. That total was 2.9 million more than at the end of 2016, the biggest increase the office of the U.N. High Commissioner for Refugees has ever recorded in a single year.
Refugees who fled across borders to escape conflict and persecution accounted for 25.4 million of that figure. Most of the remaining millions can be characterized as "internally displaced people," driven from their homes and communities but relocating to a place of sometimes nominal safety within their own national borders.
A record 68.5 million people had been driven from their homes across the world at the end of 2017.
According to the United Nations, forced flight is growing, with 16.2 million people newly displaced during 2017, or an average of one person every two seconds. Overwhelmingly, the U.N.H.C.R. reports, developing countries are the most affected. Two-thirds of the world's refugees come from just five countries: Syria, Afghanistan, South Sudan, Myanmar and Somalia.
The number of asylum seekers awaiting the outcome of their applications for refugee status rose by about 300,000 last year, to 3.1 million.
The current crisis at the U.S. border, where a "zero tolerance" policy for migrants crossing without documentation has led to the separation of some 2,000 children from their parents or adult caregivers, was also noted by U.N. refugee officials this week. The U.N.H.C.R. urged officials in the United States to prioritize family unity and the best interests of children as they implemented new border management policies.
"There are effective ways to ensure border control without putting families through the lasting psychological trauma of child-parent separation," U.N. High Commissioner for Refugees Filippo Grandi said. "U.N.H.C.R. stands ready to support the United States in implementing humane and secure alternatives," he added.
Noting World Refugee Day on Twitter, Pope Francis urged citizens in the developed world not to "let fear get in the way of welcoming our neighbor in need." The pope tweeted that "we encounter Jesus in those who are poor, rejected and refugees."
At the end of his Angelus address in St. Peter's Square on Sunday, Pope Francis called on nations working this month at the United Nations to develop a global compact on the treatment of refugees to ensure migration is safe, legal and humane. "I hope that the states involved in these processes reach an understanding to assure, with responsibility and humanity, assistance to and the protection of those who are forced to flee their own country," he said.
"As long as there are wars and persecution, there will be refugees."
But a growing hostility to refugees, or at least an exhaustion with the problem of undocumented migration to escape conflict or poverty, has become evident around the world, in political developments from the Mexican border to the capitals of Europe. Even as the United States pursues its "zero tolerance" policy, separates families of undocumented migrants and introduces new restrictions on asylum claims, officials in Hungary are similarly tightening border restrictions, while Italian and Maltese officials recently turned back a rescue boat packed with 630 migrants picked up on the Mediterranean. (They were eventually landed in Spain.)
Italy's Interior Minister Matteo Salvini told a Lombardy television station on June 18 that he hopes to conduct a census or "registry" of Roma people (also known as Romanies or Gypsies), in that nation with an aim of eventually settling the "Roma problem," and in Germany Chancellor Angela Merkel has been standing up to pressure within her own governing coalition to take a tougher line on migration.
In observance of World Refugee Day, U.N. Secretary-General António Guterres called for "unity and solidarity" and expressed concern over the rise in the number of refugees who are not receiving the protection they are entitled to under international law. He said that communities or countries that provide a safe haven for those fleeing war or persecution should be supported.
"As long as there are wars and persecution, there will be refugees," he said. "On World Refugee Day, I ask you to remember them….Their story is one of resilience, perseverance and courage. Ours must be of solidarity, compassion and action."
Crises in South Sudan and the exodus of more than 700,000 of Rohingya Muslims from Myanmar to Bangladesh were among the world's greatest contributors to displacement in 2017, but Syria continues to be the world's biggest refugee producer, according to the Global Trends report. More than 745,000 Syrians fled their country last year, bringing the total number of Syrian refugees to 6.3 million. In addition, more than 7 million people were internally displaced within Syria, an increase of more than two million since the end of 2016.
The Trump administration set a historic low admissions ceiling for refugees of just 45,000 for 2018, "which it has no intention of meeting."
The situation in Syria remains dramatically unstable after more than seven years of conflict, forcing Syrians to flee their homes "amidst unrelenting suffering," according to a statement released by Jesuit Refugee Service/USA. It adds, "Yet, the U.S. government's response is in retreat." JRS/USA is calling on the Trump administration to increase the number of refugees admitted to the United States through its national resettlement program.
"A total of 13 Syrians have been admitted to the U.S. through the refugee resettlement program in 2018. Our response to the more than 13 million people [in Syria] who have had to flee their homes due to war and violence must be stronger," said Joan Rosenhauer, JRS/USA Executive Director. "On World Refugee Day, we ask the Administration to recognize our joint responsibility to take humanitarian action, to protect and welcome displaced Syrians, and to respond to the needs of the more than 68 million people displaced around the world."
The Trump administration's parsimony regarding refugee resettlement was criticized in a new report released by the Center for Migration Studies in New York. The nation's refugee resettlement program "should be a source of immense national pride," according to the report. "The program has saved countless lives, put millions of impoverished persons on a path to work, self-sufficiency and integration and advanced U.S. standing in the world."
Instead, C.M.S. researchers say, the current administration "has taken aim at this program as part of a broader attack on legal immigration programs" and "has treated refugees as a burden and a potential threat to our nation, rather than as a source of strength, renewal, and inspiration."
In September 2017, the Trump administration set a historic low admissions ceiling for refugees of just 45,000 for 2018, "which it has no intention of meeting." According to C.M.S., the United States is on pace to resettle just about half of that commitment. During the last year of the Obama administration, some 110,000 refugees were resettled in the United States.
The Trump White House "has also tightened special clearance procedures for refugees from mostly Muslim-majority states so that virtually none can enter; cynically slow-walked the interview, screening, and admissions processes; and decimated the effective community-based resettlement infrastructure built up over many decades."
The center took a detailed look at the impact of refugee resettlement in the United States and found many long-term positive outcomes for the refugees themselves and for the U.S. communities they joined. According to the report, refugees "bring linguistic diversity to the United States and, in this and other ways, increase the nation's economic competitiveness and security."
C.M.S. reports that "refugees become U.S. citizens, homeowners, English speakers, workers, business owners, college educated, insured and computer literate at high rates."
Reviewing the status of the 1.1 million refugees who arrived in the United States between 1987 and 2016, C.M.S. researchers found that refugees' labor force participation rate of 68 percent exceeds the 63 percent of the overall U.S. population. They add that large numbers of refugees (10 percent) are self-employed and act as job creators and that refugees' median personal income ($20,000) equals that of non-refugees and exceeds the income of the foreign-born overall ($18,700).
According to the report, refugees use food stamps and Medicaid at higher rates than non-refugees, the foreign-born and the total U.S. population, especially during the initial, federally funded resettlement process. But the C.M.S. researchers found that the use of public benefits by refugees significantly declines over time as their integration, well-being and U.S. family ties increase.