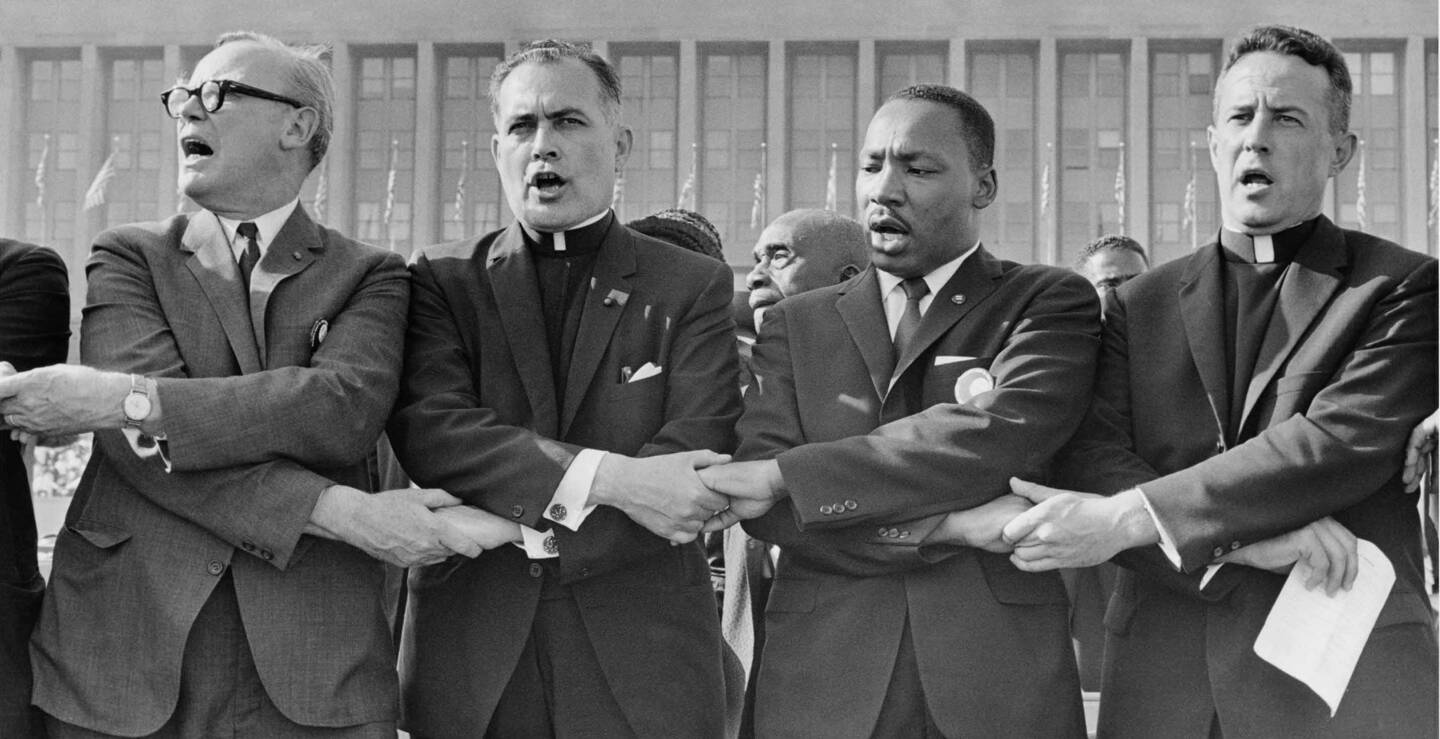 How can Catholics help bridge our nation's racial divide?
We are living in a unique moment in our national history: a moment when, sadly, the racial divide in our country is becoming more acute. The events of the past year concerning freedom of speech, public Confederate monuments, white supremacists, neo-Nazis and the Ku Klux Klan are particularly challenging and complex for Christians seeking to obey the law of love. Daily headlines, the evening news and all forms of social media have placed the racial divide in the United States right in front of us in ways we would not have expected 50 years after the assassination of the Rev. Dr. Martin Luther King Jr. on April 4, 1968. Was his precious blood spilled in vain? Do black lives really matter?
If we are to move ahead in a positive way from this divide, we must learn from the past by studying the choices, decisions, beliefs and experiences that have brought us to this moment. As Catholics, we must open our hearts to the purifying power of the Holy Spirit and the healing grace of Christ. We Catholics sometimes have only a superficial cultural commitment to our faith. But a deep existential commitment to follow Jesus as the way, the truth and the life impels us to truly live our Catholic faith in all of the complex and difficult situations of our lives, including those that require us to oppose anyone and anything that serves to maintain the current racial divide in the United States. Every individual, organization, institution and structure in the church must do something to counter this intensification of the racial divide. Discerning what we can and should do may not be easy. But if we are following the path of true Christian, ecclesial, intellectual and moral conversion, we should be able to scrutinize with care the horizons of possibilities before us and prayerfully make the best choices in matters great and small.
Was Rev. Dr. Martin Luther King Jr.'s precious blood spilled in vain? Do black lives really matter?
Here are some concrete steps Catholics and the church can take.
Fight the conspiracy of silence. If family members, coworkers or representatives of the Catholic Church do or say things that reinforce the racial divide, find a respectful but effective way to communicate that you think what they are doing is wrong. This will not be easy. Glean strength and confidence by prayerfully reading the Gospels regularly. In a dialogue of the soul, be attentive to the specific and very clear directives from Jesus, especially his law of love: Love God with your whole being, and love your neighbor as yourself.
Study the past and present racial divide in the United States and in the church. It is a broad, deep and complex reality that is woven into U.S. culture. We must be careful not to presume to know what is in the hearts of others. While extreme racial prejudice has been a tragic flaw in the past and present history of the United States and the Catholic Church, we should be careful not to generically brand historical figures and contemporaries, whose horizons and experiences may be unknown to us, as "racists" or as guilty of "racism." It is unwise, imprudent and probably incorrect for a speaker to address a large crowd of people and say, "Most Americans are 'racists' and guilty of 'racism.'" This judgmental and confrontational approach closes the door on possible meaningful dialogue and authentic conversion before they can even begin.
Examine history books used in Catholic schools. Are they truthful, fair and balanced? Are these texts silent on the moral blindness of individuals like George Washington, Thomas Jefferson, Robert E. Lee and Catholic Chief Justice Roger Taney on the evil of enslaving free human beings for the sole purpose of enriching their so-called owners? Do these texts routinely speak of enslaved free human beings as "slaves" without acknowledging the Christian truth that no human being can "own" another? Similarly, is church history presented in these texts from a completely Eurocentric perspective, giving little or no attention to the flourishing churches in sub-Saharan Africa and to African-American Catholic history?
If this is the case, we should replace them with more accurate textbooks or supplement parish school textbooks with a more complete and accurate history to correct false, incomplete and misleading accounts. This is essential for the proper formation of the religious consciousness of young people. They must build the bridges to ultimately cross the racial divide.
Attract and retain African-American college students and faculty members. This continues to be a challenge in most Catholic institutions of higher education. An atmosphere of true welcome and inclusion that does not tolerate a culture of racial prejudice, white privilege or expressions of white supremacist attitudes must be consciously maintained.
Those Catholic universities that have known connections to human slavery and institutionalized racial prejudice would do well to follow the example of Georgetown University, under the leadership of President John DeGioia. The university's Working Group on Slavery and Memory and Reconciliation faced, with honesty, a painful history and offered a heartfelt apology. The university contacted and assisted the descendants of free human beings once "owned" and "sold" by the university, renamed halls that once honored Jesuits who were involved in the sale of human beings and honored the first enslaved man listed on the 1838 sale document and a free black woman who established a school for African-American girls at the university in 1820.
Be vigilant at seminaries. Make sure that men who harbor racial prejudice are not advanced for ordination and that faculty members understand clearly that no actions or attitudes of racial bias will be tolerated. Seminaries should encourage educational presentations on the racial divide.
The greater concern of African-American Catholics is not for the church to say more or write more, but to do more and be more.
Be attentive to sacred art. Parishes building new churches and dioceses erecting new cathedrals should ponder this question: Why are the images of God the Father, Jesus Christ, Mary, Joseph, the apostles, the saints and even the angels presented almost exclusively with Western European features? We do not know what most of them actually looked like. Michelangelo's majestic frescoes in the Sistine Chapel notwithstanding, everyone knows that God the Father is not, in fact, an elderly European man with a flowing white beard. Why is God exclusively pictured that way?
The horizons of possibilities of African-American Catholics are certainly limited by church art that suggests quite definitively that no one in the kingdom of heaven looks like them. The church could take a giant step across the racial divide by regularly incorporating racially diverse images of the divine and the saints in sacred art. This would announce to everyone who enters that "all are welcome!"
Daily news stories announce that our country and our church are at a crossroads. If we do nothing, I fear that in the years ahead, the small but vital African-American Catholic population of 2.8 million will shrink rather than grow. The church does well to form committees, issue pastoral statements and publish timely articles. But the greater concern of African-American Catholics is not for the church to say more or write more but to do more and be more.
As Catholics, we must continue to enter into silent dialogue with the Holy Spirit and pray for the expansion and enrichment of our personal horizons of possibilities so that, as members of the one body of Christ, we can help to heal old wounds and to bridge the racial divide. Listen. Learn. Think. Pray. Act.