Home secretary Amber Rudd resigns over treatment of Windrush immigrants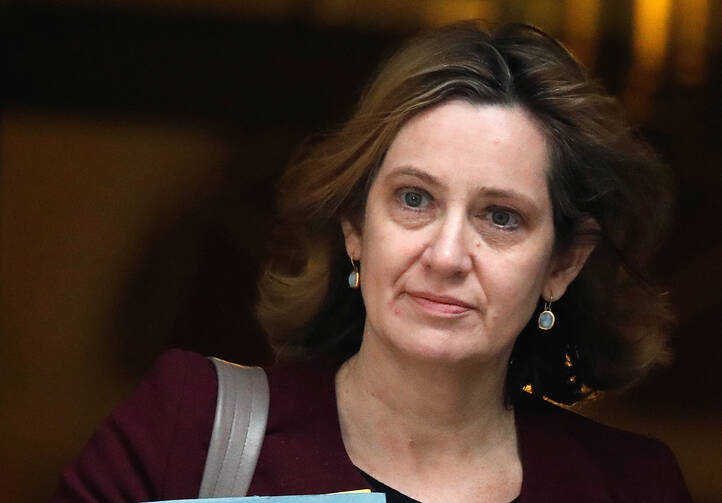 In this Wednesday, March 14, 2018 file photo Britain's Home Secretary Amber Rudd leaves 10 Downing Street in London. Britain's interior minister is promising to ensure the country's immigration policy is "humane," as uproar spreads over the authorities' mistreatment of long-term legal residents. Rudd, who faced mounting pressure Sunday, April 29, 2018 to resign, says she will make a statement to the House of Commons Monday over the immigration scandal. (AP Photo/Frank Augstein, File)
To lose one cabinet minister, Mrs. May, may be regarded as a misfortune, but to lose four looks like political carelessness, or perhaps incompetence, as Oscar Wilde nearly said.
Most leaders of democratically elected governments suffer the loss of key administration officials across the span of their electoral mandate. White House watchers have noted how unusually often the Washington maintenance people have been called upon during the Trump administration to attend to the upkeep of the West Wing's revolving doors. Lest any smugness creep in, chaps in brown overalls bearing little green oil cans have earned good overtime pay in the vicinity of Downing Street, too.
While political departures can follow scandal, others result from a perceived failure in honesty, a lack of transparency or just getting it so wrong that the government or the leader is exposed. At times, the hapless victim slouches off to the unemployment office knowing that she or he had been only a human shield for their leader.
Human shields stand a good chance of destruction; it comes with the territory, as Arthur Miller nearly said. The most recent member of the current Conservative Party administration to be shown the door, Ms. Amber Rudd, was partly responsible for perpetuating an unpleasant and morally dubious policy that her predecessor in that office had introduced.
The office was that of Home Secretary, traditionally known as one of the Four Great Offices of State, the others being prime minister, chancellor of the exchequer and foreign secretary. Ms. Rudd's predecessor had been Theresa May, the prime minister herself.
When the Empire Windrush, a former German troopship acquired by the British as war booty, steamed into Tilbury Harbor in the Thames Estuary, around half of the 1,027 passengers (and two stowaways) who had embarked from Jamaica that summer of 1948 believed they were steaming toward the sunrise and prosperity in Britain. That optimism was grounded in their sense of themselves as part of the British empire (we could say citizens, but none of us are—we are all, still, subjects). Other passengers came from Trinidad and other Caribbean islands and countries that were not a part of the Commonwealth.
The government's policies toward these migrants, none of whom had done anything wrong, was at best indifferent and crude but could be vicious.
Memories of the "Windrush Generation" have dimmed a little nowadays, but the welcome they received in 1948, querulous and curious at first, evolved for some Britons into racism and discrimination. The current scandal that brought down Ms. Rudd exposed unjust treatment toward those who crossed from Jamaica, their children and their grandchildren.
The government's policies toward these migrants, none of whom had done anything wrong, was at best indifferent and crude but could be vicious. Stories recently began to flood the U.K. media of harassment from government officials old and new experienced by Windrush migrants because of their unclarified immigration status.
There have been verified reports of people who had been here for decades, living blamelessly, working hard and paying their taxes, losing their jobs, denied re-entry into the country after travel, refused medical treatment by the National Health Service and threatened with forced removal from Britain.
The mistreatment of this particular immigrant community has been consistent with the government's "hostile environment policy" toward immigrants in general, foregrounded recently in a report by the Jesuit Refugee Service. The bitter turn against migrants in the United Kingdom shares something with the growing acceptance in several Western countries of anti-migrant attitudes and behaviors. The architect of this aggressive policy, when in charge as home secretary, was Mrs. Theresa May; this was her flagship immigration strategy. But on her elevation to Downing Street, her successor at the Home Office had to take the hit for it. Mrs. May, already buckling under the pressure of faltering European Brexit negotiations, had to be protected; Ms. Rudd had to go.
The Windrush Generation were forced to struggle to prove that they were British, despite years of contributing to their local communities and the country. Many, now reaching pensionable age, do not have passports—not a crime, as all are here legally. But recent regulatory tightening meant that officials began to demand papers many of the Windrush Generation do not have; some had not been given any papers on disembarking and the Home Office, astonishingly, destroyed all remaining landing cards in 2010. Community leaders began to charge that immigration officials were picking their targets according to race, skin color and accent.
Archdiocese of Westminster Bishop Paul McAleenan, who leads on migration policy for the Bishops' Conference, spoke out against the "unacceptable rejection and denial of access to services for some members of the Windrush Generation, whose vital contribution to the reshaping of the United Kingdom after the Second World War is hugely acknowledged."
Bishop McAleenan was one of several faith leaders to welcome the eventual, grudging apology forced out of the government. But for Ms. Rudd, who was known to hold ambitions for Number 10, this was too late and too little. What finally sunk Ms. Rudd was her claim that her department did not have monthly immigration removal targets. It did and she either did not know this or tried to suppress evidence of it.
Not even the British state's useful fallback distraction tactic, to organize some story around the unelected Hanoverian monarchy—in this case twice, with another royal birth and a costly wedding—was enough to divert attention. The forced departure of one of the Great Officers of State is more than just a misfortune; it is rare and extremely damaging.
Somehow this administration is hanging on, abetted in its survival by an opposition that should be doing much better in holding the current government to account. The new home secretary, by a twist of irony, is Mr. Sajid Javid, whose parents immigrated from Pakistan and who is the first-ever ethnic-minority holder of a Great Office of State.
His rise could be a defining moment in the treatment of migrants in this country, although his party has yet much to do. Another playwright, our own North Londoner Harold Pinter, did say that "sometimes you feel that you have the truth of a moment in your hand, then it slips through your fingers and is lost."
As nastiness and anger against migrants in Britain show few signs of abating, we know that we must grasp whatever is good and true, and not let it go, and ask that Mr. Javid do the same.