More U.S. bombs in Syria will help no one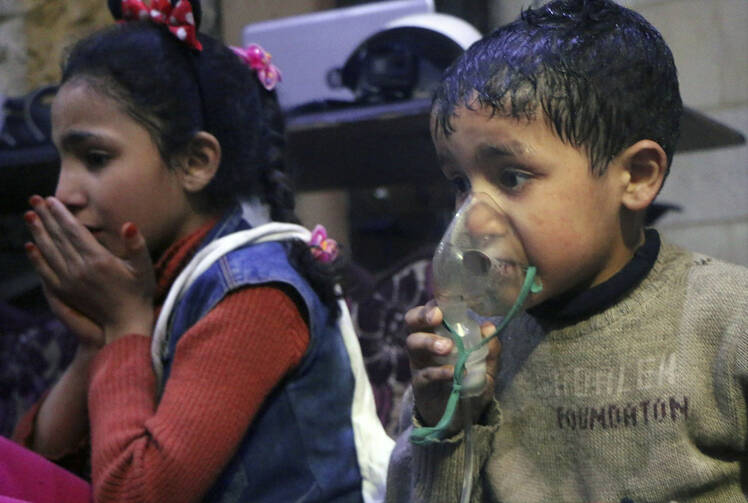 This image released early Sunday, April 8, 2018 by the Syrian Civil Defense White Helmets, shows a child receiving oxygen through respirators following an alleged poison gas attack in the rebel-held town of Douma, near Damascus, Syria. Syrian rescuers and medics said the attack on Douma killed at least 40 people. The Syrian government denied the allegations, which could not be independently verified. The alleged attack in Douma occurred Saturday night amid a resumed offensive by Syrian government forces after the collapse of a truce. (Syrian Civil Defense White Helmets via AP)
Syrian President Bashar al-Assad continues his horrific killing campaign against his own people. The Syrian civil war is now in its seventh year. Nearly a half million people have been killed in the war. Over half the country's population has fled the war.
How long can this continue? What are the United States' options? Last week, President Trump said he would soon be pulling U.S. troops out of Syria. On Sunday, Mr. Trump tweeted that there will be "a big price to pay" for President Assad's latest chemical attack, and Defense Secretary Jim Mattis noted that "all options are on the table."
Since the conflict began in 2011, the U.S. government has sent arms to the Syrian opposition to the Assad regime. The C.I.A. has spent over a billion dollars in covert aid to arm and support "moderate" opposition groups, some of which has ended up in the hands of fighters linked to al Qaeda and other jihadist groups. President Trump was right to end this program, tweeting he was ending "massive, dangerous, and wasteful payments to Syrian rebels fighting Assad." But he also criticized the Obama administration for not spending more money on the program.
The U.S. military has carried out missile strikes in Syria for years, first bombing ISIS and then, under the Trump administration, bombing Syrian government targets. The United States currently has about 2,000 troops in Syria, advising opposition forces.
If the United States further escalates its military intervention in Syria, would it make a difference? Would it stop Mr. Assad from killing his own people, end the Syrian civil war and bring better governance to the Syrian people? Catholic tradition on peace and war holds that any action must build a more robust and sustainable peace. Will bombing or putting American "boots on the ground" bring peace to Syria?
No, is the clear answer from our knowledge of insurgencies. Unfortunately, the outlook is grim for the Syrian people. Insurgencies are movements to overthrow a government, to take over control of some or all of the territory of a country or to force a government into sharing power over the disputed territory.
Insurgencies last a long time. The average length of an insurgency is 10 years, while many last much longer. Insurgencies in Colombia lasted for over 40 years. Insurgencies with more than two insurgent groups last longer, are more violent and have more difficult and complicated endings. Insurgents organized in fragmented networks are less likely to succeed in toppling the government.
The Syrian opposition to President Assad is tremendously fragmented, with estimates of 1,000 armed opposition groups. Insurgencies are more likely to succeed against the government in rural, less developed countries, like Afghanistan, where the Taliban continue to fight government forces. Government forces are more likely to win eventually against insurgencies in middle-income, urbanized countries, like Syria.
Governments that are in transition from autocracy to democracy, an anocracy, like Iraq after the fall of Saddam Hussein, have the most difficulty in combating insurgents. Authoritarian governments, like Bashar al-Assad's, have a better track record of eventually defeating insurgencies. The longer an insurgency lasts, the more likely the government will eventually win.
Governments with consistent external support are more likely to eventually win against insurgencies. President Vladimir Putin and the Russian government are unwavering in their commitment to the Assad regime. Iran and Iraq also support the Syrian government.
Insurgent groups also need external state support (guns and money) to survive, particularly to provide sanctuary for rebel groups, but inconsistent support from other countries may actually hurt insurgencies. Various Syrian opposition groups receive support from Saudi Arabia, Turkey, Israel and the United States, but no one could accuse U.S. policy in Syria of being consistent.
Research from past insurgencies suggests the Syrian civil war will continue to be long and bloody and that government forces will likely outlast the insurgents. Increased U.S. military support of the opposition will not change the equation and may do more harm than good.
President Trump is right to want to assist "innocent Syrians" who are victims of "heinous attacks." There are many ways the United States can help: President Trump can increase U.S. humanitarian aid; accept refugees from Syria; help frontline states Turkey, Jordan, Lebanon, Egypt and Iraq minister to the victims; press for humanitarian access corridors so aid can reach the war-torn Syrian population; and press for the implementation of a ceasefire to accompany the start of peace talks.
Pope Francis has called for an end to bloodshed in Syria, for increased "humanitarian assistance" and "a political solution to the crisis." President Trump is proud of his skills as a "deal maker," skills that are sorely needed to end this conflict. The president and the pope should use this moment to press for a ceasefire. Even imperfect ceasefires save lives. More bombs will help no one. 
[Want to discuss politics with other America readers? Join our Facebook discussion group, moderated by America's writers and editors.]