The black women who voted in Alabama deserve more than your gratitude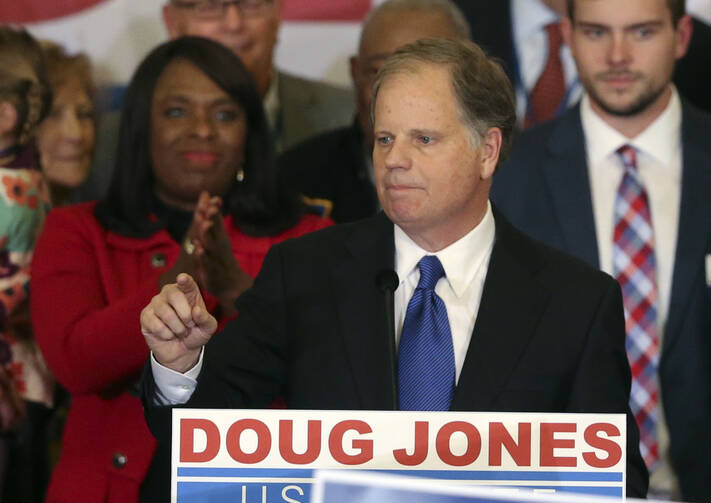 Democrat Doug Jones speaks Tuesday, Dec. 12, 2017, in Birmingham, Ala. In a stunning victory aided by scandal, Jones won Alabama's special Senate election, beating back history, an embattled Republican opponent and President Donald Trump, who urgently endorsed GOP rebel Roy Moore despite a litany of sexual misconduct allegations. (AP Photo/John Bazemore)
If not for black women, Doug Jones might very well have given a concession speech on Tuesday night. Because of their overwhelming support, he will be the Democratic senator from Alabama, putting Roy Moore and his horse, Sassy, out to pasture.
Black women voters in Alabama went 98 percent for Doug Jones. That is a staggering percentage. But the real takeaway from this election about black women voters and their loyalty to the Democratic Party is that black women are, as CNN's Daniel Burke tweeted, "the real Values Voters." While journalists and faith leaders have touted values as the defining factor in white evangelicals' support for the G.O.P., black women's values align more with the Gospel and community. Black women care deeply about civic engagement, democracy, education, children and justice. These are values that were glaringly absent from Roy Moore's campaign, despite public displays of prayer at his election night rally.
If not for black women, Doug Jones might very well have given a concession speech on Tuesday night.
It took a candidate like Mr. Moore to show what many have known all along: Black women are a vital, moral resource for civic engagement in the United States. Black women fought for the right to vote during the suffrage movement and fought again during the civil rights movement. The rote narrative in the press of the civil rights movement is truncated with the briefest of histories of men like Martin Luther King Jr., Jesse Jackson or John Lewis. The reality is that these men could not have come to prominence without the work of Claudette Colvin and Rosa Parks in Montgomery, Ala., or Fannie Lou Hamer at the 1964 Democratic convention. They and thousands of other forgotten black women walked during the Montgomery Bus Boycott, sent their children out to march in the Children's Crusade of May 1963 and comforted the mothers of four little girls who lost their daughters in the bombing of the 16th Street Baptist Church in Birmingham.
Black women are, as CNN's Daniel Burke tweeted, "the real Values Voters."
Black women in Alabama did it again in this special Senate election. While nearly two-thirds of white women voted for a man who has been accused of strolling the mall to pick up underage girls, black women in Alabama opted to vote for a candidate that prosecuted the murderers of those four young black girls killed in a church. White women voted for a man who did not want to take no for an answer from young women. They voted for a man who said ridding the Constitution of all the amendments after the 10th "would eliminate many problems."
Despite all this, white evangelicals are still the most discussed religious voting bloc in the United States because of their vigorous pro-life stances and opposition to same-sex marriage and homosexuality. The reality is, their backing of Roy Moore is a crisis of moral fortitude, not only for the Republican Party but for evangelicalism.
Black women cannot be expected to continue to save white people from the poor choices they make.
While it is important that black women begin to receive the accolades and assistance they are due from the Democratic Party, they cannot be expected to continue to save white people from the poor choices they make, based not on moral values but party affiliation. This is not simply a problem for white evangelicals. The 45 percent of voting Catholics who chose Donald J. Trump in the 2016 election have to do the same soul-searching that white evangelicals in Alabama need to do about the ways they have compromised their religious beliefs in the name of party loyalty.
Zora Neale Hurston once described black women as the mules of the world, but black women are not mules to be ridden to the polls. Nor are they solely responsible for bringing American democracy back from the brink of destruction. The same black women who stood in long lines to vote before and after going to work on Tuesday will be in churches on Sunday morning across Alabama. They will serve as church mothers, pastors, Sunday school teachers, ushers, choir directors and liturgists.
These women deserve to be lauded. They understand what democracy is because they have had to fight every step of the way to be considered fully human. The work and votes that black women deliver deserve more than just lip service from candidates. They deserve concerted policy initiatives and a seat at the decision-making tables on the local state and national level. I hope that Doug Jones will make that possible.
So while you may want to thank every black woman on your job or in your local parish, think about what they have sacrificed, without receiving much, from the United States. Think about the witness they bear to the principles of community and the Gospel. I am thinking about black women like Sister Antona Ebo, who died in November. Sister Ebo was the only black sister at the Selma march in 1965 for voting rights. She said, "I am here because I'm a Negro, a nun, a Catholic, and because I want to bear witness." Because she bore witness, black women in Alabama could follow her lead and bear witness and vote. That is what black women of faith can do. Honor them and give them their just due.