Sister Carol Keehan: Graham-Cassidy health care plan 'disastrous'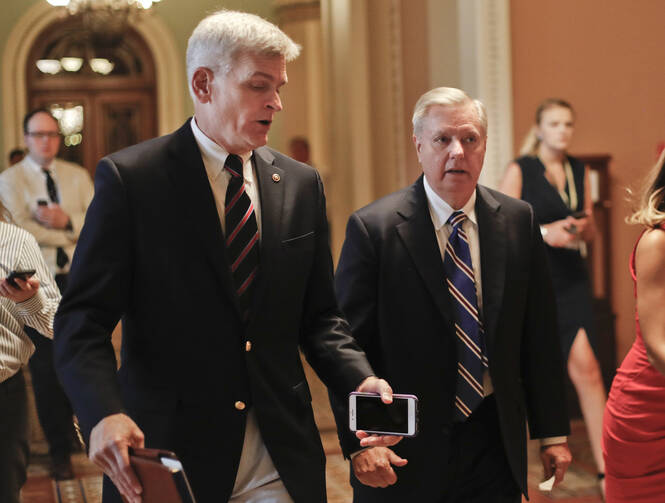 Sen. Bill Cassidy, R-La., left, and Sen. Lindsey Graham, R-S.C., right, talk while walking to a meeting on Capitol Hill in Washington in July. Senate Republicans are planning a final, uphill push to erase President Barack Obama's health care law. But Democrats and their allies are going all-out to stop the drive. (AP Photo/Pablo Martinez Monsivais, File)
Any fan of American horror knows that savvy survivors never count the guy with the mask out no matter how often he has been beaten down, blown up or submerged in dark waters. Your determined Mike Meyer-ish ghoul will find a way back from the dead for another shock finale every time.
And so another effort to repeal Obamacare surfaced this week, not quite to everyone's surprise.
Carol Keehan, D.C., the president and chief executive officer of the Catholic Health Association, was not caught completely off-guard when Republican Senators released their latest plan to turn back President Obama's signature legislative achievement—this time without the assistance of Senate Majority Leader Mitch McConnell, who had washed his hands of the effort.
"They have been so abused," Sister Keehan says of Senate Republicans. She suggests that after weeks of scolding from President Trump and right-wing media because of their failure to repeal Obamacare after promising to do so for years, some Republicans in the Senate felt they had no choice but to act one more time against the Affordable Care Act.
"You can see how the goading has gotten to them," Sister Keehan says.
Does she think this latest bill has a chance to pass? In normal times, no way, she says. But in these decidedly not-so-normal times, who knows?
"You just don't railroad something through, something you've just whipped together in the last couple of weeks."
This legislative Pickett's charge against Obamacare is being led by Senators Lindsey Graham of South Carolina and Bill Cassidy of Louisiana. The "disastrous" plan, as Sister Keehan describes it, would end the federally funded expansion of Medicaid under the A.C.A., converting the program into block grants to states, which would have a broad authority to decide how to spend the money en route to a complete phase-out by 2026. According to a statement at the Catholic Health Association urging a "no" vote on the bill, that would mean $239 billion less over ten years than under current law, resulting in large cuts for many states.
According to an analysis of Graham-Cassidy conducted by the Center on Budget and Policy Priorities, the bill would eliminate or weaken protections for people with pre-existing conditions, allowing states to waive the A.C.A.'s prohibition against charging higher premiums based on health status and requirements for essential health benefits including mental health, substance abuse treatment and maternity care.
As with the last Republican effort to end Obamacare, cut down in July by a surprise "no" vote from Arizona Senator John McCain, Sister Keehan is troubled by the Senate's haste on an issue of such grave national importance. "The health of the American people as well as the health of the economy is incredibly important, and you just don't railroad something through, something you've just whipped together in the last couple of weeks," she says.
"You have to be careful that you do something only after real thought and attention to the issue and not just because you got goaded into it; that's something you teach your kids."
Why the rush? Republican Senators need a vote by the end of September before special budget reconciliation procedures shielding the bill from a Democratic filibuster expire. This month, G.O.P. senators only need a straight majority vote; next month they would have to come up with 60 votes to move forward on an Obamacare repeal. Time and math are not on their side.
Senators Graham and Cassidy believe they are close to rounding up the 50 votes they will need to win now; Vice President Mike Pence would cast the tie-breaking vote. The vice president said on Sept. 19 that the Trump administration was "all in" on this last-ditch effort. Speaker of the House Paul Ryan has also endorsed the measure, suggesting it would earn approval in the House of Representatives. This iteration of an Obamacare repeal would then only need to make a short hop to the White House for President Trump's signature to become the law of the land.
Sister Keehan would like the process to slow down for more serious deliberation before that happens. "We just have to stop and take a deep breath, and we need the adults in the room to follow John McCain's advice to follow Senate procedures," Sister Keehan says. "Senate procedures have been developed for a good reason."
The latest proposal has not been scored for its likely impact by the Congressional Budget Office—and will not be by the time the Senate will be forced to vote on the bill. C.B.O. number crunchers say they will need weeks, not days, before they can issue a comprehensive report.
That means the Senate will vote without fully understanding how the plan will affect the health care of millions of people in a system that represents nearly a fifth of the U.S. economy. The bill proposes big cuts in Medicaid and would end the A.C.A.'s requirement that most Americans buy insurance and that companies offer coverage to workers.
The C.B.P.P. reports that by 2027 the outcomes of the Graham-Cassidy bill would be virtually identical to a repeal-without-replace bill, suggesting that it would leave an additional 32 million Americans without health insurance over the next decade. Its deeper cuts to Medicaid should in fact mean that figure could be higher. The bill would result in even deeper coverage losses in the following decade.
U.S. workers covered under company insurance plans, who may have been following with only a passing interest the continuing squabbles over health care in Washington, should take notice, Sister Keehan warns. Whatever may slip past in Congress this month will have a profound effect on the cost and the quality of all health insurance, not just those plans created under the A.C.A.
As this latest putsch against Obamacare began, Sister Keehan had been working on a competing Senate negotiation to shore up the A.C.A. spearheaded by Republican Lamar Alexander of Tennessee and Democrat Patty Murray of Washington that she described as "bipartisan" and "transparent."
That draft bill "isn't seeking to undermine A.C.A.," she says. "We want it stabilized until we can come up with something better…until we can do the things to improve the A.C.A. that have needed to be done since it was passed.
"That's what we need to do. We need to build on that, but you do that by following regular Senate order and holding committee hearings and inviting everyone to get involved in the discussion," Sister Keehan says, "and not just have 13 guys hash this out in a closet."