Jail terms for pro-democracy leaders raise concerns of political persecution in Hong Kong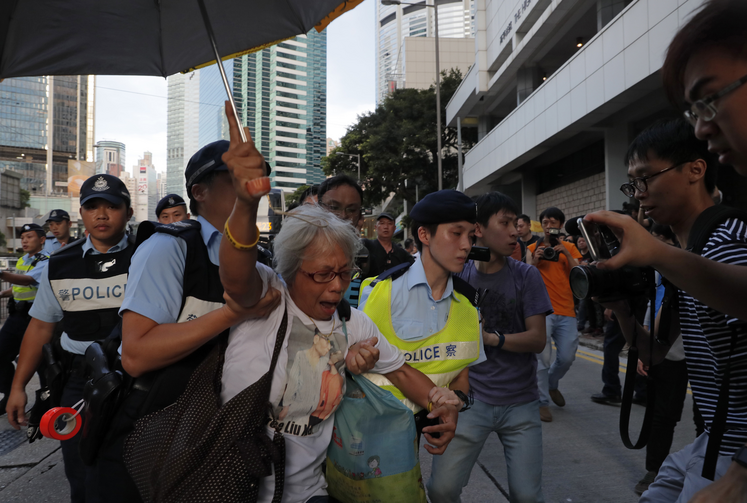 A protester is taken away by police officers as a prison bus carrying Hong Kong activist Joshua Wong leaves the high court after his sentencing in Hong Kong on Aug. 17. A court overturned sentences that the prosecution said were too light and sent Wong and two other student leaders of huge pro-democracy protests in 2014 to prison. (AP Photo/Vincent Yu)
The imprisonment of three young political activists has sparked fears that Hong Kong's judiciary has become a tool for political persecution.
On Aug. 17, leaders of Hong Kong's pro-democracy movement, Joshua Wong, 20, Nathan Law, 24, and Alex Chow, 27, were sentenced to between six and eight months in prison by the Court of Final Appeal because of their involvement in protests in 2014.
After the sentencing, the young men remained defiant. Mr. Wong tweeted: "Imprisoning us will not extinguish Hongkonger's' desire for universal suffrage. We are stronger, more determined and we will win…. You can lock up our bodies, but not our minds! We want democracy in Hong Kong. And we will not give up."
The sentences made the young activists Hong Kong's first political prisoners under Chinese rule and prompted a massive street protest on Aug. 20. Under sweltering heat, thousands of demonstrators marched on the court, accusing the government of giving into political pressure from Beijing and endangering the rule of law in Hong Kong.
Cardinal Joseph Zen, the Bishop Emeritus of Hong Kong, said that the sentencing shows the judiciary has become "a tool for political persecution."
The sentences made the young activists Hong Kong's first political prisoners under Chinese rule and prompted a massive street protest on Aug. 20.
"Does the foolish government think this can deter Hong Kong citizens who care for Hong Kong's political future? How could you be so ignorant?" he wrote in a blog post. "Revolutions in history succeeded through [a pattern] of resistance-oppression, oppression-resistance."
The three young men were found guilty of unlawful assembly. They had climbed over a fence into the forecourt of the Hong Kong government headquarters on Sept. 26, 2014, to "reclaim" a space that had been formerly used by pro-democracy demonstrators before it was closed off by the government.
The incident helped trigger the pro-democracy "Occupy Central" protests. The government insisted that the young men had planned the storming of the forecourt and had incited others to join the unrest.
Last year Mr. Wong and Mr. Law were sentenced to community service and Mr. Chow was given a suspended jail term, but the Hong Kong government, which receives its mandate from Beijing, pushing for stiffer punishment, applied for a review of the sentence in August. The appeal court overturned the original sentence, arguing that community service penalties were not enough to deter others from disrupting public order.
Judge Wally Yeung, vice president of the Court of Appeal, said in the judgment that: "The three defendants' banners of peace and rationality, claiming to take Civic Square completely without violence, were empty words…and they were lying to both themselves and others."
The judge said the offences they committed were "serious," concluding that community service or suspended jail terms failed to reflect the gravity of the offences.
In recent years, China's refusal to grant genuine universal suffrage in Hong Kong, as it promised in an agreement made before Britain's handover of the territory in 1997 has long been a source of frustration here. A decision by China's National People's Congress Standing Committee in August 2014 to allow Hong Kong to elect a local chief executive only from a list of pre-approved candidates had been decried as "fake democracy" by Hong Kong's pro-democracy activists and politicians. They responded with the Occupy Central protests, also known as the Umbrella Movement, in late 2014, which paralyzed Hong Kong's key business districts for 79 days.
The authorities' hostility toward advocates for greater democratic expression has prompted more calls for independence from China.
Mr. Wong and Mr. Law are leaders of the political party Demosistō, which they co-founded with other young people after the Umbrella campaign. Last year Mr. Law became the youngest person ever elected to Hong Kong's Legislative Council, at the age of 23.
He was stripped of his seat last month after a court declared his oath invalid and said he had "disrespected" China. The New York Times reported that Mr. Law began his oath by "saying he would 'never serve a regime that murders its own people'" and that he "read the Cantonese word for 'China' with an upward inflection, as if asking a question." The prison terms leave the young men ineligible for public office for five years.
The Hong Kong government was quick to defend the court's ruling. Carrie Lam, Hong Kong's top political leader, denied a political motivation in the prosecution, and Secretary for Justice Rimsky Yuen insisted that the young men were not charged for political ideas but simply for their unlawful conduct. "Any suggestion of an ulterior motive on the part of the prosecution is simply groundless," he wrote in a newspaper commentary.
But Benny Tai, a law professor at the University of Hong Kong and a founder of the Occupy Central movement, said the appeal judges "have disregarded the tradition of civil disobedience in common law."
In an apparent reference to Mr. Tai and other co-founders of the pro-democracy movement, in his ruling Judge Yeung said there has been "an unhealthy trend" in Hong Kong among democracy advocates who promoted the concept of "achieving justice through disobeying laws." Justice Yeung said such people have "arrogant, self-righteous thoughts" and incite young people to damage public order during demonstrations.
In response, Mr. Tai told a radio program that while he and other leaders of the Occupy Central movement pressed for democracy through nonviolent means, they "did not arbitrarily call for people to break the law."
Mr. Tai and other Occupy Central founders sociology professor Chan Kin-man and the Reverend Chu Yiu-ming—a Protestant pastor and veteran pro-democracy activist—were charged in March for their roles in the 2014 demonstrations and are due to appear in court in September.
The authorities' hostility toward advocates for greater democratic expression has prompted more calls for independence from China. In response, China has ratcheted up rhetoric against the "localist movement" and called on the Hong Kong government to nip it in the bud.
Critics point out that the Hong Kong government is keen to prosecute activists who oppose it, and the list of targets seems to be getting longer all the time. Apart from the three young men, 13 others who were also initially sentenced to community service were jailed in mid-August for unlawful assembly for storming the Legislature in June 2014.
Many others face trial for rioting in Mongkok, a downtown shopping area, last year. According to information compiled by activists posted online, nearly 100 who took part in protests could be prosecuted.
Benedict Rogers, deputy chairman of Britain's Conservative Party Human Rights Commission, said the jailing of the young men and the suspension of their eligibility for future political office "reeks of a political vendetta that strikes a nail in the coffin of Hong Kong's freedoms. It is Beijing's agenda to eliminate the democratic opposition in Hong Kong."
Mr. Chan said it was "an extremely foolish act" by the government to use legal means to stop people from fighting for democracy.
"When these youngsters return to society, they would have even greater moral authority to fight against an authoritarian regime," he said. "I don't think young people will be scared by this imprisonment. They are angry and some of them will take these three guys as their role model and become even more determined to fight for democracy."
Mr. Chan said he was personally mentally prepared for prison and would remain proud that he had been involved in the Umbrella Movement.
Chris Patten, Hong Kong's last colonial governor under British rule, said at the Edinburgh Book Festival that the young men "will be remembered...long after nobody can remember who I was, and perhaps nobody can remember who President Xi Jinping was."
"We should be proud of what those kids are doing," he said.
The Communist Party's People's Daily said in a front-page editorial on Aug. 25 that the jailing of young men has "demonstrated the rule of law and justice," and any talk of political persecution and damage to Hong Kong's rule of law from the opposition and "foreign anti-China forces" should be strongly condemned.