Pope Francis urges international intervention as famine threatens South Sudan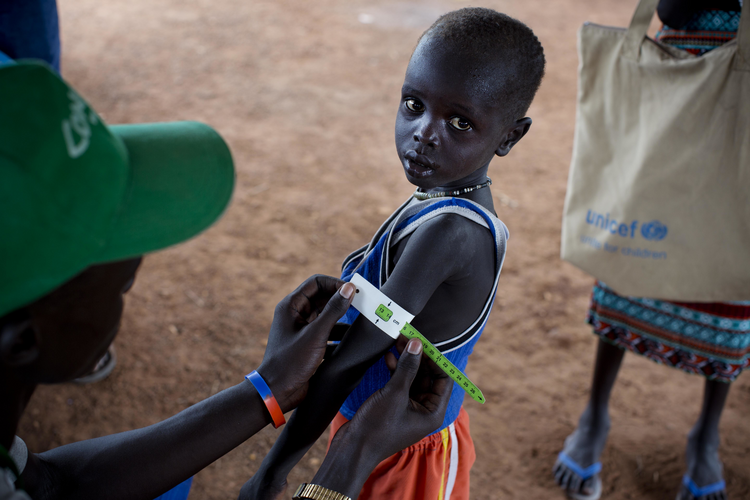 A young boy has his arm measured in October 2016 to see if he is suffering from malnutrition during a nutritional assessment at an emergency medical facility supported by UNICEF in Kuach, on the road to Leer, in South Sudan. Famine has been declared Monday, Feb. 20, 2017 in two counties of South Sudan. (Kate Holt/UNICEF via AP)
Pope Francis appealed for concrete action to get food aid to famine victims in South Sudan, arguing words are not enough to prevent millions from being condemned to death by hunger.
The pope's appeal on Feb. 22 came a day after South Sudan President Salva Kiir promised "unimpeded access" for all aid organizations to reach the hungry. Mr. Kiir's government has repeatedly promised such access but with little effect, according to an Associated Press report. Some 275,000 children in South Sudan are severely malnourished and more than 5 million people are urgently in need of food and agricultural assistance, according to Caritas Internationalis, the church's global relief and development agency.
The pope called on the international community to speed aid to South Sudan, "where a fratricidal conflict compounded by a severe food crisis condemns to death by starvation millions of people, including many children." He added, "At this time it's more necessary than ever for everyone to not just stop with words, but to take concrete action so that food aid can reach suffering populations."
Pope Francis: "At this time it's more necessary than ever for everyone to not just stop with words, but to take concrete action so that food aid can reach suffering populations."
The United Nations earlier this week declared a famine in parts of South Sudan's oil-rich Unity state. This is the first time the United Nations has made such a hunger declaration since the crisis in Somalia in 2011, when 250,000 people died. According to the United Nations, more than 100,000 people in Unity state are affected and 1 million more are on the brink of starvation.
In a strong condemnation of the continuing strife in South Sudan issued on Feb. 24, the nation's Catholic bishops implored a response before conditions worsen. "Our people are struggling simply to survive," they write. "While there have been poor rains in many parts of the country, there is no doubt that this famine is man-made, due to insecurity and poor economic management.
"Hunger, in turn, creates insecurity, in a vicious circle in which the hungry man, especially if he has a gun, may resort to looting to feed himself and his family. Millions of our people are affected, with large numbers displaced from their homes and many fleeing to neighboring countries, where they are facing appalling hardships in refugee camps." The bishops deplored the violence perpetrated by both sides in the conflict, especially since so much of it appears directed at unarmed civilians, including killings, looting and rape by government and opposition forces. (The bishops also confirmed in their pastoral message that Pope Francis will visit South Sudan "later this year.")
Michel Roy, Secretary General of Caritas Internationalis, called the famine "a direct consequence of a protracted conflict and almost four years of indescribable violence and abuses committed against the population." An ongoing civil war has destabilized the world's youngest country for more than three years as a political power struggle between Mr. Kiir and former Vice-President Riek Machar continues.
South Sudan broke from Sudan in 2011 after years of conflict. Its internecine struggle began soon after independence.
The conflict in South Sudan, a nation with a significant Christian minority, pitts supporters of Mr. Kiir, primarily members of the dominant Dinka community, against supporters of Mr. Machar, primarily Nuer. That power struggle, joined with drought and a collapsing domestic economy, has brought communities "already living on the brink to their knees," according to Caritas. Many farmers in South Sudan were unable to harvest last August and September, and the second planting season that normally begins in April is threatened because of the continuing and often unrestrained violence.
On Feb. 22 Secretary-General António Guterres joined other top U.N.officials today calling for "strong and urgent" action from the international community to help the already-fragile countries in the region avert catastrophe. He called a hunger disaster "preventable if the international community takes decisive action." According to the United Nations, more than 20 million people in South Sudan, Somalia, Yemen and north-east Nigeria are facing devastating levels of food insecurity. The United Nations is seeking $4.4 billion in aid from international donors to address the crisis in South Sudan and other nations of the region.
"Despite some generous pledges, just $90 million has actually been received so far—around two cents for every dollar needed. We are at the beginning of the year, but these numbers are very worrying," Mr. Guterres said. "The lives of millions of people depend on our collective ability to act. In our world of plenty, there is no excuse for inaction or indifference."
"Famine is already a reality in parts of South Sudan," the secretary-general said. "Unless we act now, it is only a matter of time until it affects other areas and other countries. We are already facing a tragedy; we must avoid it becoming a catastrophe."