"Part of who we are is trying to be political without being partisan; principled but not ideological; civil but not soft; engaged but not used." This is how John Carr, director of Georgetown University's Catholic Social Thought Initiative, described the goal of the pro-life movement while moderating a panel at the Cardinal O'Connor Conference on Life last Saturday.
Held each year on the Saturday after the March for Life in Washington, D.C., this student-run conference features a keynote address from a prominent pro-life speaker, a series of breakout sessions, a panel discussion on the conference's theme and a Mass for life.
Advertisement
The theme of this year's conference was "working towards a truly pro-life politics," a topic that has received a lot of attention this week in light of the controversy surrounding President Trump's executive orders regarding the Mexico City policy and the temporary immigration ban.
Reggie Littlejohn, the founder and president of Women's Rights Without Frontiers (WRWF)—an international coalition to fight forced abortion, gendercide and sexual slavery in China—gave the keynote address. After taking on the case of a Chinese Christian woman seeking political asylum, Mrs. Littlejohn learned of the abortions and sterilization forced upon women across China to maintain the country's one-child policy. Mrs. Littlejohn left her job as a corporate lawyer to devote her life to this issue.
Mrs. Littlejohn presented powerful information about a facet of the pro-life movement that receives little attention from many domestic pro-life organizations, setting the stage for attendees to consider the many pro-life perspectives that must come together to achieve a "truly pro-life politics."
Breakout sessions followed on a variety of life issues, including the political history of the pro-life movement in America, medical ethics concerning end of life issues and Catholic teaching on the death penalty.
Daniel Williams, author of Defenders of the Unborn: The Pro-Life Movement before Roe v. Wade, presented a lecture on the history of the pro-life movement, revealing that the early movement allied itself with the political left and that our pro-life ideology originated from a liberal view of human rights.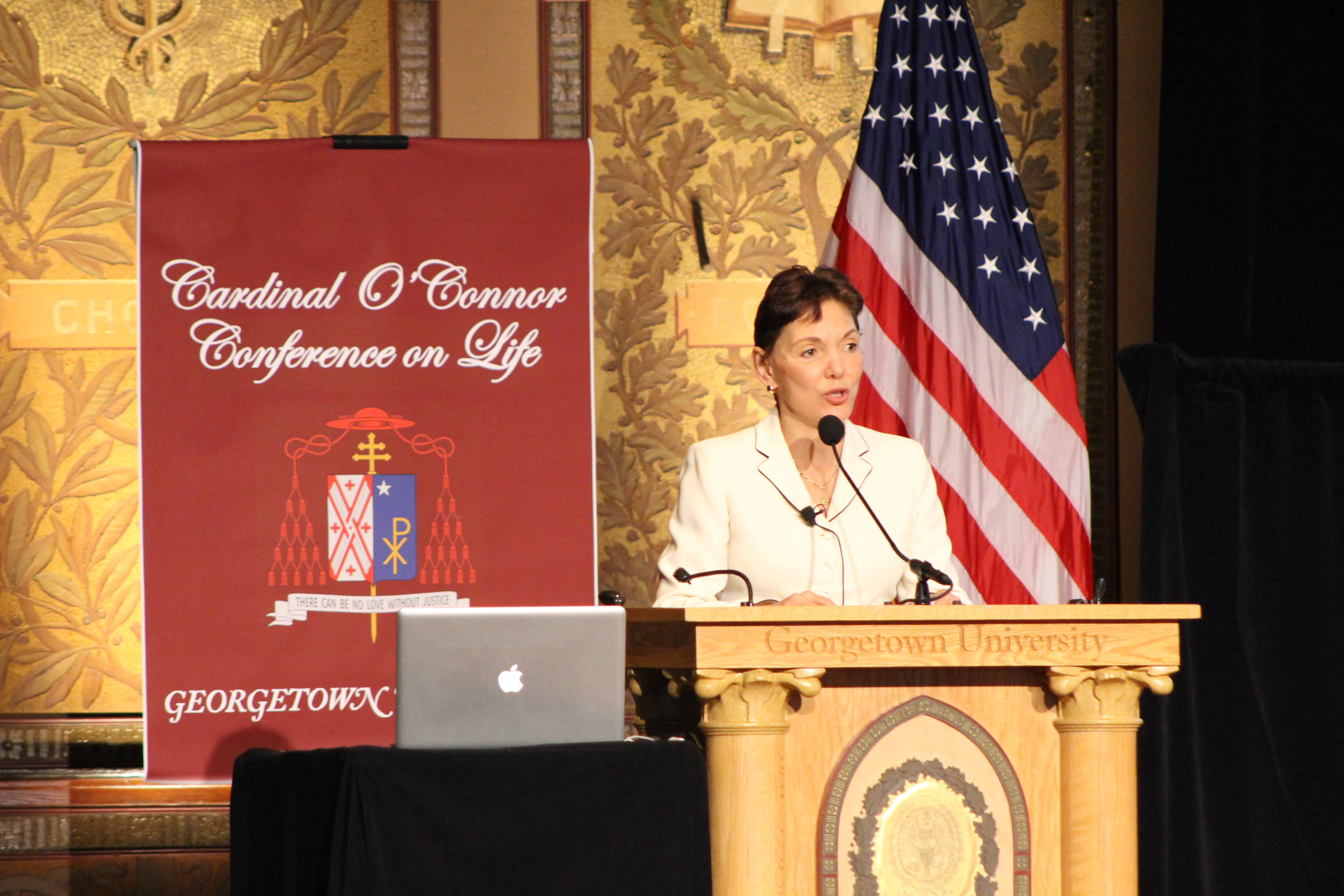 In addition, Nancy Valko, who has worked as both a hospice and an ICU nurse, spoke on the importance of mercy and compassion when treating the terminally ill. She writes a blog called "A Nurse's Perspective on Life, Healthcare and Ethics."
"It's a very short step from 'I don't want to live like that' to 'No one should live like that,'" Ms. Valko explained. "It is so seductive."
Alexandra Carroll and Alex Kelly of the Catholic Mobilizing Network presented workshops on both the practical reasons to oppose the death penalty as well as the philosophical opposition to capital punishment supported by Catholic teaching. "To be truly Catholic and truly pro-life, it's all life, not just certain lives," said Karen Clifton, another representative of the network in attendance.
The afternoon featured a remarkably balanced and interesting panel, including Ross Douthat, author and op-ed columnist for the New York Times; Kim Daniels of the Vatican's Secretariat for Communications; Charles Camosy, author and associate professor of theological and social ethics at Fordham University; and Roberta L. Bayer, associate professor of political philosophy at Patrick Henry College.
Dr. Carr began by asking the panelists where they see the pro-life movement heading, to which Ms. Daniels cautioned the pro-life movement to reign in their optimism about having both a pro-life Congress and presidential administration: "We may win some judicial and legislative battles, but we have to be careful that we don't lose the war."
She stressed the importance of building a culture that supports life by supporting women and children, and she expressed uneasiness over having President Trump as the de facto leader of the pro-life movement, saying he lacks credibility and is unlikely to treat pro-life issues with proper nuance.
Prof. Camosy urged the audience and his fellow panelists to remember that the pro-life movement has changed dramatically over the years. He suggested that the more President Trump disappoints "the compassionate," voters who voted for him based on his pro-life policies but hold different views on treatment of refugees, immigrant and other embattled groups, the more he sets the stage for a "pro-life 3.0" that would transcend party lines.
Mr. Douthat said that a truly pro-life politics would need to recognize first the distinctiveness of abortion in the range of moral issues around which pro-life policy might be organized. As it is the direct taking of innocent human life, he said, it needs to be seen as a singular injustice.
Politically, the pro-life movement has experienced a practical party switch since its inception. What began, Prof. Camosy said, as part of a liberal agenda is now a major plank of the Republican platform. Mr. Douthat commented that while the pro-life movement has achieved astonishing success by aligning itself with a single party, it should not allow that to be a sort of ceiling; it needs to grow from having successful influence over one party to having some influence over the other as well.
The panelists also discussed an area of overlap between pro-life and pro-choice feminists: family policy. Mr. Douthat pointed this out as a space where a successful domestic policy agenda could persuade people that a more pro-life society is possible.
"We need to build up a community of solidarity devoted to being pro-life," said Dr. Carr in his concluding remarks, "and an event like this is one of the most inspirational ways to do that."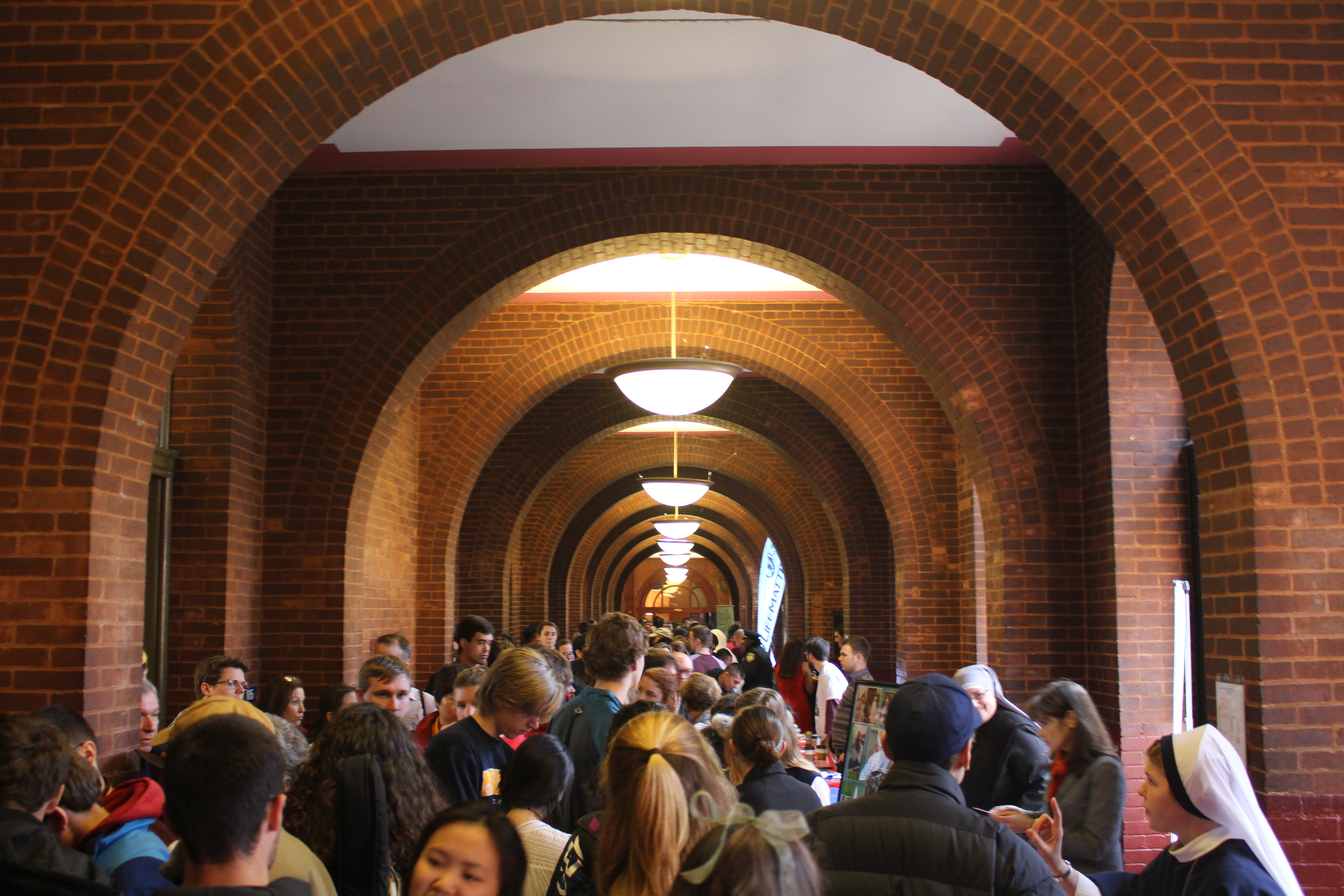 Audience members and panelists alike were pleased with the panel.
"It showed diverse perspectives within the pro-life movement and addressed issues fairly and openly and without partisan rancor," said Prof. Camosy panel.
"I think out of the institutions that I'm involved in in different ways, from the Republican party to the Catholic Church, the pro-life movement actually weirdly seems to have the most internal unity among people who are activists." Mr. Douthat added, "Now once you get into the level of politicians, it becomes a very different matter. But I think in general what you heard at the panel was a very real pro-life consensus that unfortunately doesn't always get translated into politics."
The Cardinal O'Connor Conference was attended by students from across the country, including groups from Saint Louis University High School, the Sisters of Life, Marquette University, St. Joseph's Seminary and the University of Dayton.
"I am hoping that the students in attendance are going to be on fire and are going to bring that fire back across the country to all of their respective schools and not just sort of let it die down." Ms. Littlejohn said, "They need to be lights in the darkness in their sphere of influence, whether it's their family, their friends, or their school, and to keep active, not just let the whole thing drop."