Pope Francis removes Bishop Strickland of Diocese of Tyler, Texas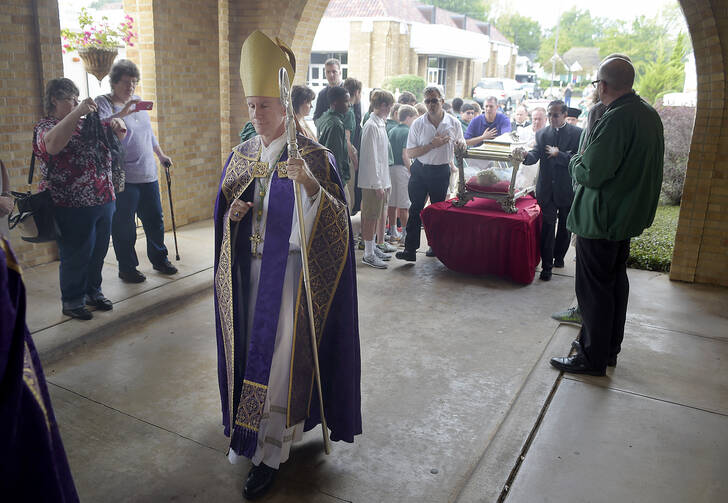 Bishop Joseph Strickland walks in front of a reliquary bearing the bones of Saint Maria Goretti, dubbed "The Little Saint of Great Mercy," into the sanctuary at Cathedral of the Immaculate Conception on Monday, on Nov. 2, 2015, in Tyler, Texas. Pope Francis on Saturday, Nov. 11, 2023 removed from office the bishop of Tyler, Texas, a conservative active on social media who has been a fierce critic of the pontiff and some of his priorities. (Andrew D. Brosig/Tyler Morning Telegraph via AP, File)
Pope Francis has removed Joseph Strickland, the controversial bishop of Tyler, Tex., after he declined to resign from office, according to a public statement from his metropolitan bishop, Cardinal Daniel DiNardo of Galveston-Houston. A new role for Bishop Strickland was not announced in Cardinal DiNardo's letter. Bishop Joe Vazquez of Austin, Tex., has been appointed apostolic administrator of the Diocese of Tyler.
Bishop Strickland was subject to a Vatican investigation in June. Following its ordinary practice, the Vatican did not divulge what had prompted the investigation, officially called an apostolic visitation. It came only six weeks after Bishop Strickland caught the attention of some in the Vatican by tweeting that he rejects what he called Pope Francis' "program of undermining the deposit of faith."
America's Vatican correspondent Gerard O'Connell reported that Vatican sources he had spoken to believed Bishop Strickland's tweet had crossed a line. The bishop had already received a warning about his Twitter account from the pope's ambassador to the United States in 2021, according to Religion News Service. One podcaster who is close to Bishop Strickland said the East Texas bishop had been warned explicitly to "stop talking about the deposit of faith."
Vatican sources, who wished to remain anonymous because they were not authorized to speak on the matter, have told America that the bishop's comments on Twitter about the pope were not the only reason for his removal, but that the visitation had revealed major issues with his governance of the diocese.
Pope Francis has removed Joseph Strickland, the embattled bishop of Tyler, Tex., after he declined to resign from office
In his letter this morning, Cardinal DiNardo reveals that as a result of the apostolic visitation, "the recommendation was to the Holy Father that the continuation in office of Bishop Strickland was not feasible." After several months "of careful consideration by the Dicastery for Bishops and the Holy Father," Bishop Strickland's resignation was requested on Nov. 9, 2023. Bishop Strickland refused to resign, and Pope Francis subsequently removed the bishop on Nov. 11.
Bishop Strickland had led the 33-county diocese since 2012, when he was appointed by Pope Benedict XVI. He was a priest of the Tyler diocese and served at various points as the diocese's vocation director, apostolic administrator and vicar general.
When first appointed, he was known as the "blogging bishop," writing uncontroversial posts on his personal website about faith and his hobby of running. He grew more outspoken as a critic of Pope Francis over time, forwarding Archbishop Carlo Maria Viganó's explosive 2018 letter calling for the pope to resign to "all Holy Faithful of the Diocese of Tyler" and saying he found "credible" the letter's allegations that Pope Francis had knowingly covered up former Cardinal Theodore McCarrick's sexual abuse of minors and seminarians. After the Vatican published its investigation into the McCarrick case in 2020, Bishop Strickland walked back his endorsement.
Bishop Strickland was also a vocal critic of Covid-19 pandemic restrictions and of the vaccine. He signed a petition, reportedly prepared by Archbishop Viganó, calling the pandemic a "pretext" on the part of unnamed actors to manipulate people and restrict their freedoms, including freedom of worship. The petition called the pandemic restrictions "a disturbing prelude to the realization of a world government beyond all control."
Bishop Strickland is not the only U.S. bishop to came under Vatican scrutiny this year. Bishop Richard Stika of Knoxville, Tenn., was investigated in 2022 for his alleged mishandling of sexual abuse cases and finances in his diocese. In June, the bishop, then 65 years old, submitted his resignation to Pope Francis, who accepted it. 
—
Gerard O'Connell contributed to this report.