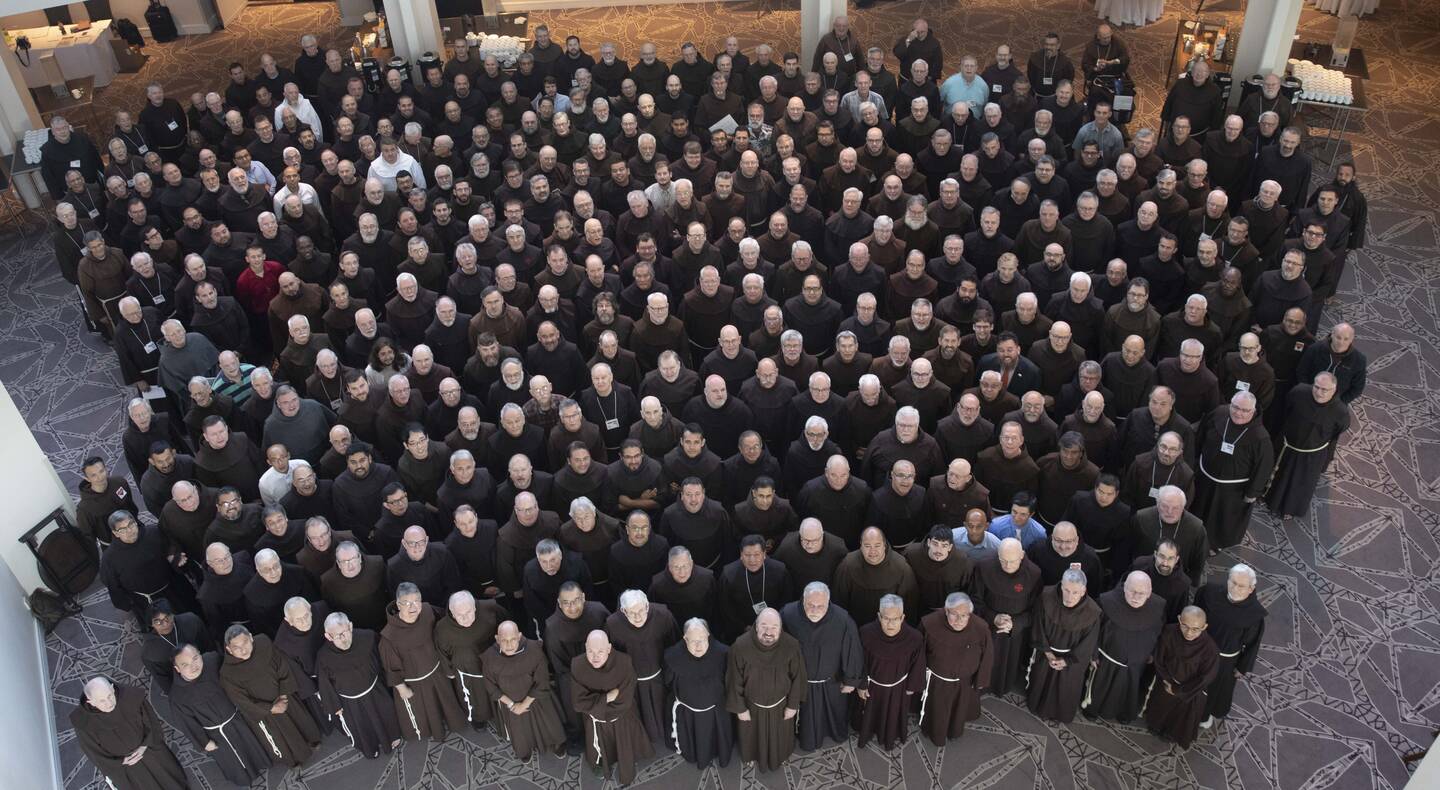 Can the entire Catholic Church be run like a religious order? Should it?
The Synod on Synodality has worked its way through the questions set for it to consider by the people of God. The responses by participants to the consultations initiated by Pope Francis two years ago are now being read and studied. Now might be an opportune time to consider what unasked questions may be raised by how our conception of synodality is developing.
One theme that has been emerging is the extent to which the synod looked toward the church's great religious institutes such as the Jesuits, Benedictines, Franciscans and Dominicans as models of what synodality within the universal church may look like.
This kind of modeling synodality can be seen in steps such as the adoption of "conversation in the Spirit" as a key methodology of the synod to aid dialogue and discernment. While this approach may seem novel to some, it has deep roots in the practices of the Society of Jesus and the Spiritual Exercises of St. Ignatius Loyola.
Can the universal church be run like a religious congregation? Should it be run like one?
Other examples include male and female religious who were given important roles in guiding the synod, including the Dominican priest Timothy Radcliffe, who led the pre-synod retreat, and the appointment of Loreto Sister Patricia Murray to the synod's synthesis writing committee. Sister Murray, at one of the synod's regular press conferences, also stated that:
As a member of a religious congregation, I feel that we have been putting synodality into practice for more than twenty years…[p]articularly as we were making decisions and coming to conclusions about things that mattered in our lives. And putting Jesus and the Spirit at the centre of our life, and listening to the voice of everyone in a religious community in order to discern where God is calling one at this time, where God is calling the congregation has been a practice of many congregations …
So for me, it is an added joy to see this spread in the universal church, that this is the way that we want to live.
In one sense this is not surprising, since it is affirmed by many commentators that there is a "long tradition of synodality within religious orders" that has continued from the early church until today. The sixth-century Rule of St. Benedict, for example, is very clear about the need for a consensual and collaborative style of governance within Benedictine monasteries:
Whenever any important business has to be done in the monastery, let the Abbot call together the whole community and state the matter to be acted upon.
Then, having heard the brethren's advice, let him turn the matter over in his own mind and do what he shall judge to be most expedient. The reason we have said that all should be called for counsel is that the Lord often reveals to the younger what is best.
Let the brethren give their advice with all the deference required by humility, and not presume stubbornly to defend their opinions; but let the decision rather depend on the Abbot's judgment, and all submit to whatever he shall decide for their welfare.
The church has often looked to religious life as a model when it has embarked on major changes. A striking example of this is the early-20th-century liturgical movement, which led to the reform of the Roman Missal following the Second Vatican Council. In that movement, Benedictine monks fluent in Latin were often viewed as the experts par excellence in determining what changes would be required to facilitate a future vernacular liturgy. Further back in history, other exports from religious life that have become fundamental to the wider church have included private confession, which developed out of the practices of medieval Irish monks.
But this prompts another question: Can the universal church be run like a religious congregation? Should it be run like one?
Religious congregations are very different from the church as a whole. This is particularly the case concerning the question of how successful various potential synodal methodologies might be in resolving tensions, building communion and discovering new paths.
Even the most diverse religious congregations, with members from across the globe, are far more homogeneous than the universal church. Those within them share a commitment to a common charism and unique mode of life, reinforced by a formation process that can extend for more than a decade. Many individuals who are not a good cultural fit, whose values or worldviews do not align, are winnowed out of these orders during the extended vocational discernment typical for new members.
The direct adoption of synodal practices modeled after religious institutes may not find fertile ground in the great diversity to be found in the church as a whole.
Interpersonal relationships within religious orders also develop within a unique set of circumstances. For many lay people in the church, the motivation to resolve disagreements with our pastor or fellow congregants can be diminished by the ability to just attend the parish down the road instead. In a religious order, however, that person with whom you disagree may well remain an unavoidable constant in your life for decades to come, making reconciliation a much more urgent priority.
In that context, it is no surprise that as the synod's instrumentum laboris confidently predicted, the "fruit of conversation in the Spirit" will be "to recognize intuitions and convergences" that might suggest "to what steps is the Holy Spirit calling us together." For men and women in religious orders, the mere act of patient dialogue reveals commonalities, simply because they already share so much in common.
The context of the universal church, however, is much more diverse. The life experiences and worldviews of a refugee escaping persecution, a married woman attending an underground church in China, or a deacon in an American parish are going to be massively different. If nothing else, those experiences and worldviews will certainly be far more diverse than what is experienced within any religious order.
When these markedly diverse people come together to listen to each other, what may become apparent is not how much they share, but rather just how different the world looks from their very divergent standpoints. Therefore it is possible, perhaps even likely, that the direct adoption of synodal practices modeled after religious institutes may not find fertile ground in the great diversity to be found in the church as a whole.
We may need to look for models and experts in synodality even further afield, where the need to find unity in diversity looms larger. Activists who work tirelessly as peacemakers to resolve armed conflicts, charity workers who help deliver aid to divided communities or people who minister to multicultural parishes might offer such models and expertise. It is worth noting that it is these people who inhabit the peripheries Pope Francis has so often called on us to travel to.
In the meantime however, as those who have already been called to lead the next session of the synod in October 2024 think about what is ahead, it will be important to keep firmly in mind that this synod is being conducted ad experimentum, on an experimental basis.
For this reason, we shouldn't be dismayed if our first attempts at synodality potentially fall short, fail to work as expected or need to be revised. Only by learning from the deficiencies in our experiments, and seeking to integrate wisdom from as wide a range of sources as possible, can we truly hope to discover the synodality that the Lord is calling the church in the third millennium to find.