Interview: Finding a way between 'cafeteria Catholicism' and Catholic fundamentalism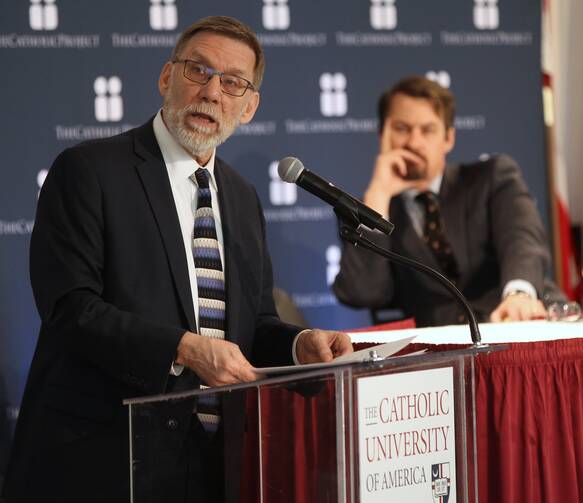 Richard Gaillardetz, the Joseph professor of Catholic systematic theology at Boston College and current chair of the college's theology department, speaks March 26, 2019, during a panel discussion at a conference titled "Healing the Breach of Trust" at The Catholic University of America in Washington. (CNS photo/Bob Roller)
Ahead of the first session of the Synod on Synodality in Rome this October, Zac Davis and Ashley McKinless, the hosts of "Jesuitical," spoke with Richard Gaillardetz, the Joseph Professor of Catholic Systematic Theology at Boston College and the author of By What Authority? Foundations for Understanding Authority in the Church, about the nature of authority and change in the church. This excerpt of their conversation has been edited for length and clarity.
What do I have to believe to be Catholic? What are the non-negotiables?
It's a good question. I'm not sure, however, it's the best way for us to frame it because it can encourage a kind of pick-and-choose Catholicism. What I think we need to do is to steer between two extremes. On the one extreme is so-called cafeteria Catholicism: I like these teachings, but I don't like those. In a consumer culture that can be particularly problematic. On the other hand, I think we also want to avoid a Catholic fundamentalism that treats everything the church teaches—from whether to stand or kneel during the eucharistic prayer to the divinity of Christ—as if they were equally non-negotiable.
It's hard to call yourself a Catholic Christian if you don't believe in the divinity of Christ or the real presence of Christ in the Eucharist. On the other hand, one could imagine that Catholics in good conscience might struggle with some teachings in the moral realm, like whether the use of in vitro fertilization is an intrinsic evil. I don't think that rises to the level of the divinity of Christ. And so as a Catholic, how I treat that second teaching probably shouldn't be the same as how I treat belief in Christ.
What are the gradations of authority and church teaching?
When we speak of dogma in the Catholic Church, we're first of all talking about teachings that are divinely revealed. So they're found in Scripture and/or tradition. They've been proposed as divinely revealed by the magisterium of the church, and therefore they are proposed infallibly. That doesn't mean we can't improve how we talk or think about them, but they're not wrong. So rightly, we can say a Catholic cannot obstinately deny or reject one of those things.
Then there's a second category that we'll call authoritative doctrine. These are teachings that are not divinely revealed, but they flow out of the church's wisdom as it has spent two millennia reflecting on divine revelation. They're often dealing with very specific questions. I mentioned the church's teaching that the use of in vitro fertilization is an intrinsic evil. That's not a dogma of the church. That's a doctrine of the church that we should take seriously, but it has not been taught infallibly. There is at least a remote possibility that the church is in error or may need to correct or revise that teaching in some particular way.
It's hard to call yourself a Catholic Christian if you don't believe in the divinity of Christ or the real presence of Christ in the Eucharist.
For me, the analogy is as simple as how my wife and I dealt with our family household. When our children were young, there were some fundamental teachings that were not negotiable. You don't do violence to one another, you don't hit one another, you don't demean one another. Those were fundamental teachings in our household, and they weren't going to change. But my wife and I also engaged in other teachings based on our wisdom as parents, about when the kids had to be in at night or how much time they could have on video games, where we were using our best judgment, but where we might readily admit that we were wrong or overcorrected.
Does that mean that dogma can't develop but doctrine can?
Both of them can develop, but if we speak of a dogma of the church, while it can develop, it can never be reversed. We can grow in our understanding of that dogmatic teaching. For example, the Council of Trent talks about real presence, and it uses the language of transubstantiation. We may find a better way to talk about real presence that doesn't rely on Aristotelian metaphysics. We'll never say Trent was wrong, but we can say, "Boy, that language is awful technical, and here's a better way of getting at that same reality."
In the case of authoritative doctrine, on the other hand—think slavery or the church's teaching on religious liberty—these are teachings that weren't dogmas, but they were taught as doctrines. And, in fact, over time, the churches reversed itself on them.
First, there's dogma. Second, authoritative doctrine. The third category is church discipline. I mentioned the example of whether you stand or kneel during the eucharistic prayer, or how many, how much philosophy seminarian has to take before they can be ordained.
If we speak of a dogma of the church, while it can develop, it can never be reversed.
So Pope Francis, when he gave his wonderful encyclical "Laudato Si'," offered some things that I think are of fundamental doctrinal significance, but he also weighs in on whether cap-and-trade mechanisms are the best mechanisms to deal with global climate change. When he's weighing in on a policy question on that, I grant his right to do so, but I would say that it doesn't rise to the level of church doctrine. Catholics in good conscience can say, "Hey, I absolutely agree with the pope when he is talking about our fundamental obligation to care for our common home, but I'm free to disagree with him on cap-and-trade because that's really a policy question." That's a concrete application of church teaching to a very complicated issue now. That's the third category that I would call church discipline, church law, prudential judgments.
What does it mean to trust or to distrust authority as a Catholic?
What we want to do is to steer a middle path between what we'll call cafeteria Catholicism and Catholic fundamentalism. So what does that middle path look like? The metaphor that I've been using of late to get at this is what I call wrestling with our tradition. As Catholics, we're obligated to take the teaching seriously, to wrestle with it. The image that I have is Jacob wrestling with an angel in Genesis. I think that's a wonderful image because it shows that I'm taking the church's teaching seriously enough to struggle with it.
People are going to be imagining their own issues that they struggle with. To name a couple of common ones: the church's teaching on women's ordination or L.G.B.T. persons. How do you advise people on trying to wrestle, as you say, if they have a hard time with [a teaching]?
Knowing a little bit more about how authoritative these teachings are really helps. One good guideline here is [whether] it's divinely revealed, [whether] it's revealed to us in Scripture and tradition. If a teaching depends in its substance on changeable human knowledge, it's hard for me to understand how that could be proposed as a dogma.
If a teaching depends in its substance on changeable human knowledge, it's hard for me to understand how that could be proposed as a dogma.
So if there's a teaching we have today that depends on changing knowledge, let's say in the way of science, it can be a binding teaching of the church. But it's hard to see how it could be a dogma of the church, right? Because it's dependent on changing understandings of science.
Now, trying to figure out which teaching belongs in which category, that's a very difficult question. And I think that a lot of the work of theologians is to help the faithful recognize which teachings have been proposed dogmatically and which teachings haven't been.
Ahead of the synod, it seems there is a lot on the table that is up for discussion that previously has not been, [including] some of these hot-button issues. Are people wrong to expect change to come out of something like this? Things like ordaining women to the diaconate or including L.G.B.T. people in the church more—are people setting themselves up for failure to even think that these could change?
I do worry a little bit about that. I have my own wish list of concrete things that I'd like to see some change and revision on. But I think that's the wrong way to look at what the synod is about. The principle themes of the synod are communion, participation and mission. Synodality for Pope Francis is not in the first instance about changing doctrines or laws. It's about changing the culture of the church. It's about developing new ecclesial habits, habits of listening, habits of respectful but courageous questioning, habits of patient dialogue.
How can we get into the habit of listening to people with whom we disagree? How can we get into the habit of not just attending to certain ideological tribes but to the insights of ordinary Christian faithful, not just educated elites like me or other people who are theologians? When Pope Francis talks about going to the peripheries, he is talking about paying attention to people's popular religiosity. What Pope Francis wants to see come out of this is the development of habits of ecclesial discernment.
I suspect that we're not going to see a lot of dramatic change at the level of the issues that you brought up, but I would say to people for whom those issues are important, first of all, you have to have the long view. To be Catholic by definition is to take the long view of things. It doesn't change quickly.
But second, what's maybe more important than change on this teaching or that is that we're tilling the soil, that we're creating a culture that's not afraid to listen, that could bear fruit in the next generation, that could create the conditions where we might reimagine some of these teachings. I believe that is the vocation of Pope Francis. Pope Francis is creating the conditions in which after his pontificate, we become so habituated to genuine discernment and allergic to polarization and tribalism that we can really entertain significant change without falling into what he calls a "parliamentary" logic or what I would call a thin majoritarianism, where you're just tallying up the votes. He's very nervous about that kind of thing. And I think he's right to do that.
If we change these doctrines or these practices and ordain married men or women to the diaconate, but we haven't changed the church culture, I'm not sure we're going to be better off. It's more important to [build a] culture where we learn to listen and then allow that listening to lead us where the Spirit wills. Perhaps that will be a change regarding the blessing of same-sex unions or the ordination of women to the diaconate. But that will be a more fruitful way for change to happen.