German court fines Jesuit priest over climate protest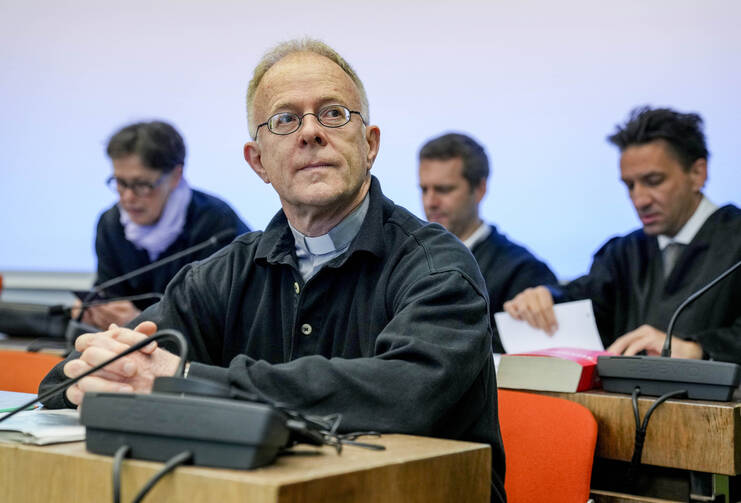 Priest Joerg Alt, front, attends the beginning of his trial at a court in Munich, Germany, Wednesday, May 3, 2023. A German court on Tuesday convicted a Jesuit priest of coercion in connection with a climate protest last year and ordered him to pay a small fine. In Alt's case, that was a 10-euro ($10.85) fine. (AP Photo/Matthias Schrader, File)
BERLIN (AP) — A German court on Tuesday convicted a Jesuit priest of coercion in connection with a climate protest last year and ordered him to pay a small fine.

The district court in Munich handed down its verdict in the case of the Rev. Joerg Alt after he participated in a road blockade in the Bavarian capital on Oct. 28. Also appearing in the proceedings were Cornelia Huth, a biologist and member of the group Scientist Rebellion, and Luca Thomas, a student.

The court convicted all three of coercion and imposed fines in line with their income. In Alt's case, that was a 10-euro ($10.85) fine; the court said the other two defendants' fines added up to a "low to mid-three-digit" sum.
The court convicted all three of coercion and imposed fines in line with their income.

Numerous similar protests have taken place across Germany and other countries recently as climate activists try to draw attention to the urgency of tackling global warming. The public and political response to such road blockades has been mixed.
So far, most courts have acquitted the protesters or handed down fines, though in at least one recent case a judge sentenced three activists to prison terms ranging from three to five months.
Activists accuse the government of failing to do enough to put Germany on course to meet its goal of cutting emissions to "net zero" by 2045.
Alt told reporters last month that he chose to join the blockade because he is worried about the huge impacts of climate change on developing countries.
"Tell me something that works better and hasn't been done with little effect for 40 years, then I'll do it," he said. "But I don't see anything better than joining in the civil disobedience and resistance."
Alt said the Catholic Church should work more strongly to brand the use of fossil fuels as "immoral" because of the effects they are having.