Bishop Strickland tweets that he rejects Pope Francis' 'undermining the Deposit of Faith'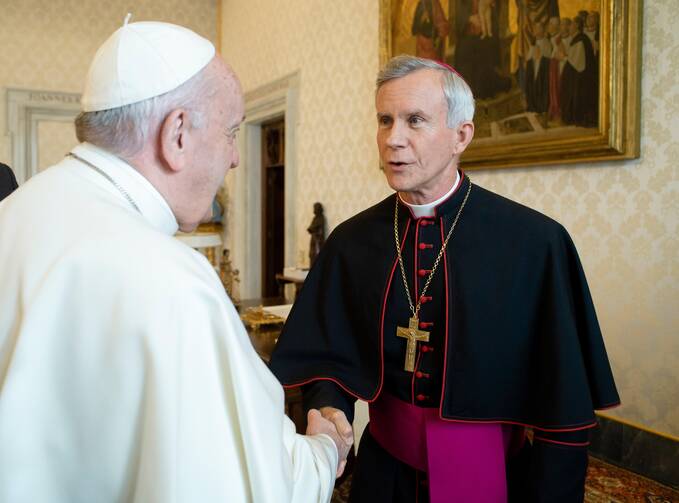 Pope Francis greets Bishop Joseph E. Strickland of Tyler, Texas, during a meeting with U.S. bishops from Arkansas, Oklahoma and Texas during their "ad limina" visits to the Vatican Jan. 20, 2020. Bishop Strickland tweeted May 12, 2023, that he "rejects" Pope Francis' "program of undermining the Deposit of Faith." (CNS photo/Vatican Media)
(OSV News) — Bishop Joseph E. Strickland of Tyler, Texas, posted a controversial tweet May 12 in which he said he believes "Pope Francis is the Pope" but added that "it is time for me to say that I reject his program of undermining the Deposit of Faith."
Bishop Strickland's tweet was a follow-up from an earlier tweet made in support of Jesuit Father Robert Spitzer of the Magis Center, who had, in his own tweet thread, severed ties with Patrick Coffin, host of "The Patrick Coffin Show."
Father Spitzer said he made the decision upon learning that Coffin, former host of the radio show "Catholic Answers Live," "has challenged the authenticity of the (sic) Pope Francis."
"I do not hold his position and would never hold this position," said Father Spitzer, who was the guest on a May 2 episode of Coffin's show called "Why Myths Explain Hollywood Hits."
Bishop Strickland: "I believe Pope Francis is the Pope but it is time for me to say that I reject his program of undermining the Deposit of Faith. Follow Jesus."
"Since I have already had an interview with him ... I have asked that my interview be withdrawn from the series, and that my name not be associated with the series or other projects he is hosting including advertising etc.," Father Spitzer said. "My sincere apologies for the confusion but full disclosure was not made to me about Mr. Coffin's controversial position prior to the interview."
"The Patrick Coffin Show" is billed as "weekly interviews with A-list influencers and outliers in the effort to recover the Judeo-Christian roots of the culture." In February 2022, Coffin released a video titled "Seven Pieces of Evidence Francis is an Antipope," which he described as "the one hypothesis that makes sense of the last eight years of chaos and evil in the Catholic Church."
Bishop Strickland first tweeted support for Father Spitzer, saying that he "fully endorse(s) his stance regarding any statements from Patrick Coffin regarding Pope Francis."
But then he went on to add in a separate tweet: "Please allow me to clarify regarding, 'Patrick Coffin has challenged the authenticity of the (sic) Pope Francis.' If this is accurate I disagree, I believe Pope Francis is the Pope but it is time for me to say that I reject his program of undermining the Deposit of Faith. Follow Jesus."
"With this tweet, Bishop Strickland appears to have finally crossed the line into direct and explicit opposition to Pope Francis and his teaching authority," wrote Mike Lewis in a post published on the pro-Francis website, Where Peter Is. "In the past, Strickland has hinted that he holds such opinions about the pope, but typically stopped short of making such statements himself."
Bishop Strickland: "Schismatic movements like SSPX or Sedevacantists however well-intended are an injury to the body of Christ. We must fight for total unity, not just aspects of Catholicism."
On May 13, Bishop Strickland followed up his first two tweets with a call for unity. "In these troubling times with so much confusion even from Rome it is critical to remain IN THE CHURCH," he wrote. "Schismatic movements like SSPX or Sedevacantists however well-intended are an injury to the body of Christ. We must fight for total unity, not just aspects of Catholicism."
In the 10 years of his papacy, Pope Francis has been no stranger to controversy.
"After an initial 'honeymoon phase' following Francis's election, which he himself predicted wouldn't last long, slowly a cascade of criticism began to flow in when started his serious decision-making, and it became clear there was a major shift in tone from the previous two pontificates," wrote Elise Ann Allen, senior correspondent for Crux, in an analysis on the occasion of Pope Francis' 10-year anniversary March 2023.
These controversies, she said, include his political advocacy, his post-synodal exhortation "Amoris Laetitia," the refounding of the Pontifical John Paul II Institute for Marriage and Family, the Amazon Synod, and the decision to restrict access to what is commonly referred to as the Traditional Latin Mass.
Bishop Strickland, 64, who was appointed bishop of the Diocese of Tyler in 2012, himself is no stranger to controversy. He is on the record supporting Archbishop Carlo Maria Viganò, former Vatican nuncio to the U.S., who has released multiple public statements targeting church leaders, including Pope Francis. Bishop Strickland also has thrown his support behind several priests in other dioceses who faced disputes with their own bishops, including longtime outspoken pro-life activist Frank Pavone, who was dismissed from the clerical state in December 2022 for, in part, disobedience to his bishop.