Pope Francis to miss Way of the Cross event in cold Rome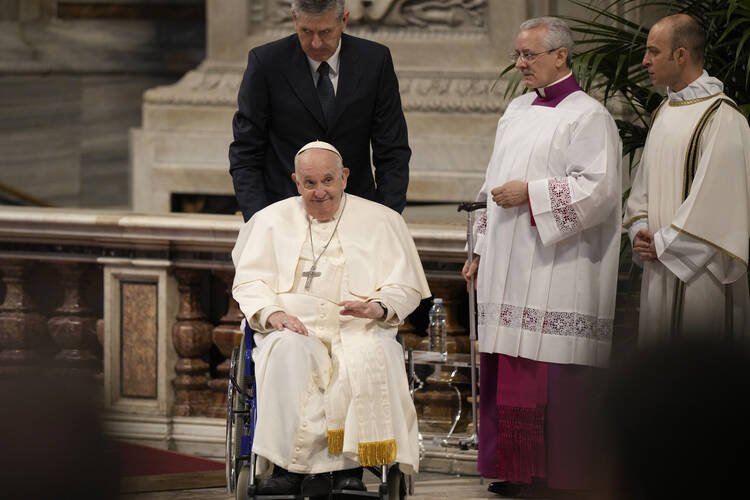 Pope Francis leaves St. Peter's Basilica after celebrating the Chrism Mass where the chrism, the oil of the catechumens and the oil of the sick are consecrated, and all the priests renew the promises made on the day of their ordination, at the Vatican, Thursday, April 6, 2023. (AP Photo/Andrew Medichini)
VATICAN CITY (AP) — The Vatican says Pope Francis, who was recently hospitalized for bronchitis, won't preside over Good Friday's late-night Way of the Cross event due to extremely cold weather in Rome.
It said that instead of presiding over the torch-lit procession at the Colosseum, Francis will watch from the hotel where he lives in the Vatican.
He will still attend the earlier Passion of the Lord celebration at St. Peter's Basilica, the Vatican added. There, the cross will be unveiled before it goes to the Colosseum for the procession.
Francis, 86, was discharged from a Rome hospital on Saturday following treatment for bronchitis. The Vatican said at the time that he would carry out the complete Holy Week schedule, including the Way of the Cross procession and Easter Sunday Mass in St. Peter's Square.
On Thursday, he presided over Mass in St. Peter's Basilica and later washed and dried the feet of a dozen residents of a Rome juvenile prison in a ritual symbolizing humility.
This story was updated with additional details at 9:57 a.m.