Podcast: Pope Francis' bounce back to ministry for Holy Week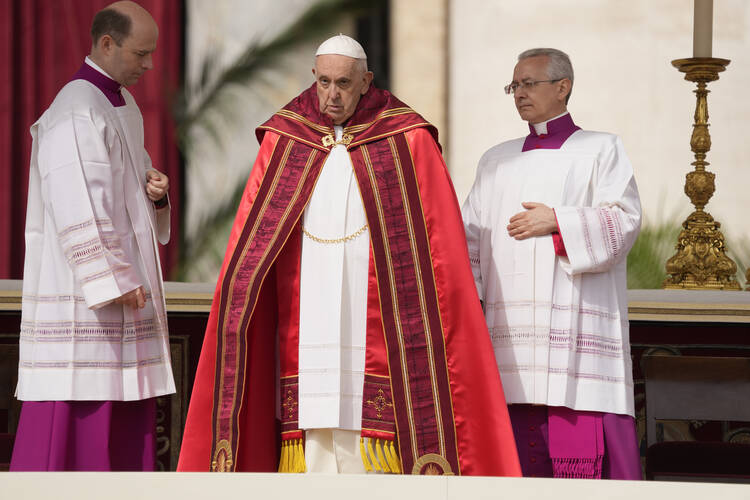 Pope Francis arrives on the altar to celebrate the Palm Sunday's mass in St. Peter's Square at The Vatican Sunday, April 2, 2023 a day after being discharged from the Agostino Gemelli University Hospital in Rome, where he has been treated for bronchitis, The Vatican said. (AP Photo/Andrew Medichini)
When most people are admitted to the hospital, they stay in bed and recover. Unless you are Pope Francis! Not even two days after he started treatment for a respiratory infection, the pope took to visiting the sick at Gemelli General Hospital in Rome last Friday. In the pediatric oncology wards, he played and prayed with sick children and even baptized a baby. He had a pizza party with his medical team and the hospital's care staff. And on his way home, he stopped to console grieving parents whose child had died the night before.
This week on "Inside the Vatican," hosts Ricardo da Silva, S.J., and Gerard O'Connell discuss how the pope bounced back from bronchitis, pushing back on the ever-growing rumors of his resignation in time to preside at the Mass that ushers in the holiest week of the Christian calendar.
In the second half of the show, Gerry and Ricardo reflect on the pope's homily for Palm Sunday and preview the Vatican's plans for the Easter Triduum.
Links from the show
Pope Francis in hospital
Holy Week at the Vatican
Cardinal Farrell: Pope Francis' critics are wrong. He's no autocrat.
Please support this podcast by becoming a digital subscriber to America Media.