Podcast: Synod reports from all over the world are in. What happens next?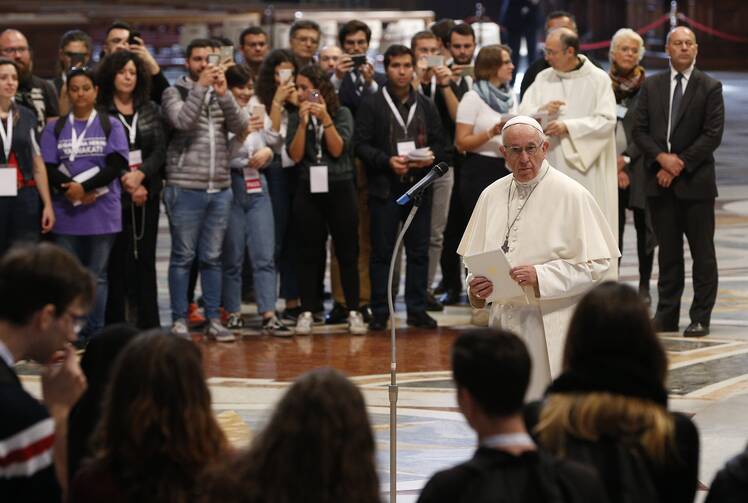 Pope Francis prepares to address young people who participated in a pilgrimage hike from the Monte Mario nature reserve in Rome to St. Peter's Basilica at the Vatican Oct. 25, 2018, during the Synod of Bishops on young people, the faith and vocational discernment. Catholic young people are among the many groups of the faithful worldwide invited to share testimony and talk abut their experience of church during preparations for the 2023 world Synod of Bishops on synodality. (CNS photo/Paul Haring)
With reports from at least 112 of the 114 bishops' conferences around the world, the Synod on Synodality has entered its next phase as 35 laypeople, priests and bishops meet in Frascati, Italy, to discern the outcome of the worldwide listening process that started last October.
On "Inside the Vatican" this week, veteran Vatican correspondent Gerard O'Connell reveals some of the highlights of his interview with Cardinal Mario Grech, the secretary general of the Synod of Bishops. (The interview was conducted for an upcoming deep dive episode on the synod which will be released on your "Inside the Vatican" podcast feed next month.)
"The pope is very keen that the synod and the synod process is not hijacked by pressure groups," Gerry said. "In fact," Gerry tells host and producer Colleen Dulle, "the cardinal said to me… I said, 'Are you afraid of pressure groups: people with an agenda who want to get it through these?' And he said, 'I'm not afraid of these, but I hope if it's going to be hijacked, it's going to be hijacked by the Holy Spirit.'"
"I hope if it's going to be hijacked, it's going to be hijacked by the Holy Spirit."
This week, Pope Francis also announced the first in what is expected to be a series of major personnel changes in high-ranking positions at the Vatican. Cardinal José Tolentino Calaça de Mendonça, a 56-year-old Portuguese prelate, is the first head of a newly created Vatican department known as the Dicastery for Education and Culture, combining what were previously two separate departments.
Cardinal Tolentino is a lauded poet, author and theologian in his native Portugal. He has received numerous literary prizes and academic accolades and rose to prominence in the Vatican when the pope invited him to preach the Lenten retreat for Vatican staff in 2018. "Pope Francis is clearly a big fan of this cardinal," Colleen tells Gerry. Though, she adds, "I think that he is more popular in other parts of the world than in the United States."
"It's a perfect fit in many ways," says Gerry of Pope Francis' appointment of Cardinal Tolentino to the new culture and education department. "He is a polyglot and he really has an open vision, and he is completely on the page of Pope Francis.… a church that is open, that is inclusive, that is not condemnatory, that's trying to encourage, not to discourage, that's trying to open doors, not to close doors."
Links from the show: