The Catholic Church needs to reimagine the role of godparents
Last year, at the age of 59, I chose a new godmother.
A year earlier, my godmother and aunt, Jean Kennedy Smith, had passed away. Jean and I had built a lifetime of memories and confidences—we had worked closely on expanding arts opportunities for people with disabilities—and her loss left me facing an emotional and spiritual void.
My relationship with Jean could not be replaced, but it was important for me to build another unique relationship with someone who embodied integrity, a deep spirituality and a profound gratitude for life. Gradually, an image of a potential new godmother formed in mind: my Aunt Ethel Kennedy.
My Aunt Ethel and I have long shared a special bond. Our dinners together are filled with stories and followed by songs. (Ethel loves when I croon a current Broadway hit or an old Irish ballad.) We love sailing together on Nantucket Sound, and she pretends to act surprised when I ask her to take the helm, which I always do. We have laughed together and mourned together. I have always deeply valued her unique perspective and guidance, especially during difficult and painful times. I feel that my Aunt Ethel possesses more wisdom, compassion, faith, gratitude and acceptance than anyone else I know.
Yet I hesitated to ask her to take on this new role. As our family's matriarch, my Aunt Ethel has a host of other family responsibilities. And she has many children, grandchildren and great-grandchildren who already require her love and attention. I did not want to burden her or add to her already long list of obligations.
But the more I thought about it, the more I realized that she was the one person in my life who embodied the kind of faith that I most admire and respect. I decided to write a letter and ask her to be my godmother.
One evening, before one of our fireside suppers, I decided to read the letter out loud to her. Aunt Ethel was seated in her usual spot on her blue couch, with her dog, Rascal, resting by her side. I stood up and pulled the handwritten letter out of my shirt pocket. I cleared my throat. With tears beginning to well in my eyes, I read her my letter. I explained how much I loved and cherished her, and how I hoped she would consider this new, special role of godmother.
I will never forget the love and emotion that both of us felt when she enthusiastically accepted. I was overwhelmed with joy.
My Aunt Ethel suggested that we should somehow formalize our new relationship and I agreed. We invited our family and some close friends to attend Mass together, after which we both offered a testimony of love for each other, as well as our hopes for our new spiritual relationship. (We were blessed to have Matt Malone, S.J., of America Media, to lead us through this ceremony.) We concluded the service by asking everyone present to join together to renew our baptismal promises, which united us with one another and reaffirmed our relationship with our larger Christian community.
A New Beginning
As I have shared this story with a broader group of family members and Catholic friends, many have been surprised to learn of my status as a new godson. They had never imagined it was even possible, as an adult, to choose a new godparent after losing an old one. I also shared my story with several priests. They told me that they could not recall a single instance when an adult has invited someone to become their new godparent.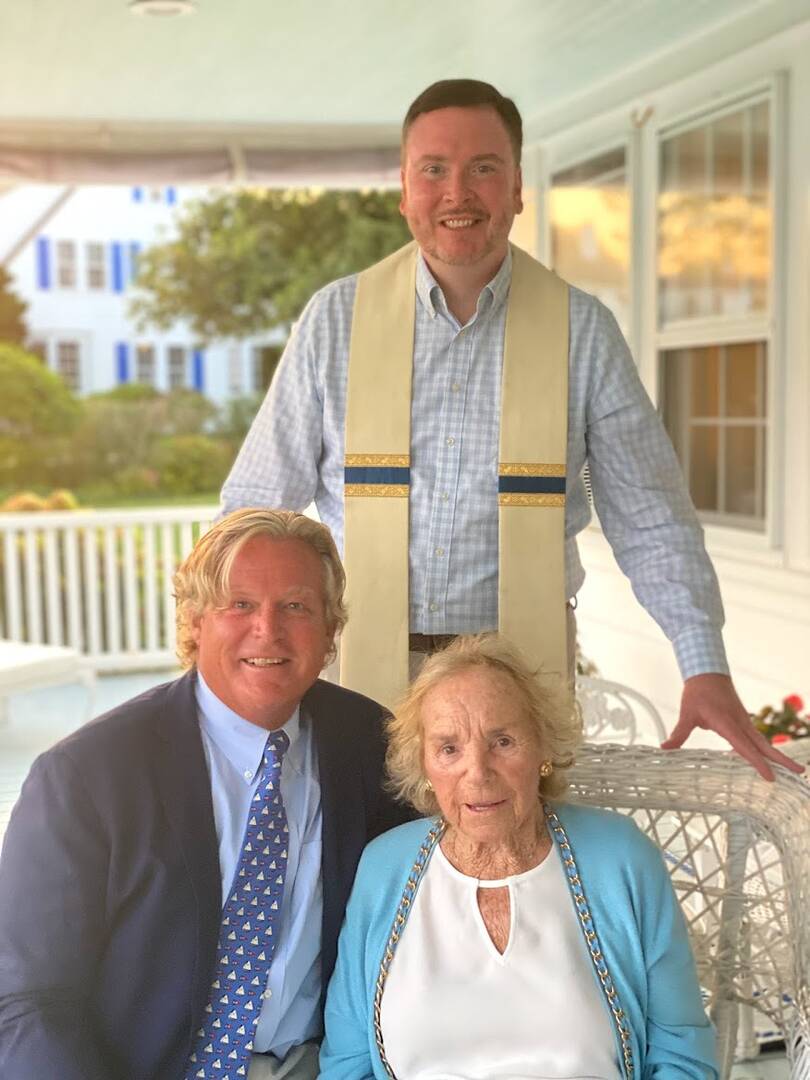 Some of my friends described mourning the loss of their godparents, through death or disconnection, while others cannot recall ever meeting their godparents. It is a role that means different things to different people, but the Catholic Church has a specific understanding of it. For infant baptisms, typically a godparent is a close friend or relative of the child's parents. They are chosen to bear witness to a child's christening and are expected to guide the child in their character development and spiritual formation. And in the early church, godparents would vow to bear legal and financial responsibility for their godchild in the event of neglect or the death of the parents.
But too often, we understand the godparent/godchild relationship to extend only through the godchild's, well, childhood. I believe that our Catholic community needs to expand our current notion of this holy relationship for those of us baptized as infants in order to emphasize that the role is one that lasts—and is needed—for a lifetime. If we fail to do this, we will be missing out on an enormous opportunity to strengthen our spiritual and intergenerational bonds.
If we fail to do this, we will be missing out on an enormous opportunity to strengthen our spiritual and intergenerational bonds.
The need and desire for spiritual guidance, love, support and personal mentorship does not end when we reach adulthood. All of us continue to need help with difficult decisions and personal challenges throughout our lives. When the active role of a godparent ends, whether through apathy, estrangement or death, we should feel free to ask another person to take on that role. It is a beautiful way to acknowledge, honor and celebrate an individual who already has opened their heart and, by embracing this new role, can make an important difference. My experience in forging this new relationship already has deepened my relationship with my new godmother and fortified my sense of connection to my Catholic faith.
This is not to say that our relationship has suddenly shifted in a short period of time. But there is definitely a new feeling of being united and a deeper sense of trust and confidence. There is a security and comfort that comes from being able to speak honestly and be vulnerable with someone in the context of this relationship. Aunt Ethel has shared with me that she feels the same.
There are many ways the Catholic Church can seek to expand our current and too-often limited concept of a godparent, whether that means helping people to find new godparents from among a parish community, celebrating a Mass for godparents and godchildren or offering lectures on the history—and possible future—meanings of the role. But we need not wait for institutional change to take this step. If you are lacking a godparent, you can think about honoring a person in your life with an invitation to this new relationship right now. All members of our faith community deserve a chance to seek out and identify a spiritual mentor and a respected, loving presence.
These days my Aunt Ethel and I still do the same things we have always done—sharing dinners and songs, hopes and dreams—but those times together now feel even more special, because we now share this unique bond with each other.