Podcast: Is Pope Benedict's request for forgiveness enough?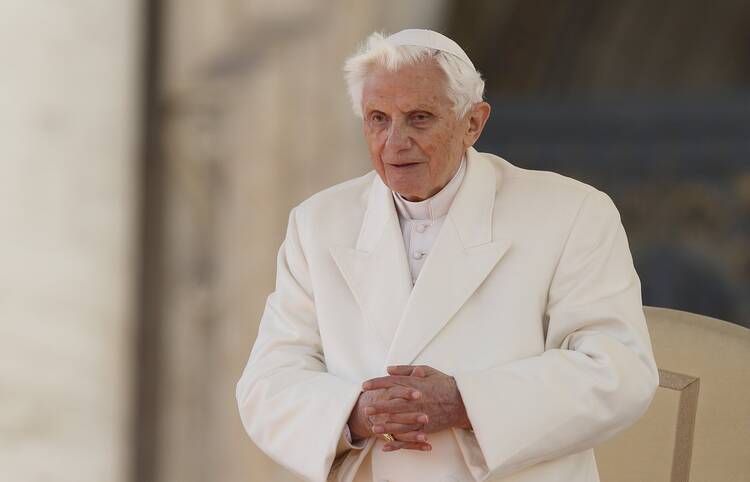 Pope Benedict XVI is pictured during his final general audience in St. Peter's Square at the Vatican in this Feb. 27, 2013, file photo. The retired pope released a statement Feb. 8 concerning the recent report on abuse in the Archdiocese of Munich and Freising, where he served as archbishop from 1977-1982. (CNS photo/Paul Haring)
Two weeks after the release of a report that accused Pope Emeritus Benedict XVI of mishandling sexual abuse cases when he was the archbishop of Munich and Freising, the former pope responded in a brief letter published Feb. 8 by the Vatican. "I have had great responsibilities in the Catholic Church," Benedict XVI writes. "All the greater is my pain for the abuses and the errors that occurred in those different places during the time of my mandate."
[Listen and subscribe to "Inside the Vatican" on Apple Podcasts and Spotify.]
On this episode of "Inside the Vatican," veteran Vatican correspondent Gerard O'Connell and host Colleen Dulle analyze the emeritus pope's letter and the accompanying, more technical, explanatory note drafted by his lawyer friends. The letter confirms, on the record, that Benedict did not write his 82-page testimony to the German investigators and that the factual error about him attending a 1980 meeting where an abuse case was discussed was not intentional.
Although Benedict expresses regret that abuse happened on his watch, he does not take responsibility for any specific cases and his lawyers maintain his innocence. On the podcast, Colleen and Gerry discuss how the letter has been received and how the events of recent weeks will affect his legacy.
Links from the show:
Pope Benedict asks for forgiveness in a 'confession' responding to Munich sex abuse report
Read: Pope Benedict XVI's penitential letter on Munich sexual abuse report
Pope Francis: I'm no saint. I couldn't be pope without my friends.
Pope Francis, Joe Biden and Grand Imam of Al-Azhar all issue statements promoting human fraternity
Cardinal Marx: Having married priests 'would be better for everyone'
Top European cardinal: Church teaching on gay people 'no longer correct'