Pope Francis, Joe Biden and Grand Imam of Al-Azhar all issue statements promoting human fraternity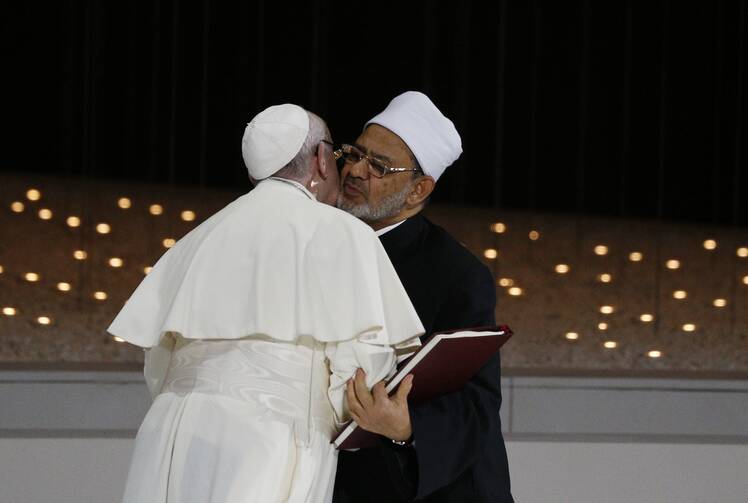 Pope Francis and Sheikh Ahmad el-Tayeb, grand imam of Egypt's Al-Azhar mosque and university, embrace during an interreligious meeting at the Founder's Memorial in Abu Dhabi, United Arab Emirates, in this Feb. 4, 2019, file photo. The pope, Sheikh el-Tayeb and U.S. President Biden marked the International Day of Human Fraternity Feb. 4 on the anniversary of the 2019 meeting in Abu Dhabi. (CNS photo/Paul Haring)
Pope Francis, the Grand Imam of Al-Azhar and President Joseph R. Biden issued statements today, the International Day of Human Fraternity, emphasizing the need to recognize that all people are brothers and sisters and are called to live together as such to achieve peace in the world.
The world leaders' call comes as humanity faces several major challenges not only from the Covid-19 pandemic and climate change, but also from poverty, migration and armed conflicts in many countries, including Yemen and Ethiopia, and from the risk of another conflict in Europe as Russia appears to be contemplating invading Ukraine.
President Biden issued a signed statement from the White House encouraging people to come together in a spirit of fraternity to overcome the great challenges facing humanity. He said, "On this day, we affirm—in words and in actions—the inherent humanity that unites us all. Together, we have a real opportunity to build a better world that upholds universal human rights, lifts every human being, and advances peace and security for all."
He said the challenges we face today "from the ongoing threat of the Covid-19 pandemic and the existential climate crisis to the rise of violence around the world…require global cooperation from people of all backgrounds, cultures, faiths, and beliefs. They require us to speak with one another in open dialogue to promote tolerance, inclusion, and understanding."
"In my life," the second Catholic president concluded, "faith has always been a beacon of hope and a calling to purpose even during the darkest of days. Sacred teachings across faith traditions command that we love one another, serve and protect the most vulnerable, and uphold the dignity of every person, which is what the International Day of Human Fraternity is all about."
In a video message to those gathered at Dubai's EXPO 2020 Sustainability Pavilion, Pope Francis said, "Fraternity is one of the fundamental and universal values that ought to undergird relationships between peoples, so that the suffering or disadvantaged do not feel excluded and forgotten but accepted and supported as part of the one human family. We are brothers and sisters!"
That event was held on the second International Day for Human Fraternity, a day the United Nations General Assembly approved in Dec. 2020 to be celebrated by member states to commemorate the anniversary of the signing of the Document on Human Fraternity by Pope Francis and the Grand Imam of Al-Azhar in Abu Dhabi on Feb. 4, 2019.
In his message, Pope Francis said, "Now is the fitting time to journey together: believers and all people of good will, together…All together, for it is essential to live in solidarity with one another. For this reason, I repeat, now is not a time for indifference: either we are brothers and sisters, or everything falls apart. This is not to be melodramatic; it is the truth!" The video message was broadcast by Vatican Media in Italian with subtitles in English, French, Spanish, Arabic and Hebrew.
"Either we are brothers and sisters, or everything falls apart," Pope Francis said.
"We see this in the little wars, in this third world war now being fought piecemeal, as peoples are destroyed, as children go hungry, as their opportunities for education decline… It is destruction. Either we are brothers and sisters, or everything falls apart," the pope said.
"In a mutual and shared spirit of fraternity, all of us must work to promote a culture of peace that encourages sustainable development, tolerance, inclusion, mutual understanding and solidarity," he added.
Pope Francis sent a virtual greeting "with affection and esteem" to the Grand Imam Ahmed Al-Tayeb, with whom he signed the document on human fraternity in Abu Dhabi three years ago today. "In these years," he recalled, "we have walked together as brothers in the awareness that, while respecting our individual cultures and traditions, we are called to build fraternity as a bulwark against hatred, violence and injustice."
The pope thanked Sheik Mohammed bin-Zayed, the crown prince of Abu Dhabi, who has supported the Human Fraternity project from the beginning, "for his steadfast commitment", and the U.N. General Assembly for establishing this international day.
The Grand Imam of Al-Azhar, Ahmad Al-Tayyeb greeted Pope Francis in a video message as "the incessantly courageous companion on the path of fraternity and peace." He recalled that together they had drafted the human fraternity document "out of our common belief in mutual understanding among the followers of religions, not excluding the non-believers, in order to get rid of misjudgments and conflicts that often lead to bloodshed and warfare among people," and out of their "deep belief that all humans are fellow brothers and sisters."
[Read more: An inside look at how Pope Francis and the Grand Imam of Al-Azhar have revolutionized Catholic-Muslim relations]
The grand imam said, "We have embarked on this path in the hope for a new world that is free of wars and conflicts, where the fearful are reassured, the poor sustained, the vulnerable protected and justice administered. And though we are certain that our objectives are far from accessible in a world ridden by limitless conflicts, given that such objectives are unacceptable for warmongers, yet, taking the road of peace is predestined for all the believers in God."
He committed himself, "God willing," to "keep pursuing the commenced peace efforts, along with fellow religious leaders and lovers of goodness around the world, towards achieving peace and world fraternity and fellow feeling, and removing all the stimuli of hate, conflicts, and wars."
Pope Francis and the Grand Imam of Al-Azhar signed the Document on Human Fraternity for World Peace and Living Together in Abu Dhabi, the capital of the United Arab Emirates.
The impact of the document has been considerable thanks to the efforts of the Higher Committee for Human Fraternity, which is based in Abu Dhabi and supported by Pope Francis, the grand imam and the leadership of the United Arab Emirates. Under the leadership of its secretary-general, Judge Mohamed Abdelsalam, the committee has promoted the human fraternity document in many countries and international forums, including getting the U.N. General Assembly to approve the annual human fraternity celebration.
Cardinal Miguel Ángel Ayuso Guixot, president of the Pontifical Council for Interreligious Dialogue of the Holy See and the current chairman of the committee, commenting on today's event, said, "I hope human fraternity will turn into a global movement of promoting moral values shared by all peoples from all walks of life."