Podcast: Visiting a Greek refugee camp with Pope Francis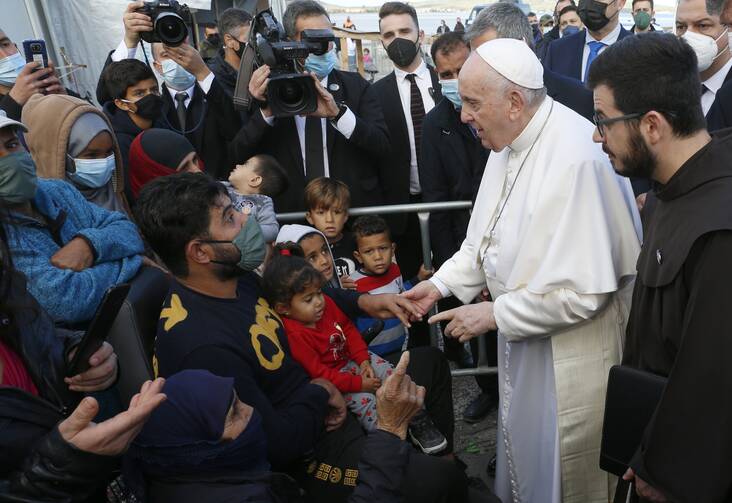 Pope Francis holds the hand of a man during a visit with refugees at the government-run Reception and Identification Center in Mytilene, Greece, Dec. 5, 2021. The pope has called attention to the dignity of migrants throughout his pontificate, encouraging the faithful to see them as brothers and sisters. (CNS photo/Paul Haring)
Pope Francis traveled to Cyprus and Greece from December 2-6, casting a spotlight on two nations that receive tens of thousands of migrants and refugees each year. On his flight from Rome to Cyprus, Pope Francis told journalists that he was making the trip to "touch the wounds of humanity."
America's Vatican correspondent Gerard O'Connell was among the reporters traveling with the pope. This week on "Inside the Vatican," he speaks with host Colleen Dulle about the experience, and how Pope Francis was visibly moved by seeing the barbed-wire-topped wall that has divided the Cypriot capitol of Nicosia into an independent half and a Turkish-controlled half since 1973.
[Listen and subscribe to "Inside the Vatican" on Apple Podcasts and Spotify.]
The pope's goals for this trip included delivering a message of hope to the divided country, encouraging the small Catholic population in the region, bridging divisions with the Greek Orthodox community who make up the majority of these nations' believers, and speaking out about threats to democracy while visiting democracy's birthplace.
Gerry also describes visiting a migrant reception center on the Greek island of Lesbos, where Pope Francis delayed his meeting with the president by 30 minutes, instead opting to walk and greet the asylum seekers living in the camp. The Holy See is expected to host 50 refugees from Cyprus after the trip and sponsor their resettlement in Italy.
Links from the show:
In Cyprus, Pope Francis has a message for all of Europe: We need dialogue and open doors—not walls.
Pope Francis: Don't let 'small-t traditions' divide Catholic and Orthodox Christians
Full text of Pope Francis' speech in Nicosia
Pope Francis in Greece: 'We are witnessing a retreat from democracy.'
Pope Francis in Lesbos: The root causes of the migration crisis 'should be attacked,' not migrants (Full Text)
Pope Francis: 'I accepted the resignation of the archbishop of Paris not on the altar of truth but on the altar of hypocrisy'