Christian purity culture and racism left 8 people dead in Atlanta. How should the church respond?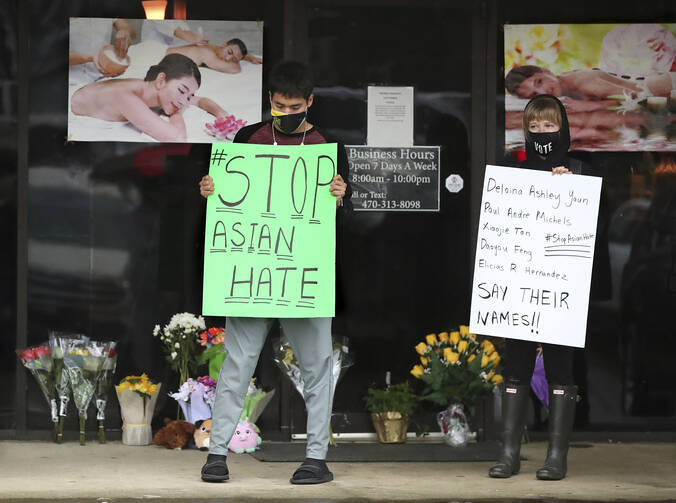 After dropping off flowers Jesus Estrella, left, and Shelby stand in support of the Asian and Hispanic community outside Young's Asian Massage in Acworth, Ga. The murder case against Robert Aaron Long, a white man accused of shooting and killing six women of Asian descent and two other people at Atlanta-area massage businesses, could become the first big test for Georgia's new hate crimes law. (Curtis Compton /Atlanta Journal-Constitution via AP, File)
This week, Ashley and Zac discuss the intersection of Christian purity culture and racism with Flora X. Tang. Flora wrote a piece for America in the aftermath of the Atlanta killings of eight people, including six women of asian descent, entitled "Purity culture, racism and the violence against Asian women in Atlanta".
Our Guest: Flora X. Tang, doctoral student in Theology and Peace Studies at the University of Notre Dame, where she studies post-traumatic sacramental theology.
Sings of the Times:
Related Links:
What's on tap: Live Free or Die, from Death & Co
Subscribe: Apple Podcasts / Spotify