Pope Francis and Benedict XVI have received the Covid-19 vaccine
Both Pope Francis and retired Pope Benedict XVI have received the first dose of the vaccine against COVID-19 after the Vatican started vaccinating its employees and residents Jan. 13.
Matteo Bruni, director of the Vatican Press Office, confirmed the news Jan. 14.
Pope Francis received the vaccine on Jan. 13, informed sources told America. The retired pop's secretary, Archbishop Georg Ganswein, told Vatican News that Pope Benedict received his shot the morning of Jan. 14.
On Wednesday, Mr. Bruni told the press in a statement that "the campaign of vaccination against Covid-19 began this morning in the atrium of the Paul VI audience hall." He said this was done "in accordance with what was already communicated by the Health and Hygiene Direction" of the Vatican City State. He did not give any further information.
The Vatican made photos available to the press of the specially prepared atrium where Vatican first responders, employees and their family members, as well as retired cardinals and officials, will receive the Pfizer-Biontech vaccine.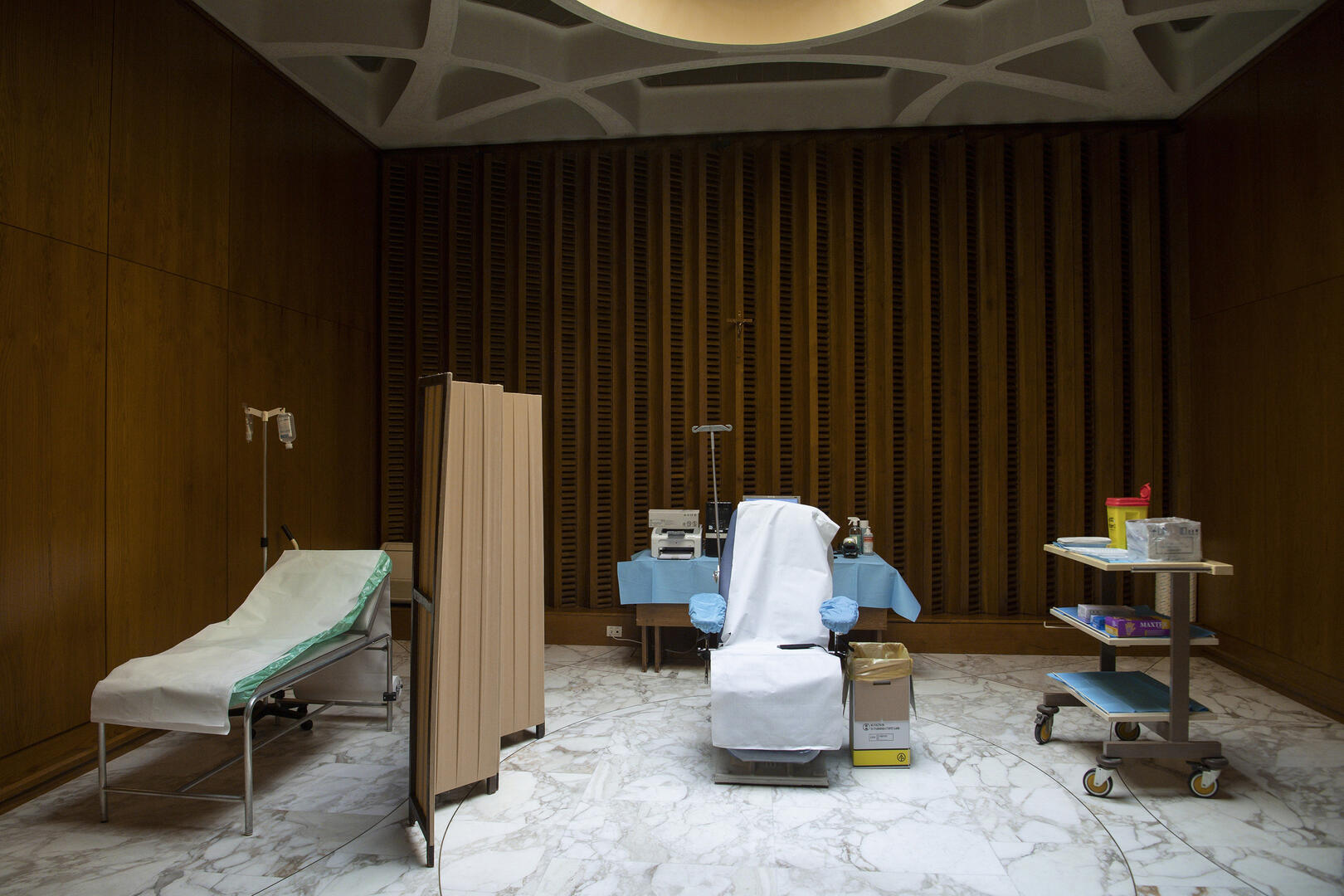 In an interview broadcast on Italian television last Sunday, Pope Francis announced that he had registered to receive the vaccine and said, "I believe that everyone should receive the vaccine; it is an ethical option because your health, your life is at stake and also you are putting at stake the life of others." He added: "Next week we will begin to do it in the Vatican, and I have reserved a place. I will receive it."
Archbishop Ganswein had told the German Catholic news agency KNA Jan. 11 that Pope-emeritus Benedict, who lives in a converted monastery in the Vatican Gardens, and his entire household staff wanted to be vaccinated as soon as the vaccine was available in Vatican City State.
He told Vatican News that the retired pope has been following the news "on television, and he shares our concerns about the pandemic, about what is happening in the world, about the many people who have lost their life because of the virus."
Pope Francis: "I believe that everyone should receive the vaccine; it is an ethical option."
"There have been people he knows who have died because of COVID-19," he added.
Archbishop Ganswein said the retired pope is still very sharp mentally but that his voice and physical strength have weakened. "He is very frail and only can walk a little with a walker."
He rests more, "but we still go out every afternoon, despite the cold, in the Vatican Gardens," he added.
Three Vatican cardinals have been infected with the Covid-19 since last spring: Cardinals Luis Tagle, Giuseppe Bertello and Konrad Krajweski. Other Vatican officials, both clerics and lay people, have also been infected, as well as members of the Swiss Guards, but their names have not been revealed for reasons of privacy. Italian cardinals have also been infected including Cardinal Gualtiero Bassetti (now fully recovered) and Cardinal Crescenzio Sepe.
This article was updated on Jan 14, 9:15 a.m. ET. Material from Catholic News Service was used in this report.
More from America