Podcast: Inside Pope Francis' unprecedented Urbi et Orbi blessing for the end of coronavirus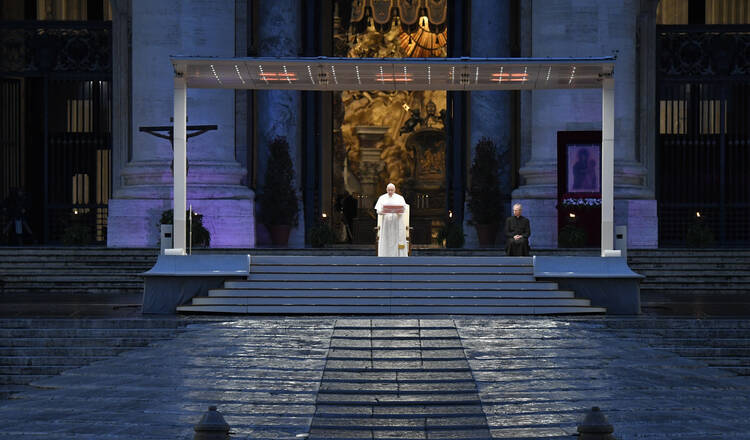 Pope Francis leads a prayer service in an empty St. Peter's Square at the Vatican March 27, 2020. At the conclusion of the service the pope held the Eucharist as he gave an extraordinary blessing "urbi et orbi" (to the city and the world). The service was livestreamed in the midst of the coronavirus pandemic. (CNS photo/Vatican Media) 
In the first special coronavirus update episode of "Inside the Vatican," veteran Vatican reporter Gerard O'Connell and producer Colleen Dulle discuss Pope Francis' unprecedented "urbi et orbi" blessing given Friday, March 27.
Listen and subscribe on Apple Podcasts and Spotify.
Colleen spoke with Gerry just after Pope Francis blessed "the city and the world." Pope Francis spoke about how the world currently feels the way Jesus' disciples felt when a storm threatened to flood their boat but Jesus stayed asleep. "We have realized that we are on the same boat, all of us fragile and disoriented, but at the same time important and needed, all of us called to row together, each of us in need of comforting the other," the pope said.
Earlier in the show, Colleen gives an update on the known coronavirus cases in Vatican City, including one priest who lives in the same Vatican guesthouse as Pope Francis.
Follow us on Twitter: @InsdeVaticanPod
Links from the show: